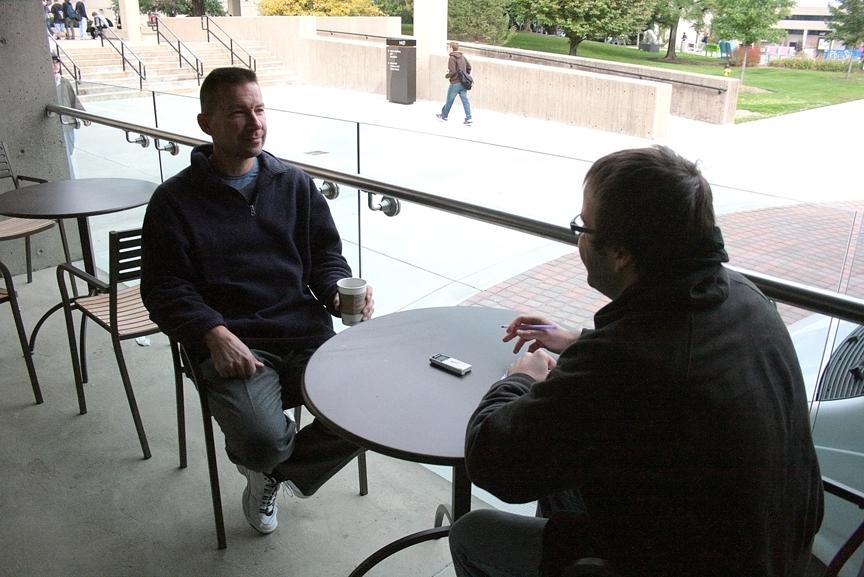 Charlotte Etherton/Photo editor
He was not wearing goggles. He was not wearing a tight white baseball uniform, with the number 17 and Cincinnati Reds emblazoned across it. Chris Sabo showed up to our interview as the Northern Kentucky University law student he currently is.
Wearing the goggles
Sabo is famous for being The Cincinnati Reds' goggled, flat-toppped third baseman from 1988 to 1993, and then again in 1996. He was recently inducted into the Reds Hall of Fame.
'I didn't expect it to tell you the truth,' Sabo said of being voted into the Hall of Fame. 'There's only been three third basemen ever voted in there, so I'm pretty happy.'
Sabo, before coming to NKU, saw a vibrant career as a major league baseball player. He was the 1988 National Rookie of the year, appeared in three all-star games and was the starting third baseman for the 1990 World Series Champion Reds.
During his career he was notoriously famous for being modest.
'Some guys go out and spend $70,000 for a new car. For $70,000 I could have a lifetime supply of Ford Escorts,' Sabo was quoted as saying in the Ocala (Fla.) Star Banner in 1988.
He is fond of his Escort.
'I paid cash for it 'hellip; $3,399 brand new,' he said. 'It was a great car. I got a lot of miles out of it, way over 73 (thousand).'
However, you will not be seeing Sabo cruise the Escort around campus. He gave the car to a dealer, who refurbished it and gave it to a soldier coming home from the Gulf war.
Passing the Bar
The friendly, well-spoken Sabo came to NKU this year after his professional baseball career, and 10 years spent as a coach.
'Why are you here at NKU?,' I asked.
'That's good question,' he said. 'To tell you the truth I never thought about law school my entire life.'
After retiring from baseball last year, Sabo said he was spending time at home in Cincinnati.
'I think everyone around the house was getting sick of having me around,' he said. 'So they suggested I go to law school.'
Sabo thought the idea was crazy.
'You had to take that test and everything,' he said.' 'I didn't figure there was anyway I could pass that thing. I didn't even study too much for it.'
He applied to several law schools and, to his surprise, was accepted.
'It's a good opportunity,' he said.
Sabo decided on NKU after visiting other schools in the area.
'I really thought this place (NKU) made me feel the most welcome,' he said. 'Looking at the rates of bar passage, it's every bit as good as any other ones I was looking into.'
NKU has the highest bar passage rates in Kentucky.
Back to the Big Leagues
Sabo's heart still lies in baseball and, specifically, coaching.
'I love coaching, I would like to get back into it to tell you the truth 'hellip; after all this,' he said.
Although Sabo likes NKU he would rather coach professional baseball.
'I sort of like the professionals, ' he said. 'It's just easier – trust me. You don't have to worry about kids getting good grades, it's just all about baseball.'