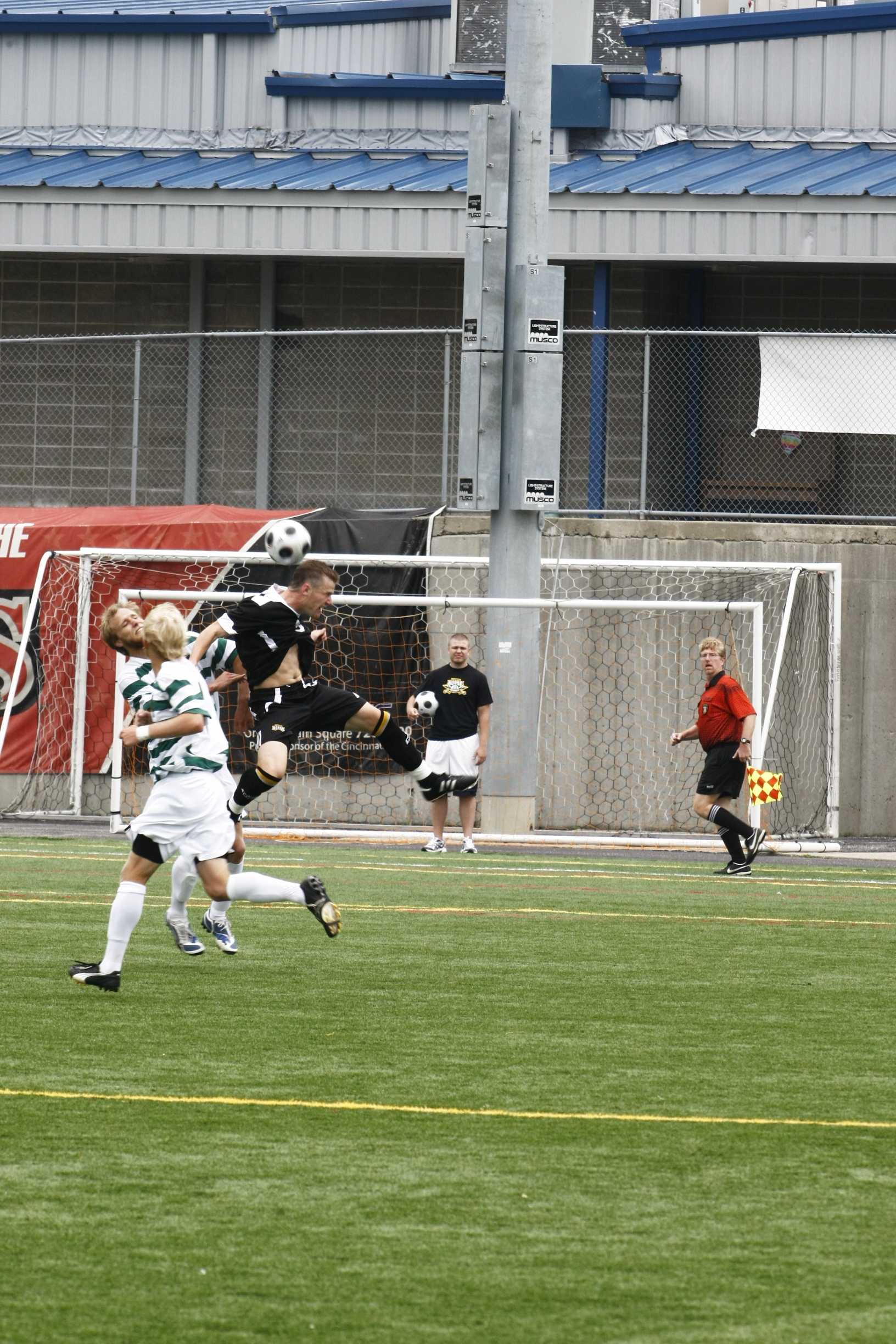 Tim Downer
David Beckham, Wayne Rooney, Kaka, Cristiano Renaldo and Landon Donovan are some of the most recognized names in professional soccer, but Northern Kentucky University is home to a men's soccer player who is making quite the impact at the NCAA Division II level.
Steven Beattie, a native of Skerries, Ireland, has amassed 42 career goals according to the NKU Athletics Web site. Now, he's just five goals shy of surpassing Chad Scott's 46 career goal record.
Beattie has also garnered accolades such as the Ron Lenz National Player of the Year, First Team National Soccer Coaches Association of America/Adidas All-American and the Great Lakes Valley Conference Offensive Player of the Year, just to name a few.
During Beattie's three-year tenure with the Norse, NKU has compiled a 46-6-5 overall record and an astounding 27-2-1 in the GLVC. Of the 45 wins in just over two seasons, Beattie has notched 20 game-winning goals.
During a recent interview, Beattie said that if he did not have such great teammates to play with, the individual accolades would not be possible. Those same teammates also aided Beattie in helping the Norse advance to the NCAA Division II Men's Soccer Final Four in Tampa, Fla., last December where the Norse would eventually fall to Dowling (N.Y.) College 2-1 in overtime.

The Northerner: What made you choose NKU over other colleges or universities in the United States?

Steven Beattie: I had originally committed to a big Division I school, but after an average math score on the SAT, I only qualified to play Division II. It has worked out for the best. Everything happens for a reason, I guess.
TN: Why did you decide to leave Ireland to come to the US to play collegiate soccer?

SB: Since I was about 16, I've always wanted to go to America. The size of the country always appealed to me. I was offered a pro contract when I was 18 and I was all set to sign. My parents sat me down and told me that if anything would ever happen (such as an injury), I would have no third-level education to fall back on. That talk really made me think about coming to America, where I could get my degree and play high-level soccer.

TN: This past summer, you played for the St. Louis Lions of the USL Player Development League. What was it like to play in that league?

SB: It was a really great experience. The majority of the players I played against were from top Division I schools or were former professionals. I was able to hold my own and start every game, scoring seven goals and getting five assists in 10 games. I learned a lot from the summer.

TN: What are some of the things you have taken from that experience and brought back with you to help this year's NKU team?

SB: The main thing I have brought back to NKU is how to better prepare your body for a game. Eating the right things, getting a sufficient amount of sleep and also warm-ups – I have introduced new runs and stretches.
TN: You have won numerous accolades in your short stint with NKU. Can you describe the feeling you get when you find out that you had accomplished those feats?

SB: It is always nice to win individual awards, but I never let it influence my play. You have to remember: If I didn't have such a great team around me, I would have no chance of winning any of these awards. Since I have been here, there have been five All-Americans. That shows the strength of NKU soccer.

TN: In the regional championship match against Lewis, you picked up your eighth yellow card of the season, which meant that you had to sit out the national quarterfinal at Millersville. Can you describe what you felt knowing that you would not be able to play against Millersville the following week? Did that change your style of play?
SB: Obviously it was heartbreaking. I am an aggressive player and I will never change that part of my game. The referees here are a lot different than back home. They call every tackle. It is crazy sometimes. As soon as I got that yellow, I knew I was missing the next game. I just had to keep my focus and I knew if I got us past that game, the guys would do the job in the Elite 8. I kept my head and scored one of the penalty kicks in the shootout.

TN: This year's team has two additional Irishmen, Paul Andrews and Andy Montgomery. Did you have a hand in getting those players here to NKU?

SB: Yeah. I got those guys to come to NKU. Paul lives in my hometown and I always knew he was a strong player. Once he saw how well things were going for me over here, he wanted to be a Norse. I did everything I could to get him here. I played against Andy at the club level and I always had a great deal of respect for his skill. Once I found out he was interested in coming to America, I told coach and we went after him.
TN: If you were not playing soccer, what could you envision yourself doing?

SB: I would probably be a cop back in Ireland. I wanted to be a soccer player first, and a cop second when I was young.
TN: When you leave NKU, you are probably going to be known as the greatest men's soccer player in NKU history. What do you want people to remember you for?
SB: That is a bold statement, and one I have never really thought about. It is scary thinking I could be known as the best ever. If it were to happen, I would want to be remembered as a nice guy on and off the field, a hard worker in practice and in a game and that I would do anything to win for the team.