Web Exclusive: Fantasy football sure-fires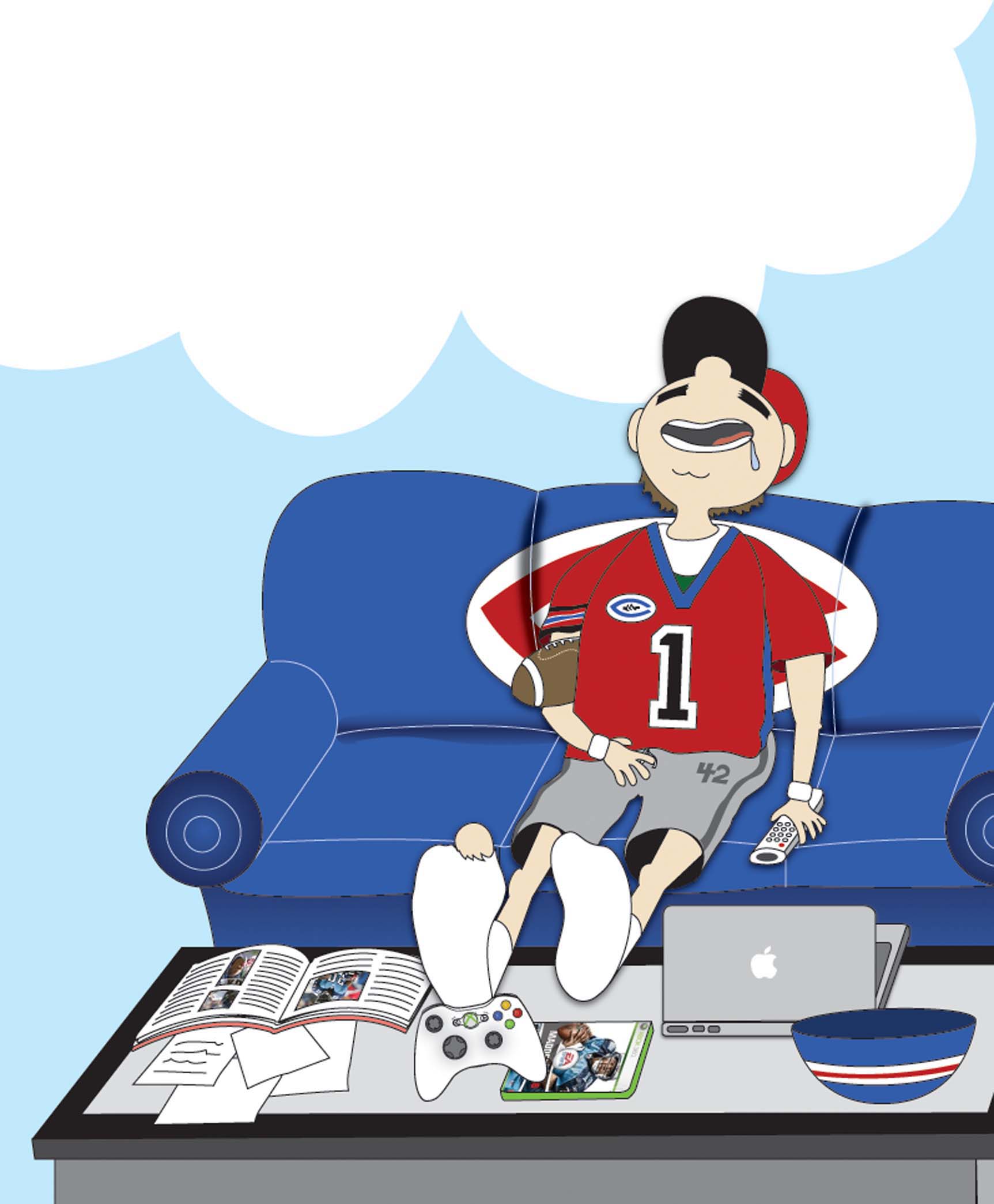 Chris Mowder/MCT Campus
It's time to dig out the deep fryer and drop in those mouth-numbing hot wings.' Get out the tortilla chips and whip up the sour cream, beef and cheddar cheese dip for that ultimate snack attack.' Don't forget about those sweet chocolate brownies and little cakes that will follow as your fantasy football draft-party gets under way.
It takes much work and preparation for one to get ready for a fantasy football draft.' In many cases, there isn't enough time to sit down and achieve the amount of studying one must do to claim the glory at the end of the season.' Having a plan before draft day is vital if you want to become a fantasy legend.
Here are some of the top players you should consider for your early round picks in the draft.
Quarterbacks:
Drew Brees from the New Orleans Saints will be an excellent choice as your starting QB.' Brees has a strong, accurate arm and he has solid receivers in Marques Colston and tight end Jeremy Shockey.' Last season, Brees played in 16 games throwing for 5069 yards and 34 touchdowns, according to cbssports.com.' Look for Brees to reproduce these numbers this season–as long as he stays healthy.
Tom Brady of the New England Patriots will still be a great pick early in the draft despite missing all of last season with a knee injury.' Brady has two extremely talented receivers to throw to in Randy Moss and Wes Welker, which will help put him back on the top of the stat lists.
Peyton Manning, to no surprise, returns as a top QB to have on your team.' As a veteran field general for the Indianapolis Colts, Manning will always put up big numbers for your fantasy team on any given day.' Manning played in 16 games, tossing for 4002 yards and 27 touchdowns last season.' '
If the three QB's above are taken, Phillip Rivers would be a nice pick-up for your squad.' He played in 16 games passing for 4009 yards with 34 touchdowns.' These four QB's are all legitimate selections for your team, and it is recommended that you jump on them as early as you can.
Running Backs:
Running backs are pivotal to a fantasy team owner's success.' Picking two running backs in at least the first four rounds is highly recommended.
If you are lucky enough to have the very first pick in the draft, Adrian Peterson from the Minnesota Vikings should be your selection.' Peterson is ridiculously quick coming out of the backfield.' He played in 16 games last season and carried the ball 362 times for the Vikings, according to cbssports.com.' He recorded 1760 yards and crossed the goal line 10 times last season.
The Jacksonville Jaguars' Maurice Jones-Drew is a bulky, quick RB and he will take most of the hand-offs for the Jags this season.' Jones-Drew tallied 824 yards and 12 touchdowns in 2008.' Jacksonville's offensive line was plagued by injury, which caused the running game to suffer, however this season will be better for Jones-Drew.
Young Matt Forte of the Chicago Bears will be a great selection in the early rounds of your draft, though he has just two years of experience in the National Football League.' Forte posted 316 carries for 1238 yards and eight touchdowns for the Bears.
LaDainian Tomlinson, RB for the San Diego Chargers should always be considered as an everyday starter on your team.' Tomlinson finished the 2008 season with 1110 yards and 11 touchdowns, according to cbssports.com.
Marion Barber of the Dallas Cowboys is a warrior on the field.' Barber has a great mixture of speed and strength that allows him to bull doze his way through the defense.' He totaled 885 yards and seven touchdowns last season as he split time with Felix Jones.' Barber would still be a perfect guy to pick up in the late second or early third round depending on the importance of running backs in your league.
Wide Recievers:
The Arizona Cardinals have a sick athlete in Larry Fitzgerald.' He should be on your mind if you are looking to draft a receiver in the first round.' Fitzgerald averaged 15 yards a reception, totaling 1431 yards and 12 touchdowns for the Cardinals, according to cbssports.com.' His ability to get to the ball makes him a valuable player to draft for your team.
Randy Moss is lined up to have a stellar season with the New England Patriots.' Moss and Brady will hook up this season to be one of the best quarterback-receiver tandems in football.' ' He will surely be a smart first round pick if you are looking to build your team around good receivers.' Don't expect Moss to be out there for long.
Normally, you probably wouldn't want to pick any players from an abysmal team like the Detroit Lions; however, the Motor City has a well-polished receiver in Calvin Johnson.' Johnson caught 78 balls for 1331 yards and 12 touchdowns for the Lions and is by far the best receiver that rookie quarterback Matthew Stafford will have on the field.
Another Arizona Cardinal will finish my top picks at receiver.' Look for Anquan Boldin to put points up on the board for fantasy owners.' Defenses are going to focus on Larry
Fitzgerald and when this happens, Boldin will be the next option.' Boldin nabbed 89 catches for 1038 yards and crossed the goal line 11 times last season for the Cards, according to cbssports.com.
Tight Ends:
Jason Witten from the Dallas Cowboys should be the first tight end that you should try and grab in the draft. Witten should be considered as a late third round or early fourth round pick.' Dallas uses Witten as much as they do any other receiver on the team and he has great hands that allow him to catch most of the passes that come his way.' Witten is also the type of guy who will bull his way through a tackle to gain those extra yards.' He recorded 81 catches for 952 yards and four scores and now that Owens is in Buffalo, he will get more tosses from QB Tony Romo this year.
' '
Dallas Clark from the Indianapolis Colts is an ideal tight end to have on your team.' Clark caught 77 passes from Peyton Manning and ran for 848 yards and six touchdowns.
The San Diego Chargers have Antonio Gates at the tight end position, and he would be a dandy pick for your fantasy squad.' Gates is an important pawn of the Chargers offense as he totaled 60 catches for 704 yards and eight touchdowns last year.' He remains as one of Philip Rivers' most favorite targets to throw to, which is why he would be a valuable asset to your team's success.
Kickers:'
Stephen Gostkowski from the Pats, Mason Crosby of the Green Bay Packers, and Rob Bironas of the Tennessee Titans would all be solid picks at the kicker position.' Any of these three will produce for your team.
Defenses:
Some defenses I recommend you try to get are the Steelers, Ravens, or the Patriots.' You will have to gauge when to pick a defense based upon the other people in your draft.
If you end up with a few of these players mentioned above, your team will be in good shape and other league members will be in trouble.' Enjoy your draft day, and good luck!
'