Men's soccer captures two wins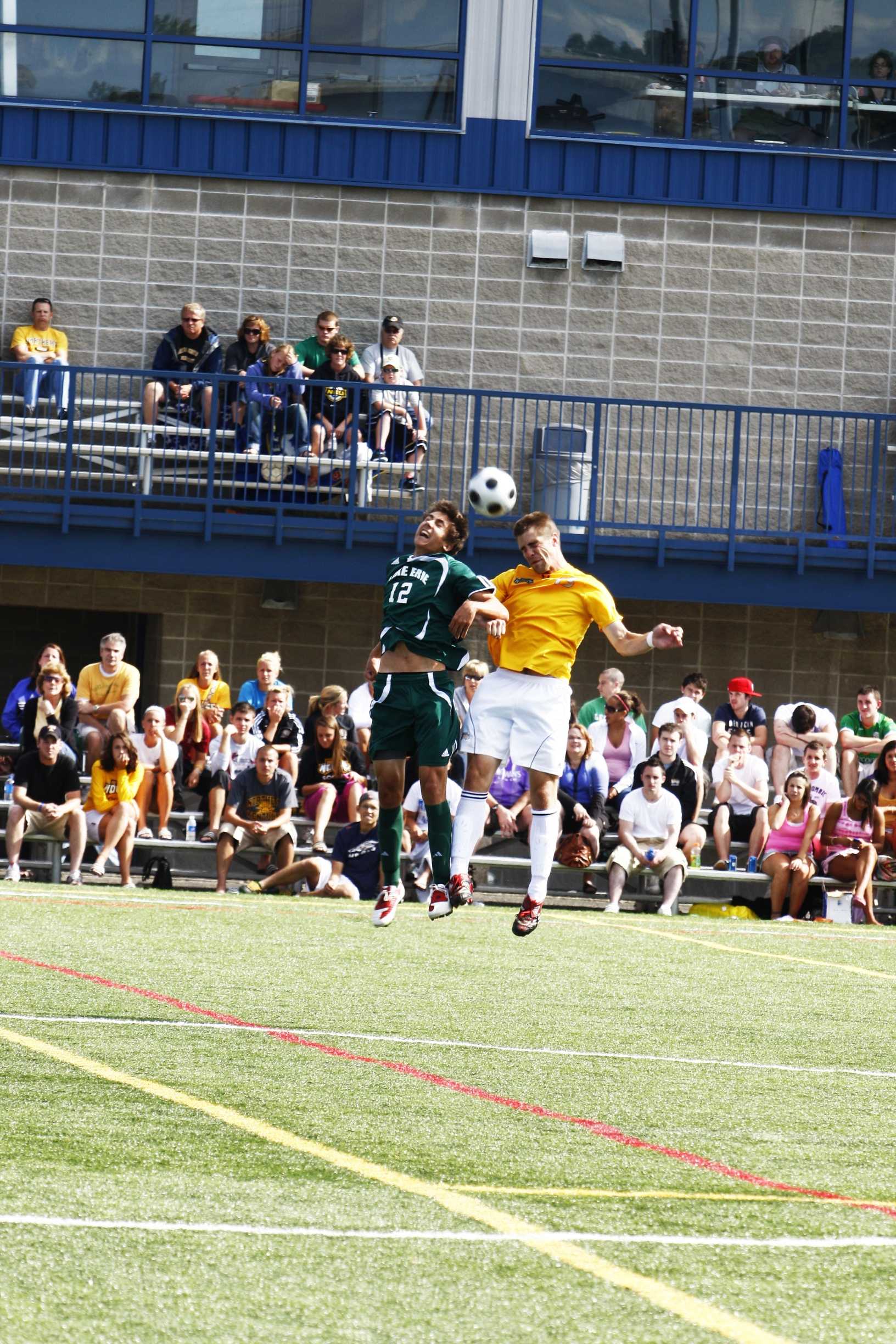 Tim Downer/
photographer
The Northern Kentucky University Men's soccer team is on a roll. After winning its two preseason games against two Division I schools – Marshall and IUPUI – the Norse continued their winning streak into the regular season.
The season opened Aug. 28 against the Bobcats of West Virginia Wesleyan. The game was a part of the John Toebben Classic held at Town and Country in Wilder, Ky.
The then No. 4 nationally-ranked Norse were led by sophomore Steven Beattie, sophomore Andrew Montgomery, and senior Seth Eckerlin – each scoring one goal.' Also contributing with assists were senior Braden Bishop, sophomore Anthony Meyer and freshman Paul Andrews – each having one assist. Junior goalie Michael Lavric had three saves.
The three goals proved to be enough against the Bobcats, as the Norse went on to win by a score of 3-1.
On Aug. 30, the Norse went up against the Storm of Lake Erie College. (The Storm recently transitioned to Division II, and will become a member of the Great Lakes Valley Conference in 2010).'
The Norse dominated the Storm by a score of 6-1.' Andrew Montgomery, who had two goals, led the Norse. Steven Beattie (1), senior Mike Jonca (1), Braden Bishop (1) and Seth Eckerlin (1) also recorded goals.' Leading the way with assists were Steven Beattie (1), Andrew Montgomery (1) and Mike Jonca (1).' Goalie Michael Lavric had one save.
This win brought the home winning streak for the Norse to 25 consecutive games. The strong wins helped bump the Norse up to No. 2 in the Division II poll.
According to the Sports Information Web site, this is the 33rd week NKU has been ranked. The streak began Oct. 3 2006. According to SI, it's also the fifth week the Norse have been ranked in the top 10.
The Norse will continue their season Sept. 30 with their first GLVC matchup in Evansville, Ind. against the Screaming Eagles of Southern Indiana.