Fall sports swing into action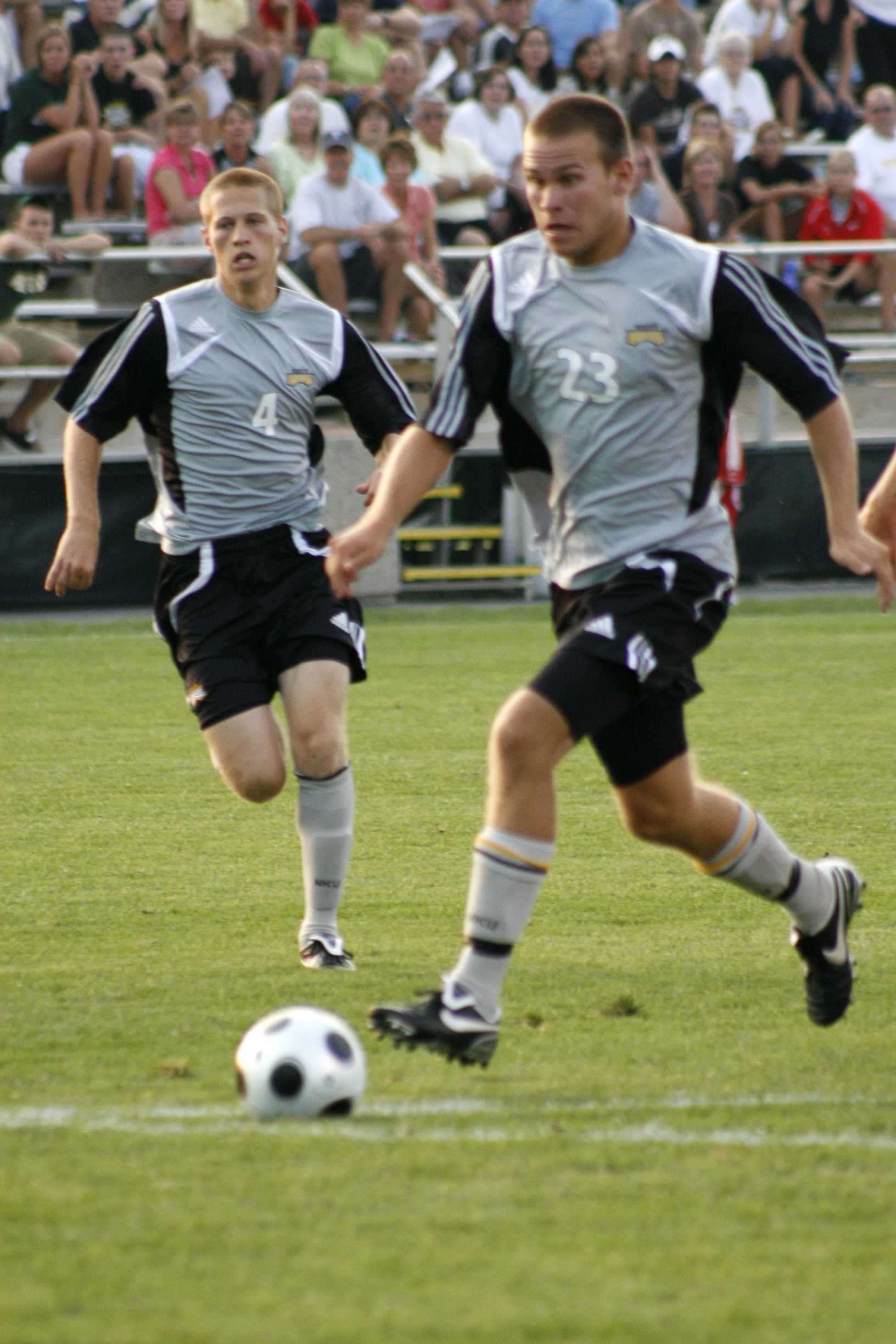 Archive Photo
Summer workouts and team meetings will soon turn into preseason and regular season games for Northern Kentucky University's student athletes.
Here's a look at what lies ahead for several NKU teams this year.
Soccer
The NKU Women's Soccer Team finished the 2008 season with a 16-4 overall record and an impressive 9-2 record in the Great Lakes Valley Conference.' The team was perfect at home last season as they enjoyed an 8-0 record at Town and Country Sports Complex in Wilder, Ky.'
The Norse graduated their leading scorer in forward Lauren Franzen, who recorded eight goals.' Despite losing Franzen, NKU has plenty of upperclassmen and talent returning this season.' Junior forward Kara Costello and junior forward Kendall Day each scored six goals last season, sharing second in scoring on the team.' Day also led the team in game winning goals with four on the year.' Senior forward Brandi Doss returns after having a stellar season of unselfishness.' Doss recorded 15 assists to lead the Norse in that category.
'I feel great about the sports season starting,' Athletic Director Scott Eaton said.' 'We had one of our most successful years as an athletic program last year with all 13 of our teams participating in NCAA post-season play.'
NKU kicked off the 2009 season with an exhibition game against Ohio University Aug. 17 in Athens, Ohio. The Norse fell short at 2-0 nothing against the Division-1 opponent.
The NKU Men's Soccer team completed the 2008 season with 16-3-4 overall record and a 9-1-1 record in the GLVC. The Norse were 10-0 within the friendly confines of Town and Country Sports Complex, but lost to Dowling by a score of 2-1 in overtime at the NCAA Championship game in Tampa, Florida.
This season, the Norse will look to return to Tampa in pursuit of the title.' Junior forward Steven Beattie returns for his third year after setting a new school record with 21 goals last season.' Beattie also set another school record by scoring a goal 10 seconds into a game against St. Joseph's, according to the NKU's Sports Information Web site.' Beattie also netted nine game winning goals in his sophomore season.' Sophomore forward Anthony Meyer returns after leading the team in assists with seven on the year.' With the mixture of talent on the squad the Norse should have another exciting season in store for fans in 2009.
NKU will travel to Huntington, W. VA. to play The Herd of Marshall University in an exhibition game on Aug 20.
The men's soccer team is picked as preseason No. 1 in the conference and women's soccer is picked No. 2 in the preseason polls. According to Eaton, the men's soccer team is picked as preseason No. 1 in the conference and women's soccer is picked No. 2 in the preseason polls.
Volleyball
NKU's Volleyball team was picked second in the GLVC preseason polls to start the 2009 season.' The team finished 28-8 (16-2 in the GLVC) and shared the GLVC East Division championship with Lewis in 2008.' NKU Volleyball has won at least 20 matches for 16 consecutive seasons, according to NKU Sports Information.' The team hopes that this season won't be any different.
'Its an amazing accomplishment, coach Mary Berryman was the coach prior to coach Chia, coach Chia was her assistant and both have established a great program,' Eaton said.' 'It is hard to match that type of success year in and year out and year in and year out we're getting the players to come in, we're developing them the way they need to be developed and they're performing at the right time.'
The 2009 squad is young this season as seven freshmen have joined the team.' However, the Norse returns five players that is crucial to their success. Junior middle hitter Kim Nemcek leads all returnees with 335 kills last season.' Sophomore Noelle Peterson recorded 279 kills and senior outside hitter Megan Dooley tallied 184 digs. Junior libero Chelsea Clark posted 434 digs and a team leading 41 serving aces, according to the NKU Statistics Archives.' Sophomore outside hitter Sarah Drennen totaled 65 kills and 126 digs.
The Norse begin their season in Greenville, Tenn. for the Tusculum Fall Classic, where they will face Converse on Aug. 28 at 2 p.m.