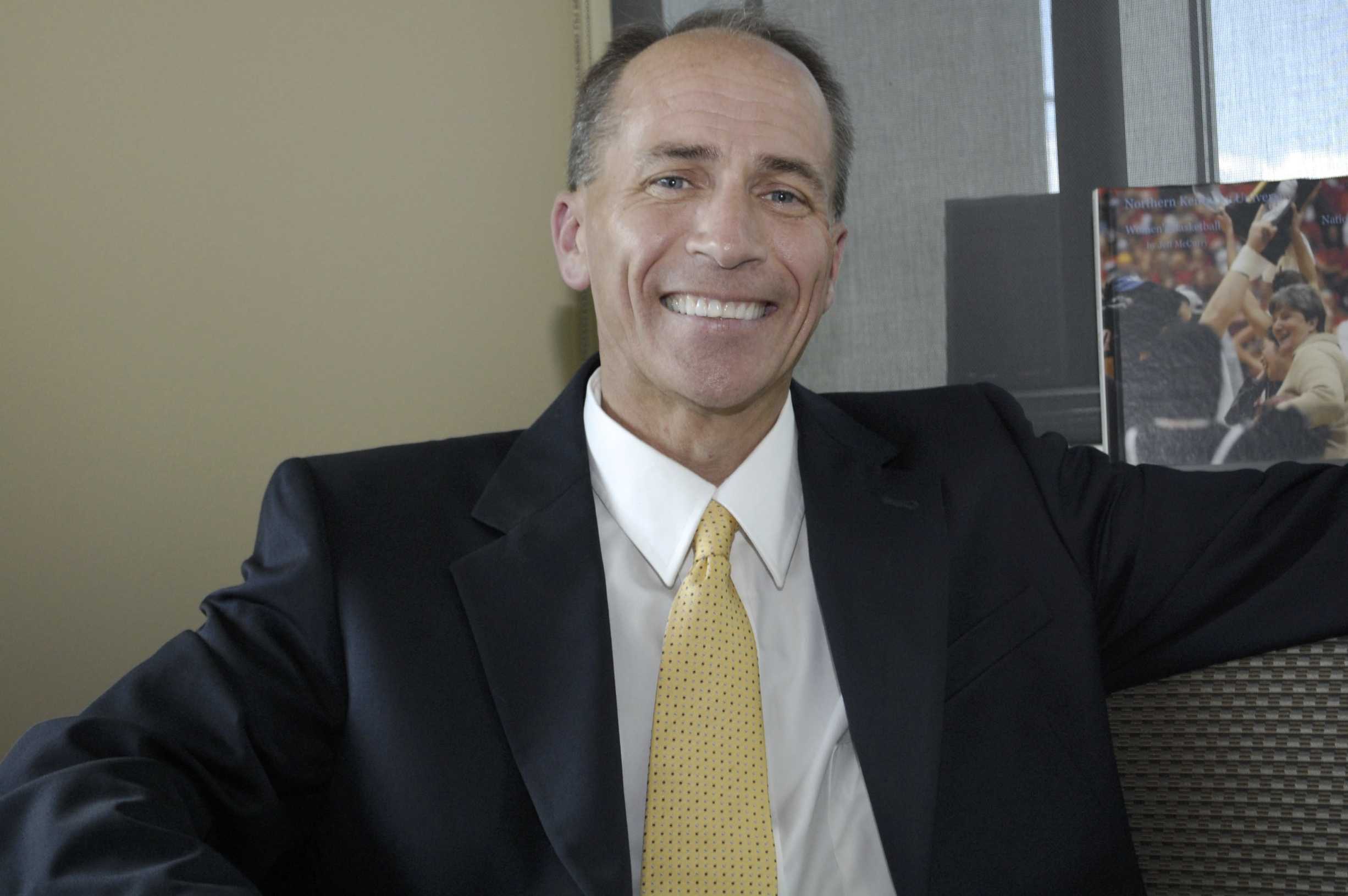 Photo by Ed Morris
/
Assistant Photo Editor
With more than a decade of administrative experience at Northern Kentucky University, including a stint as the interim assistant vice president for student affairs, Dr. Scott Eaton is, perhaps, approaching the most difficult task of his professional career as the new athletic director. Eaton, who completed his undergraduate education at Bowdoin College in 1986, where he participated in basketball, lacrosse, cross country and track, began to establish himself as a standout candidate for the position with involvement in multiple areas of NKU's administration.
NKU Sports Information reported that Eaton, a former special assistant to the athletic director and assistant men's basketball coach at Brown University in Providence, R.I., 'played key roles in academic, compliance, budget, event management and facility areas,' in addition to the aforementioned tenure as assistant vice president. For the 2009-10 academic year begins, Eaton, steps into the proverbial shoes once worn by Jane Meier, as he takes on the role of the university's second athletic director when Meier retired and left the position vacant after 21 years of service.
Eaton, who joined the NKU administrative staff in 1998, held the position of senior associate athletic director prior to accepting the AD job, became interested in replacing Meier long before her resignation announcement in April 2009.
'I had been looking forward to applying and being involved in the search process for at least seven years,' he said. 'With the direction that NKU was continuing to go not only under Jane's leadership, but also under Dr. Votruba's leadership, I decided that this was the place I really wanted to be.
'I wanted to continue to work as hard as I could to position myself so that one day if the opportunity did come, I would be as ready as I possibly could be to take over, if I was fortunate enough.'
According to Eaton, 'there is no doubt in [his] mind' the diversity of qualifications and his familiarity with the program will help as he transitions into his new position.
'We have an outstanding athletics staff and being familiar with the way things are already existing is helping,' he said. ' Being familiar with the systems will obviously help me opposed to someone coming in completely cold.'
Now, without the task of familiarizing himself with his employer and co-workers, the most challenging aspect for Eaton, of course, will be to continue following the gigantic foot prints left by Meier in the advancement of Norse athletics –' a task Eaton's predecessor has already given him a couple tips to accomplish.
'[Meier] recommended that I be myself and to go ahead and demonstrate the person that I have been for the last 11 years,' he said.' 'Her advice to me was that I have a plan and a vision, to lay it out and share it with everyone.'
Eaton will be introduced to the NKU community and media during a university sponsored social titled' 'Meet the Athletic Director' Aug. 27 at the Bank of Kentucky Center.
Additonal reporting by Mike Collins