Norse sit and wait
Hang on for a minute...we're trying to find some more stories you might like.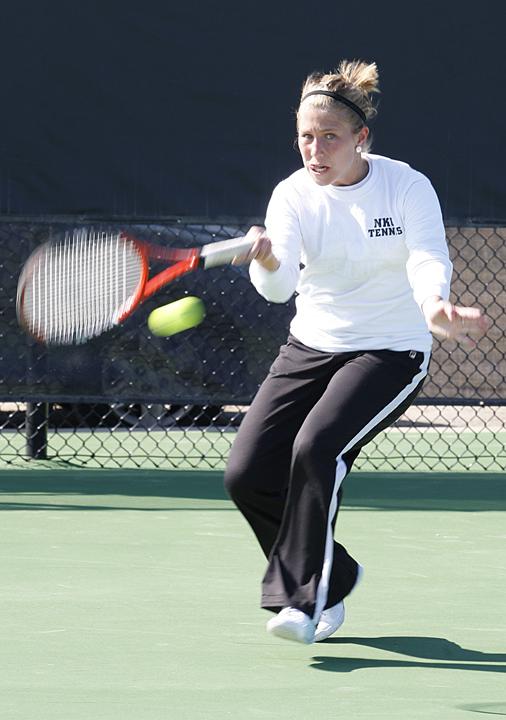 The Northerner
The Northern Kentucky University Women's Tennis team ousted Bellarmine by a 5-4 decision in a third-place consolation match in the Great Lakes Valley Conference Tournament in St. Louis, Mo. April 25.
The Norse are anxious' for the NCAA to make its selections for the 64-team field NCAA tournament, which will be announced April 29.
According to junior Stephanie Isaacs, who alongside sophomore teammate Kristen Sunday, was named to the All-GLVC April 23, her main concern isn't with NKU actually being selected for the tournament, but rather what seed the Norse will receive.
'I'm really nervous right now because the selection will determine where we will play,' she said. 'We don't want to have to drive a long way to play.'
The podium finish in the conference tournament, though, should fortify NKU's hopes for a high seed in the Midwest region of the NCAA field.
The Norse got off to a slow start in tournament play, with University of Southern Indiana senior Reilly Ackerman and sophomore Michelle Girgenti defeating Isaacs and freshman Jillian Sturgeon 8-6 in the first doubles flight.
NKU then turned its luck around in the last two doubles flights with Sunday and junior Michelle Schirmann defeating juniors Katie Jo Clagg and Gretchen Cantwell 8-3 while freshman Jenny Hand and sophomore Ivana Misic topped sophomore Jennie LaBonte and senior Emily Schum 8-3.
The Norse then won all six singles flights with Sunday starting things off, serving up a double bagel to Ackerman. Three of the matches went unfinished, due to the Norse clinching the victory after five wins.
NKU was paired against, and defeated by, Rockhurst in the second round of the tournament after dropping all three doubles flights and two singles flights, a match Isaacs fears will be detrimental to the Norse's NCAA tournament rankings.
'We lost to Rockhurst, so I'm nervous that we will lose our No. 4 [regional] ranking' she said.
Sunday, who represented one of two losses in the singles flight against Rockhurst en route to the 5-0 loss, said she wasn't surprised at how tough the competition was.
'Winning the first match was nice,' Sunday said, 'but I knew that the teams we were to be playing next rounds were going to be tough, especially in my singles matches.'
Hand also lost her singles flight match, while Isaacs, on the brink of victory, was pulled off the court due to the five-match win rule.' After upsetting NKU, the Hawks went on to lose in the championship match to Drury University 5-2.
The Norse, however, regained their winning ways in the consolation match against Bellarmine.'
With a change in the lineup, Isaacs reunited with Sunday, her doubles partner from last season, in the No. 2 doubles flight but lost to Bellarmine junior Sarah Roebker and senior Elizabeth Bohnert 9-8 (7-5).'
NKU then ended the doubles flight with a 2-1 mark and, with a three-match win streak, was able to fight off a tough Bellarmine team and won the overall match 5-4 to take home third place.
Though slightly disappointed with the third place finish, Sunday preferred an optimistic stance on the tournament outcome.
'No one goes into a tournament hoping to finish third, you want to finish first,' Sunday said. 'But I am very proud of my team and how we played.'
'