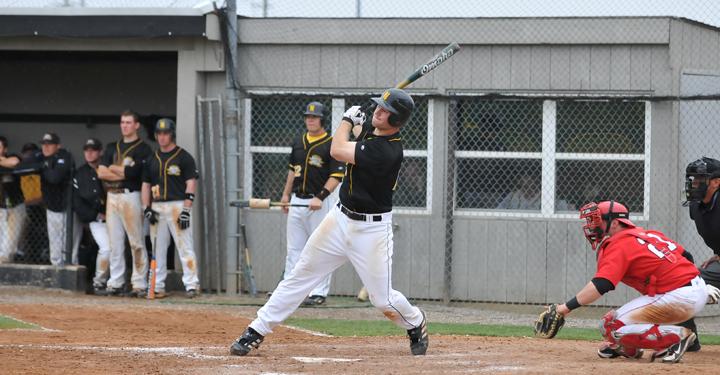 The Northerner
Northern Kentucky University junior Evan McDole's two-run homer in his first at-bat of the Norse's two-day series against Kentucky Wesleyan, the pitch he was hit by during his ensuing at-bat, and the solo shot he launched over the fence the second day of action are all notable.
The four singles, two doubles, a stolen second base, and twin pair of sevens in the runs and RBIs categories McDole also tallied in the series, though, were equally important contributions the team captain made in NKU's four-game sweep of the Panthers April 25-26.
The Norse (34-18, 18-10 Great Lakes Valley Conference) outlasted the Panthers (13-38, 7-21 GLVC) in a 17-12 Game 1 slugfest victory and took the latter April 25 double header 5-1. NKU continued to manufacture runs with 9-3 and 13-1 wins in the April 26 contests and McDole, who hit .571 in the four-game tussle, sat comfortably behind his teams double-digit lead and watched pinch hitter senior Andy Karpowicz man the plate for what would have been his final at-bat of the series.
For his performance against Kentucky Wesleyan '- days after the talented first baseman showcased his offensive ability with back-to-back multiple run homers in Game 1, a pair of doubles in Game 2 and seven total RBIs in a non-conference doubleheader against Urbana (19-19-1), April 23 '- McDole was named GLVC Player of The Week by the leagues office on April 27.
'Evan McDole had another great week,' NKU Head Coach Todd Asalon said. 'He has been good all year.'
Asalon added, however, that McDole's presentation was accompanied by plenty of help from his teammates.
'Brian Erie came in and hit a grand slam home run in the first game of the series proving that he has been clutch all year,' he said. 'Jeff Bohlen got things rolling for us with a home run in the second game on Sunday and had three hits in the game.
'Everybody contributed and if you look at the stats, you'll see a bunch of guys got a lot of hits this weekend.'
Considering the significant amount of offensive production and solid pitching performances '- both junior lefthander Ryan Schmidt and fellow southpaw sophomore Dave Middendorf threw complete games in the Kentucky Wesleyan series '- the Norse are playing well down the stretch.
It's an aspiration familiar to all sports teams '- because, as just about any person who's ever followed a sport through an entire season will tell you: it's the end of the year that matters most '- a jock-esque explanation of efforts to earn postseason life, and a familiarity to the Norse. At least not under Asalon, who is 138-77 all time in April as the NKU head coach.
And with less than a week remaining in the regular season, the Norse are rounding third, heading to a place like home '- the GLVC tournament, an event the Norse have only missed twice since Asalon took over the team in 2001, while picking up remarkable momentum along the way.
Not only did the sweep of the GLVC and in-state rival close NKU's 2009 April play with a 17-6 mark but it extended their winning streak to a season best nine games. The Norse were last defeated by Lewis 9-7 April 19.
NKU has now lost only one contest in their last 13 outings while manufacturing nearly triple the runs of their opponents, outscoring adversaries 149-55, during that stretch.
A testament to the team's recent and significant offensive production
For full coverage of the NKU/Ky. Wesleyan series, visit www.thenortherner.com.
Chad Hensley contributed to this report.
'