BOKC to welcome new neighbor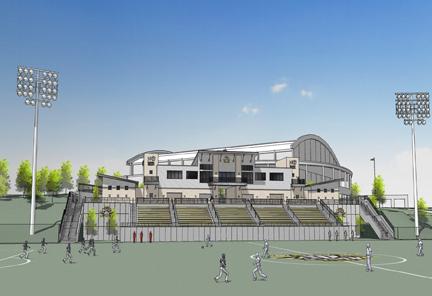 Northern Kentucky University soccer teams will begin enjoying an actual home field advantage sometime within the next couple of seasons, according to the university's athletic department, which recently revealed plans to erect a new $6.5 million stadium for the program.
According to NKU Athletic Director Jane Meier, the stadium will be built adjacent to the Bank of Kentucky Center, on land acquired by the university through the 2008 annexation agreement with the city of Highland Heights, Ky.' The Norse soccer teams presently play its home contests at the Town & Country Sports Complex, an off-campus facility located in Wilder, Ky.
The stadium will seat as many as 1,000 spectators, while featuring four locker rooms, office spaces for both, the men's and women's, soccer teams, and concession areas, Mike Anderson, NKU assistant sports information director, said.
A document outlining proposed projects at NKU, found on the Kentucky Legislature Research Commission Capital Planning Advisory Board Web site, indicates that the stadium will also include fencing, field lighting, a small parking lot, and an access road.
While the addition will offer the soccer teams the sort of home field advantage they have lacked since the programs began playing at Town & Country Sports Complex Sept. 23, 1998, the Norse will find familiarity in at least one aspect '- the playing surface.
'The playing surface will be artificial similar to the field we play on at Town and Country,' Anderson said.
Anderson added that intercollegiate play won't be the only soccer action featured in the new stadium, citing future plans to host high school games in the venue as well.
'The plan is to host high school tournaments, so not only will it be great for us, but for the community as well,' he said.
Though planning for the construction is still in its early stage, NKU's athletic department has released several renderings of what the proposed development will look like upon completion, renderings prompting significant optimistic reactions.
'It's going to be a really nice facility based on the drawings, which will provide a good atmosphere for the teams,' Anderson said. 'It's going to be top notch.'
According to Meier, the addition may eventually serve as a step toward Division I athletics at NKU and compared the stadium to the likes of the Bank of Kentucky Center.
'One of (NKU's) Achilles heels were facilities,' Meier explained, '(but) we now have one of the best facilities in Division I and II on our campus for men's and women's basketball and we're going to have one of the best soccer facilities in this area, if not in a number of areas throughout the country.'
According to Anderson, no timeline is currently available for when the groundbreaking ceremony will occur although early stages of planning intended for the stadium to open as early as Fall 2009.
'The original plan was for the teams to start playing there next year,' Mike Anderson said.' 'It all depends on how quickly the construction moves a long. Construction projects have delays and things go wrong, so you never know.'