Residential students plan to congregate outside Norse Commons next Wednesday, Nov. 1 at 4:15 p.m. to protest University Housing's new winter break fee.
For the first time, University Housing will charge $500 to each student who wishes to stay on campus at any point during the upcoming winter break.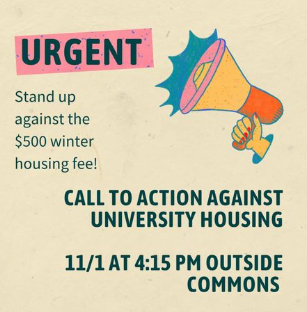 Protest purpose
"The purpose of this protest is to completely remove the $500 winter housing fee," said protest organizer James Renton in a statement to The Northerner.
Renton explained in the statement that following the drastic increase of dorm prices for the 2023-24 academic year, this additional fee is a "gross overcharge of students." They feel that this fee, which has not been imposed in the past, is part of the reality that NKU is becoming less and less affordable. Renton said this charge is especially unjust for those who face financial constraints. 
Housing and dining prices increased for the current academic year, with housing now ranging from $3,100-4,300 per semester and dining from $2,230-2,512 per semester. This accounted for a 5.8% increase in housing and 8.5% increase in dining from the previous year, according to the Board of Regents. 
Background and communication
Housing contracts must be signed by students upon their commitment to living on campus, usually months prior to the start of the academic year. Housing contracts for the 2023-24 academic year said the following: "During the winter break period, students living in Norse Hall, Callahan Hall, and University Suites will be allowed to stay on-campus during the winter break period…Winter Break fees will be assessed for students staying on-campus during the winter break time period. Winter Break fees are still being determined and are subject to approval by the NKU Board of Regents…"

The university says that during the June 2023 Board of Regents meeting, the $500 winter break fee was approved and was then communicated to students. Residential students were able to cancel their housing contract until July 2023. 
According to University Housing's website, initial winter break communication took place on Sept. 22, when housing sent out a mass communication to residents, stating, "The winter break fee is $500 regardless of the length of time you choose to reside on-campus." Housing also said there are limited spots available for winter break residents.
University Housing Director Scott Patton sent another email to residential students detailing a "winter break discussion" which will take place on Oct. 31.
In his email, Patton said students' "feedback and ideas are invaluable as we strive to enhance the living experience for all our residents." University Housing along with the Residence Hall Association will host an open dialogue event on Halloween evening from 5-6 p.m. in Norse Commons 116. The email also said that financial assistance options will be addressed at the open meeting. 
To this, Renton wrote, "Housing now is hosting [a] meeting that conveniently is the day before our protest, to have a 'discussion.' We do not believe this will result in our goal, and is simply a stunt to save face by University Housing. We will continue with our protest as planned and keep applying pressure to get this fee abolished."
Winter break plan details
Here are the details of housing's new winter break plan:
Residents will be charged a flat $500 fee to stay in a dorm at any point between the evening of Dec. 16 and 10 a.m. on Jan. 6, 2024. 

The $500 fee will be added to residents' spring 2024 statements and must be paid prior to the first day of the spring semester. 

Residents who remain in housing over the break will not be permitted guests of any kind.

Residents living in New Hall and Kentucky Hall will be relocated to Callahan Hall if they wish to stay for winter break.

All dining facilities will be closed for the duration of winter break, so residents will need to provide their own meals. 

The NKU Shuttle Service will be suspended for the duration of winter break. TANK Bus 25 will run on a limited holiday schedule. 
Those residents who wish to stay on campus for winter break must complete the winter break housing form by Dec. 13 at 12 p.m. Priority consideration will be given to those students who submit the form by Dec. 1.
University administration did not provide comment prior to publication. University Housing Director Scott Patton could not be reached for comment at the time of publication.
Correction: This story previously stated the cost of dining increase from previous year to be 8%. This figure has been corrected to 8.5%.