"Police cars and badges and uniforms and all that stuff doesn't mean anything if the community doesn't trust you enough to call," said NKU Police Department Lieutenant Will Love.
After students went back to on-campus learning, NKUPD began putting more effort into getting to know the campus community, said Lt. Love. They are finding different ways to build trust, such as organizing annual events and strengthening their connections with student organizations.
Lt. Love explained the thought process behind the department's engagement strategies. "The biggest thing is before we even try to engage or create programs, we try to figure out what the students, staff and faculty need and then we'll go from there versus just us giving what we want to give and settling for that," he said.
Chief of Police John Gaffin added, "Sometimes it's even simpler than what the community's needs are. It's about the first interaction between us and a student—or anybody in the community—being one that doesn't happen in a stressful situation." Gaffin emphasized the importance of a friendly and stress-free first impression, since it encourages students, staff and faculty to call if needed with less reservation.
Both Gaffin and Love agreed that they would rather people call in, even if it turns out to be nothing, than not call in and wish they did. They said that, if it turns out to be nothing, then at least they got to meet the person and have a conversation with them.
Love also touched on the fact that every campus police officer is now required to do 12 hours of engagement each year; four of those hours must be with underrepresented groups like international students, veterans, Latinos, African Americans, LGBTQ individuals or others, so they make sure they reach everyone. The lieutenant talked about how they are not always the ones reaching out to the different organizations on campus, they also get reached out to.
One example of the police department's annual collaboration with international students is Love's speech at the international student orientation. During the speech, Love sets a positive tone and shows the incoming students who the NKU Police Department is. Love said this is very important since international students come from different countries that have different systems and may not know how the police system in the U.S works yet.
NKUPD hosts some annual events such as 3D Simulated Impaired/Distracted Driving. This event is presented by University Housing and campus police. It features a pedal cart drunk driving activity organized by Kentucky's Department of Transportation, which includes two cars with cones and a challenging course.
This event aims to simulate the experience of driving under the influence by having participants wear goggles that mimic different levels of impairment, from slightly under the legal limit to extremely drunk. "It's a serious event. It's educational, but it's also going to be fun, like folks can have a good time and learn and hopefully make better decisions down the road," Gaffin said.
Self-defense classes are another event put on by the NKU police. They are free three-day workshops that happen twice a year put on by a few certified officers. The first one this year is on Nov. 7-9 from 6-8 p.m. in the Campus Rec Center. Further details can be found on NKUPD's Instagram account. The officers are open to working with organizations on campus to provide them with self-defense classes. They completed one workshop earlier this year with NKU's Women's Basketball team.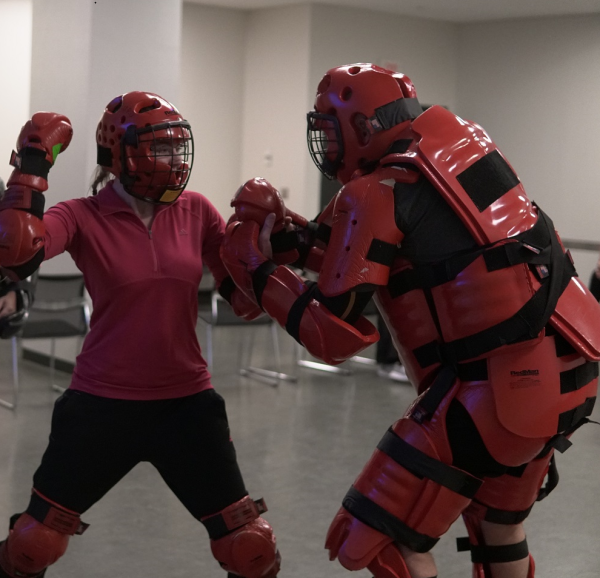 Some more events that the police organize are "Popsicles with Police" and "Cookies with Police." Love said, "Who doesn't like popsicles, and like I said, we're always looking for opportunities to engage." He said that he enjoys getting to meet students and having a conversation with them to "make people's day make it a little happier."
Love said that it's not just about popsicles, it's about giving the lost freshmen a chance to come up and ask where a building or class is. The officers would point them in the right direction or, depending on the distance, walk them to the right building.
The conversations they have would melt the uniform away, making the freshmen see the officer as a person instead of what they see on social media or in movies, said Lt. Love.
When asked about the importance of campus police engagement with the NKU community, Love said without hesitation, "What's most important to us, other than student success?"
The NKUPD's effort to get to know the campus community is shown by the students'  perception of the police officers. There is a divide between juniors and seniors—who were online during the first couple of years of college—and freshmen and sophomores who just started on campus. 
The former group doesn't have many experiences with the police. Senior biology major Dori Gregory agrees that she doesn't have much of a connection with the campus police. Whereas the latter group has various positive experiences. Freshman marketing major Qamar Asad said, "I think it's great that they're trying to be closer to students and faculty, we see and appreciate their efforts."
Love touched on a misconception about being a police officer. He said that most people don't think that engaging with the community is a part of being a police officer. However, building trust with the community is their number one priority instead of focusing on tickets and drugs and taking people to jail all the time. Love said, "Don't get me wrong, if it's need be or something happens, that's what we're here for as well, but I enjoy the part of engaging—the mentoring." 
Gaffin said, "We just think there's a better route to get there [keeping the community safe]. And it's through community trust and legitimacy, rather than a strict enforcement approach."