In the bustling Cincinnati/Northern Kentucky International Airport, freshman Sahil Bachwani found himself in America for the first time. Suitcases in hand, the Ivory Coast native and his parents made their way to a rental car—and his adventure began. 
For Bachwani and his parents, their journey began in his home country two weeks before the start of the semester. The three boarded a plane and then found themselves at the John F. Kennedy International Airport in New York, and from there—following an 8-hour overlay—arrived in Northern Kentucky. 
This semester has been a fleet of "firsts" for Bachwani: his first time coming to the United States, first time in college and first time living in a foreign country away from his family. 
In the two weeks before the start of school, Bachwani and his parents had the opportunity to explore campus, move the freshman into his dorm at Callahan Hall and go shopping for college essentials. The family stayed in a hotel together until the time came for the Ivory Coast native to begin living independently, then his parents returned to their home country. 
Bachwani is one of four freshmen international students who will be at NKU for the duration of their degree pursuits. 
This scarcity in enrollment follows last year's astounding 196 first-time freshmen enrollment, according to François LeRoy, executive director of NKU's Office of Education Abroad.
Along with four-year international students, the university hosts a multitude of exchange program students, mostly those who spend one or two semesters at NKU before returning to their home university. In total, NKU has around 90 new international students this semester, which encompasses degree-seeking (four-year) and non-degree-seeking (exchange program) students.
The Northerner spoke with four unique new international students to discuss their experiences in transitioning to life in America: Sahil Bachwani—freshman four-year student from Ivory Coast, Saaya Uuno—semester exchange student from Japan, Prithvi Rajkumar—Masters exchange student from India and Keerthivasan Balakrishnan—Masters exchange student from India.
Adapting to American customs
Nuances in social interactions and cultural normalities that American students would deem as normal can be odd and an adapting process for international students, said LeRoy. Whether it's navigating outside of university grounds, endeavoring to join clubs or preparing to see snowfall, foreign students brave these experiences, often for the first time, during their residency at NKU. 
One particular adjustment that international students may find strange is the casual nature of relationships between professors and their students. A facet of U.S. education is the informality of student-teacher relationships, and to more honorific cultures that concept can be bizarre. LeRoy explained, after speaking with an exchange student from China, that their expression in addressing Chinese professors is not applicable in America as "there's not even any English equivalent for it; it's like a different form of speech."
Despite the contrast in language and association that international and exchange students have with their American instructors, heartening outcomes have emerged from their encounters. 
"More than a professor, they treat us like a friend," Balakrishnan described how it felt interacting with faculty. Since he would typically only have that relaxed setting at his home in India, and due to the widespread casual nature of daily interactions in America, Balakrishnan says that it feels like home everywhere he goes in the U.S. 
Though it feels like home, it certainly didn't sound like it at first for the Indian native. "Back in India, we put our speakers so loud and enjoyed [it] a lot in our house," Balakrishnan said. In the U.S., he was shocked by the quiet and tranquil environment.
When asked about his hometown, Bachwani said, "It's a busy city, like New York. But here when I came here to Kentucky, the first two weeks… was very quiet." As he observed his surroundings he noticed, "I don't even see a lot of people walking on the streets."
Rajkumar paralleled this sentiment, saying that his first 10 days in America felt like a dream because of the stillness and reduced noise.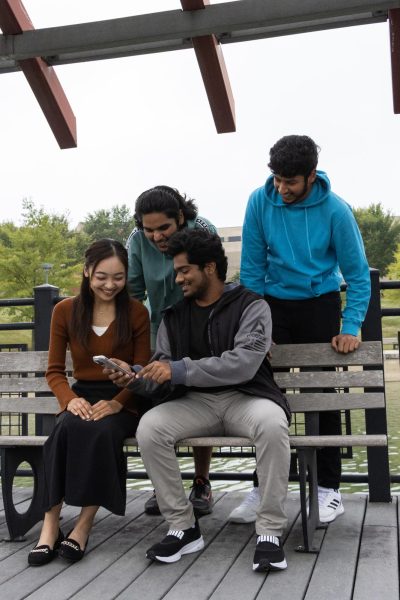 Recognizing challenges
While the students are adjusting themselves to differences in social and cultural customs, there are some aspects to American living that pose a hurdle they are having difficulties overcoming.
One challenge all four students recognized was the inability to travel very far without a vehicle. While all NKU students are able to take free advantage of the Transit Authority of Northern Kentucky (TANK) bus shuttle services around the Greater Cincinnati region, the journey can be difficult and tiring, Bachwani said.
Masters student Rajkumar pointed out the lack of accessibility to stores without a car. When he wanted to purchase a new iPhone, he needed to travel all the way to the Apple Store at Kenwood Mall. Although this would only be about a 25-minute distance by car, the bus ride took a near hour.
Even transportation aspects like crossing the street come with adaptation to American customs, as Toni Schneller, intercultural programs coordinator for the Education Abroad office, explained. 
Schneller told of a recent group of international students who found themselves at a traffic light preparing to use the crosswalk. In a frenzy, the group called an American mentor, asking how they should cross the street. "Carefully?" the mentor responded. This answer didn't satisfy the students, as they were wondering if they should cross when the orange hand was present or when the human appeared on the crosswalk sign. "It's like [the hand] is waving us on," the student reasoned. 
"There are simple gestures like that we take for granted," Schneller said.
Food habits are another obstacle for the international students. Uuno touched on the focus of nutrition and health in Japanese cuisine, compared to the staple U.S. college student meals consisting of hamburgers and pizza. 
For those who live off campus like the two Masters students, food costs can be another challenge, as many ingredients which would be easily accessible and affordable in India do not fare the same in the U.S. Marsala packets, which are an essential in some Indian dishes, cost Rajkumar about $10 in America compared to $1 for the same product in his home country.
From strangers to friends
The prospect of entering and living in a country across an ocean that has foreign customs and traditions to the one students grew up with begs the question: what is it like making friends? For many, immersing themselves in the American university lifestyle involves obtaining classroom connections, joining clubs and attending events where they can get connected.
Through natural developments, such as rooming with an American, international students can find companions. Bachwani stated he started making his initial friendships through his roommate who introduced him to even more students. Programs like the Latinos Avanzando Mentorship Program (LAMP) and African American Student Initiatives (AASI) have also been invaluable for Bachwani as they have welcomed him into their communities. "I'm a very shy person, so I don't easily talk to people," the freshman said. "I'm new so I just take small baby steps to make friends."
"Everyone is very friendly to each other. In Japan, we rarely talk to strangers. We only hang out with people who we know," said exchange student Unno.
One issue that incoming students face is cohorts from the same nation sticking together too closely, LeRoy mentioned. It can provide them with support from those who understand their specific needs but can also lead to a hampering of new relationship development.
"We just took a whole apartment, which is filled with Indian students. So personally, I didn't get [much] chance to meet other foreign students," said Rajkumar, an exchange student pursuing his Masters, who lives with 36 other Indian students in an apartment complex adjacent to campus.
What's next?
At the end of their required time in the United States, the four students all have very different visions of what will be next for them.
Masters student Balakrishnan said it is his ultimate goal to find a job and remain in America after earning his degree in global supply chain management in the spring.
"That's easy," Balakrishnan said about staying in the U.S. if he was offered a job. "If I get a job I will stay here."
Uuno, who will return to her Japanese university following the end of the fall semester, said her goal was to experience American culture in a way unlike what she could find in her home country. "I can understand about American culture in Japan, but I cannot experience it unless I come to the U.S.," Uuno said. She also seeks to improve her English skills and gain confidence to speak out and ask questions.
Freshman Bachwani said he is unsure about what the future might hold as he pursues a Bachelor's degree in computer information technology. He feels confident that there are many skills he could bring back to his home country like technology and even organization, although he is not sure where he may be four years from now.
For India native Rajkumar, he expects to take over his family's mining business upon completion of his Masters in global supply chain management. Soon after graduation, though, he wants to take time to explore the Western region of the United States, like Las Vegas and Los Angeles.
One skill he wants to bring back to India is the friendly nature of Americans. "The first day when I [came] to the United States, everyone was like, 'Hey, hi, how are you, good morning.' I felt like a celebrity. That was the first time I felt like that," Rajkumar said.
The students recognized how great their opportunity is to study in the U.S., and Balakrishnan pointed out that he is living the dream of many people he grew up with. Speaking about his realization that he would attend NKU, he called the experience "a childhood dream come true."