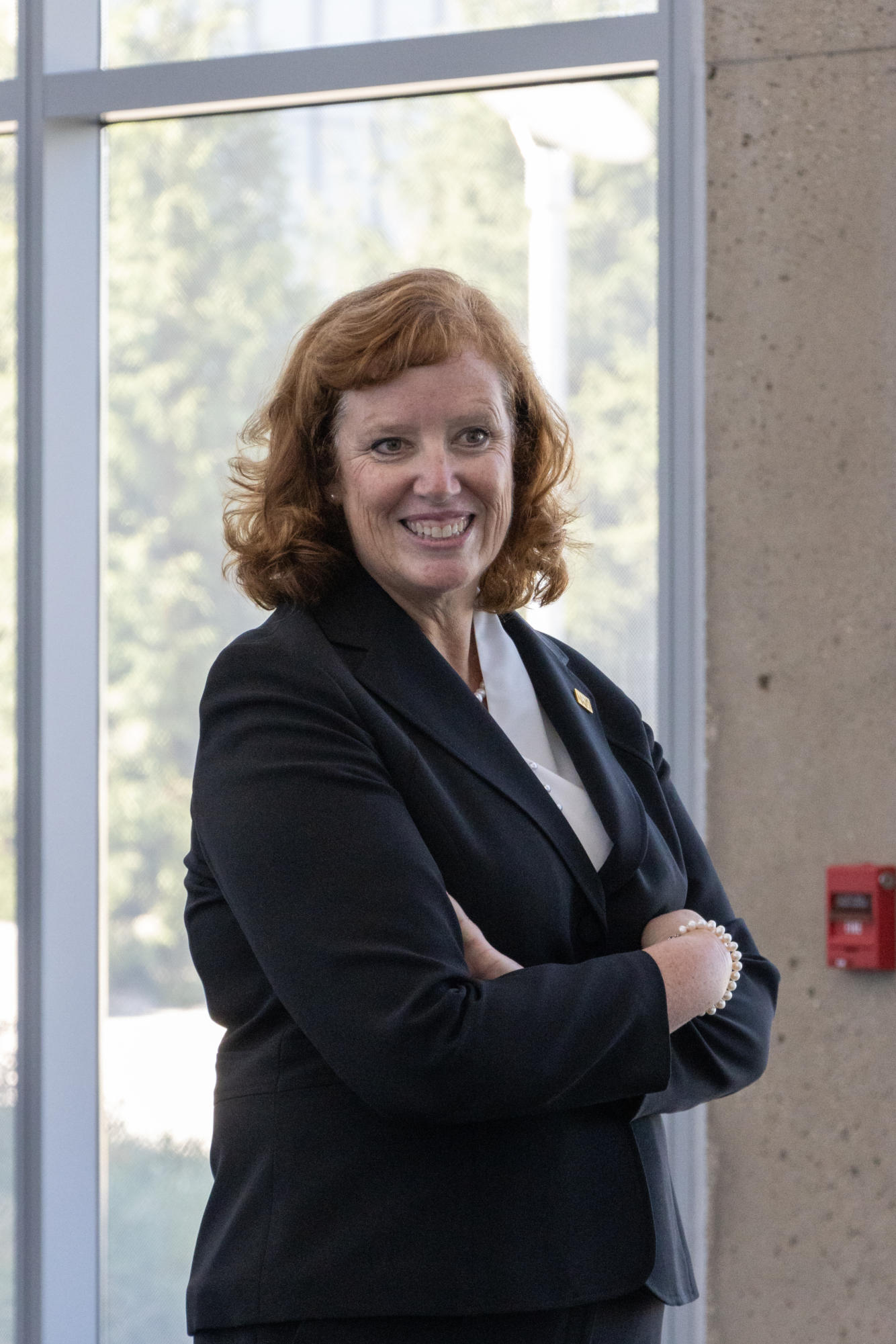 Dr. Cady Short-Thompson was announced as the seventh president of Northern Kentucky University on Sept. 13. As she officially stepped into office on Oct. 2, The Northerner shines a spotlight on five aspects of the new president that not everyone might know of.
Short-Thompson previously worked as a faculty member at NKU
From 1996 to 2010, Short-Thompson worked as a professor in the communication studies department at NKU. She taught classes both at the undergraduate and graduate level, with specialized communication courses in persuasion and interpersonal communication. 
Short-Thompson explained how influential getting to be a teacher was for her. 
"I think [teaching] is one of the most gratifying roles to play. For me, the classroom was what I would think of as a controlled environment where I could control the quality of work that we were doing together and the way that we treated each other," Short-Thompson said. 
Many former students of Short-Thompson were quick to reach out to her following the big announcement of her becoming NKU's next president. 
"From the minute that this decision was announced, it's been alumni who I taught and stayed in touch with for 20 years who blew up my phone," Short-Thompson said. "I had 320 countless texts on LinkedIn and Facebook messages." 
Short-Thompson's dedicated work definitely paid off when she won the annual Frank Stinton Milburn Outstanding Professor award back in 2007. This award is recognized annually at the President's Convocation. 
Short-Thompson loves to bake, hike and garden
Outside of her big role, Short-Thompson has many other hobbies to keep herself occupied when she's not at work. 
She loves hiking and exercise, and it's something she does daily with her family. 
"I love to hike. I love to get lost in the woods with whoever I'm with, my husband or my family. I walk every day with my sister, usually a long walk," Short-Thompson said. 
She also loves baking, something her grandma taught her. 
"I don't know if I have much time to do it now, but I can bake," Short-Thompson said. "I was raised with my grandmother in my house, and so she taught us all sorts of useful things like baking."
She also has a green thumb, where she loves taking care of plants in gardening.
"I also like to garden and I like plants. I don't even know how kosher it is to have plants in the president's office, but I have a lot of plants and [my husband] said you need to take these to the office," Short-Thompson said. 
For the president, these hobbies are important ways to take a break from work. 
"I have a big full life outside of work. Even if I have a big job, I oftentimes find ways to take a break from work," Short-Thompson said. 
Short-Thompson is deeply family-oriented
When asked about her biggest accomplishment, the new president quickly referred to her family, gushing about the selfless personalities of her three adult children. 
"They are points of pride for me because of who they are," Short-Thompson said.
Her children, ranging in age from 18, 20 to 24, are all in college, with two attending University of Michigan and one at her alma mater University of Cincinnati. 
She also brought up her 32-year marriage to her high school sweetheart, Steve, who she said she adores. 
Steve and Cady both attended Wyoming High School in the Cincinnati suburb of Wyoming, which is a brief 25-minute drive from NKU. The duo began dating when the now-president was only 16-years-old, and they never broke up from that point on. "I still can't get over it. It's nuts," Short-Thompson said. "But we were best friends… It's the easiest thing in my life."
At the beginning of the couples' marriage when Short-Thompson was finishing her doctorate coursework at University of Cincinnati, she recalled telling her husband to prepare himself for a relocation. Wherever her best job offer came from, the two agreed to pack up and move, no matter if it was across the country. 
Short-Thompson interviewed at three unique places, but it just so happened that the job she accepted was at NKU, and the pair didn't even have to leave their house, since they only lived 20 minutes from campus. "It was a little anticlimactic in terms of the big move. It was, 'drive across a bridge,'" she joked.
While the president has a tight-knit immediate family, she is also close with her extended family. 
Each year, Short-Thompson travels with about 45 family members to sleepy Sunset Beach, North Carolina. "We've gone since I was one," she said. "We just hang out and laugh and read and eat shrimp."
Her older sister, who lives only a half-mile from her home, hosts Sunday-night dinner for the family every week. "[My sister] has this great big family of five grandkids and my 90-year-old dad, there's about 30-35 of us every single week, Sunday night at my sister's house," Short-Thompson explained.
Short-Thompson enjoyed going on Norse Leadership Society retreats
She spoke of the annual Fall Retreat to Gatlinburg, Tennessee as a highlight when she was working as a NKU faculty member. The trip presented her with an opportunity to get to know students, to delight in leadership, people and community.
"Going to Gatlinburg every year, that was something," Short-Thompson laughed. "But it was not really about the place, it was about the people. So personally that was one of my favorite memories."
Short-Thompson left NKU in June 2010 after 14 years of service, during which time she had risen through the ranks to Department Chair of Communication. NKU never left her, however: even as she embarked on missions elsewhere, the university remained "the only institution in town where I wanted to assume a leadership role, because I just love the place and I love the mission," Short-Thompson explained.
So she stepped in when the selection pool for NKU's next president opened. Candidates from far and wide were invited on tours of the campus, and though Short-Thompson is no stranger to the area — she even attended a reception prior to her application for the presidency — she decided that she needed a tour as well. Buildings had sprung up and renovations had occurred during her absence, which she wanted to see for herself.
"A lot has gone on over those years, so I wanted to fill in whatever gaps I had," Short-Thompson said.
Indeed, NKU has and will continue to upgrade its facilities, revamp infrastructure and establish new spaces, however small or niche, that were not there during Short-Thompson's tenure as faculty. And Norse Leadership Society has added new locations, such as Indiana, to its Fall Retreat repertoire.
Short-Thompson finds a mentor in President Emeritus James Votruba
She arrived at NKU in 1996 and Votruba was announced as president the year after. All of a sudden the university found its own identity with his arrival, Short-Thompson said.
"It was like, just an accelerant," she recalled with a smile. "Suddenly the university just started to see itself differently. It found the words to describe itself."
Under Votruba's tenure NKU managed to connect to the Northern Kentucky-Greater Cincinnati ecosystem in ways not fully realized before, according to Short-Thompson. He also introduced more programs, including graduate programs, at different levels at the institution, as well as presiding over NKU's first step into Division I.
Short-Thompson was a member of Visions, Voices and Values, the president's strategic planning process in the fall of 1997. Consisting of faculty, staff, students and community members, the panel conducted over 30 conversations with nearly 500 people across campus and within the region, with an aim to define a future for NKU.
Short-Thompson remembered visiting 33 different Kentucky counties, where she listened to constituencies throughout the state on the values and opportunities they saw in what was a relatively young public university. As her work with Votruba continued, she became especially inspired by his interaction with others, which she seeks to emulate.
"He cared about people," Short-Thompson said. "He got to know people. He would oftentimes know their names and it was an inclusive nature."
She brought to mind an occasion when she was walking across campus with Votruba, and everyone with whom they crossed paths seemed to know the president. Short-Thompson strives to care about people in the same way, to build relationships with others and understand what they are going through.
"He's a strong leader, a capable leader. He's one who inspired a lot of belief in the organization itself, and so I harken back to the lessons that I learned from him often," the new president said.
And just as Votruba has remained at NKU for 15 years after leaving office — he attended Short-Thompson's presidential announcement in person, with a seat in the front row — Short-Thompson also intends to stick with NKU to see her vision through.
"I've come into this role at a time in my life when I have literally no interest in any other job," she said. "This is it. My first job was here, my last job will be here."