The opioid crisis is harrowing communities across the country, and the story is no different in Kentucky. Drug overdose death rates in Kentucky are among the highest in the country at about 56 deaths per 100,000 people in 2021, according to CDC data.
When looking specifically at the Northern Kentucky region, overdose death rates are alarming. The overdose death rate in Campbell County, where NKU is located, was about 38 per 100,000 people in 2022. The figure was about 30 when accounting only for opioid-caused deaths in Campbell County, according to Kentucky Injury Prevention and Research Center.
NKU introduced NaloxBoxes this academic year to counteract the deadly effects of opioid overdoses occurring on campus. 19 boxes are stationed across campus—much like automated external defibrillators or fire extinguishers—near main entrances and lobby areas of buildings, according to the program's webpage.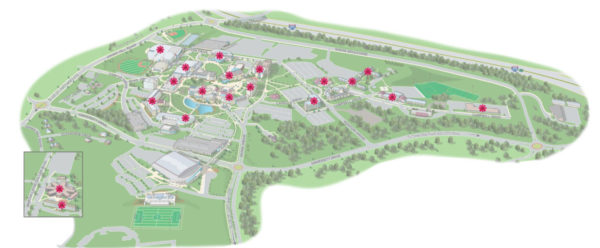 Inside the boxes are doses of naloxone, a medication that reverses the effects of an opioid overdose by blocking the brain's uptake of the opioid and restoring breathing. Each dose comes as a nasal spray and is able to be administered to someone in an emergency by any willing and able bystander, said Dr. Valerie Hardcastle, St. Elizabeth Healthcare Executive Director of the Institute for Health Innovation. 
The FDA approved naloxone for over-the-counter use in March, widening access for the medication and making programs like this one possible, said Hardcastle. 
NKU was approached by the University of Kentucky, which received an $87 million federal grant, titled the HEALing Communities Study, leveled to reduce overdose death by 40%. Part of UK's multipronged endeavor is to distribute naloxone in communities that demonstrate need. 
Hardcastle said that overdoses on campus aren't a regular occurrence, but they provide a potentially life-saving contingency plan in a dire strait. 
"Do we have a lot of overdoses on campus? No, we do not. Have we ever had one in the history of NKU? Yes, we have," she said. 
The Northern Kentucky Health Department is holding two Opioid Overdose Response Trainings to teach people how to notice signs of an opioid overdose and how to deliver naloxone on Sept. 26 and 27. 
Unlike some other drugs, naloxone is proven to be safe when taken by someone who doesn't have opioids in their system, making it an ideal harm reduction option, said Hardcastle.