Parking on a college campus typically comes with its share of woes, like finding a bright yellow parking ticket on your car's windshield, as well as victories, like tracking down an open parking spot five minutes before class.
All NKU students who bring their cars to campus are required to purchase a parking pass or pay a daily rate at the garage. A parking pass allows students access to any designated student lot or parking garage. Parking in these lots without a permit can be a costly mistake, with parking ticket fines ranging from $45 for not having a parking permit to $239 for removing a boot from an immobilized vehicle. 
This year, NKU raised parking permit prices by nearly 10% for the 2023-24 school year, increasing from $261 to $286 for the full academic year.
The Northerner took to Instagram to ask students about their parking experience so far this year. Below are a few student responses:
"You pay $286 for the whole year just to have to park in the grass every day." – @emilee.wedding
"I never have a problem finding a spot in the Welcome Center Garage!" – @maryhelen.a 
"This is mostly a commuter campus, so one would think they would have more parking." – @buzz_bee18
"Finding a parking spot often takes 10 minutes or more." – @grace_walsh840
Amid some student complaints regarding the price of NKU's parking permit, The Northerner researched and compared parking pass prices of regional universities. For this study, the following universities were included: NKU, Xavier University, University of Cincinnati, University of Kentucky, Eastern Kentucky University, Wright State University and Miami University.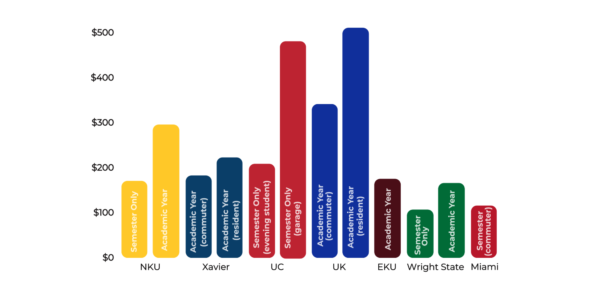 Here are the rankings of lowest parking permit prices to highest:
1. Wright State University, Dayton, OH
Wright State University parking is similar to NKU, offering semester and academic year parking passes. A semester-only permit costs $95, and the academic year permit totals $160. The near-7,500 student campus also offers a premium parking pass for $300, but a regular permit gets students access to any designated student lot. 
2. Miami University, Oxford, OH
The Redhawks keep parking simple, charging students $100 a semester for remote and commuter student lot access. The Oxford campus boasts around 17,000 undergraduate students.
3. Eastern Kentucky University, Richmond, KY
EKU, with nearly 11,600 students, only offers academic year-long permits, which cost Kernels $165. This price tag is the same as NKU's semester-only permit.
4. Xavier University, Cincinnati, OH
While Xavier hosts around 5,000 undergraduate students, it is a private university. They sell academic year parking passes: $175 for commuter students and $200-225 for residential students.
5. Northern Kentucky University, Highland Heights, KY
NKU, with an undergraduate enrollment of around 11,000, offers semester-only permits for $165 and full-year passes cost $286.
6. University of Kentucky, Lexington, KY
UK students have many options when it comes to parking. Typical commuter students pay nearly $350 for an academic year parking permit, and standard residents pay around $500 for the year.
7. University of Cincinnati, Cincinnati, OH
Things become more complicated with larger universities like UC, which boasts nearly 30,000 undergraduate students. Bearcats pay for parking per semester, with evening students paying an average of $200 and garage permits for regular students costing about $450.
The Northerner was unable to find current parking permit data for the University of Louisville or Thomas More University. 
NKU Parking Services did not respond to a request for comment.