NKU sorority collects donations for TN wildfire victims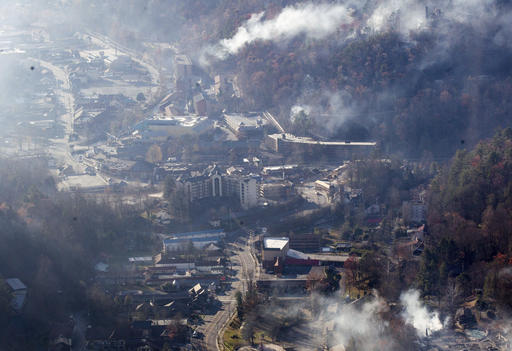 Though miles away from wildfires that ripped through Tennessee, one NKU organization is taking up collections to help those affected by the disaster that devastated Gatlinburg earlier this week.
Over 14,000 residents and tourists were evacuated from areas in eastern Tennessee Monday night, according to the Associated Press.
NKU sorority Theta Phi Alpha will collect items to donate to those who have been displaced, starting Dec. 1 through Dec. 11.
Shannon Mowery, a member of Theta Phi Alpha, said philanthropy is a central aspect to her organization.
"Our sisters feel a connection to the Smoky Mountains," Mowery said. "In general, we do help the less fortunate or homeless so this ties in well, and we just want to help make a difference and help the people down there."
Blankets, non-perishable food and toiletries will be collected for donations in the third floor of Callahan Hall, in the B wing. Donations will then be given to local organizations that will deliver the items directly by driving to Tennessee.
How you can help
Volunteer East Tennessee, an organization out of Knoxville that aims to inspire volunteer work, is looking for students to help with disaster clean up.
Students who want to volunteer will not be involved in first-responder activity or put in any danger, according to Volunteer East Tennessee's website.
While the American Red Cross is not looking for untrained volunteers, they are accepting monetary donations. You can donate $10 by texting "REDCROSS" to 90999, or you can visit their website for more information.
Items in demand include: blankets, water, bottled drinks, energy snack bars, non-perishable food, pillows and pillow cases, diapers, baby and personal wipes, hygiene items, toothbrushes, stuffed animal toys, coats, clothes, shoes/boots, gloves.
They also need pet supplies such as dog/cat food, kennels and more, according to the American Red Cross and local fire departments.
Items can be donated at Major Deals in Milford, Ohio no later than Sunday, or at a local Red Cross chapter.

Students who want to donate items through Theta Phi Alpha's collection can contact the chapter through Facebook.