PHOTOS: Chinese minor back at NKU after year hiatus
Born in China, the NKU alumna has taught English at a Chinese university and Chinese at a local high school.
Now, Professor Lin Sun — or, as her students call her, Sun-lǎoshī, meaning "Teacher Sun" — has revived the Chinese minor at NKU, after the program was without an instructor for a year.
Sun was hired as an adjunct professor starting this semester after having previously taught Chinese at Cooper High School in Union, Kentucky.
Dr. Caryn Connelly, director of World Languages and Literatures at NKU, is hoping this fresh start will translate into a healthy program of study for the university.
"I'm really excited about Lin Sun," Connelly said. "Her class is full, which I think bodes well."
Connelly plans to put Chinese 101 on the schedule again in spring, as well as Chinese 102 for the students currently enrolled in Sun's class. If Chinese 102 doesn't fill up sufficiently, she'll repeat the process with Chinese 101 next fall.
Connelly is even looking as far ahead as 2018.
"My hope is that we can build up a group of students, that, if we can't offer 201 in fall of 2017, we'd be able to offer it in fall of 2018,"Connelly said.
Connelly recognizes that it is easier to fill 101 courses because of general education requirements. However, both she and Sun find it promising that many incoming students already seem to have some experience, possibly because of the high school programs like the one Sun taught previously.
Connelly explains that, according to Sun, about half of the Chinese 101 class claims to have some background in Chinese, be it self-study or taking it previously in high school.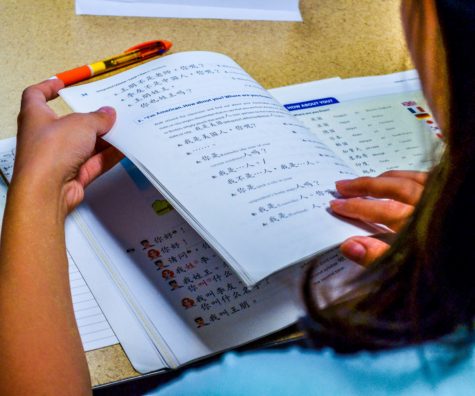 Indeed, Sun herself confessed that she was not expecting so much enthusiasm for a Chinese language program, but she is very pleased it's being embraced.
"As many students told me, Chinese has become popular because of the population and because they are fascinated about the culture," Sun said. "They want to know more about China and get to know more about the Chinese culture."
Many students are afraid to take Chinese because of the apparent difficulty. However, Sun explains that it gets easier.
"In the beginning, it is hard to learn because it is so different from what you're familiar with — compared with, probably, Spanish or French — you'll feel, 'Ah, it's so different, it's hard to learn.' But once you learn the very beginning parts — the more you learn, the easier you think it will be, because a lot of words are composed of the simpler words," Sun said.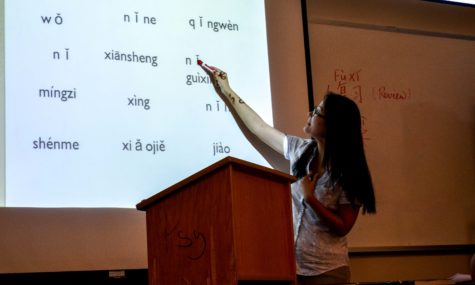 Students are enrolled in her class for many different reasons. Ivan Chwalik's reasoning is likely familiar to many students.
"All the other foreign language classes were filled up. . . . I am taking it for a gen-ed, and I don't know an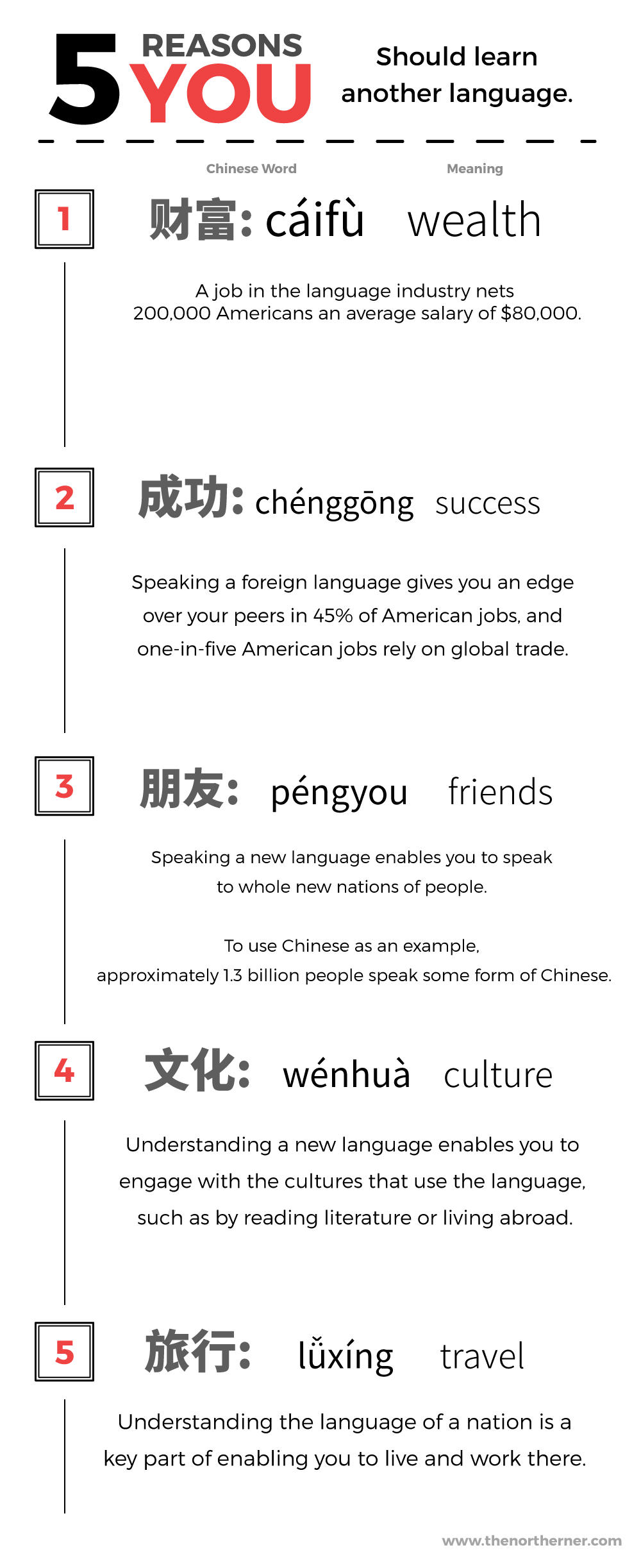 Eastern language yet," Chwalik said.
He said he would like to continue learning Chinese, however he said he would have to major or minor in the language in order to continue his studies.
Jacob Booth, on the other hand, is interested in making Chinese a part of his future career.
"I'm really interested in teaching English as a foreign language, especially in Asia due to the high demand for English teachers in the area," Booth said. "I know that China is the country with the highest demand for English teachers so I felt that it might be a good idea to take it."
However, both students agree on one thing: that they really enjoy the class.
"So far it's a great class," Booth said. "I really like the professor, Sun-lǎoshī. She's really nice… I think it'd be a great foreign language class for anybody to take due to the amount of people that speak the language and due to, you know, the difficulty. It really makes you think, so it's a fun class so far," Booth said.

Connelly estimates that at least 10 students would need to enroll in Chinese 102 for it to remain on the schedule for spring semester. She said students outside of the current Chinese 101 class can enroll.
Any student who feels they have the proficiency to take Chinese 102 can take a language placement test on the World Languages and Literatures website. A high enough score will enable students to skip Chinese 101.
The Northerner gathered information for our infographic from the following sources: 
http://blog.ed.gov/2015/11/the-importance-of-an-international-education-for-all-students/
http://www.languagepolicy.org/wp-content/uploads/2016/03/JNCL-AAAS-Update-2016.pdf
http://www.ethnologue.com/statistics/size