Academic proposal to benefit students and faculty
An updated grade appeals policy has been proposed in order to centralize information for students and give them a fair chance to petition final course grades.
Vice Provost for Undergraduate Academic Affairs Idna Corbett is overseeing the policy proposal. The proposal is presently open for public comment until Feb. 25.
Corbett noted that since the policy heavily deals with academic records, it is important to hear from all sides of the campus.
"The policy process requires that we have a public comment," Corbett said. "I have already received a number of comments from faculty members, but we would like feedback from students. This is a very important policy for students and for faculty."
Following the commenting period, the Admissions and Advising Policy Committee will review suggestions and then discuss any changes that need to be made to the policy statement, according to Corbett.
From there, if changes were made to the proposal, the policy statement will be voted on by the AAPC. Then it will be forwarded to the provost for approval and then to the president.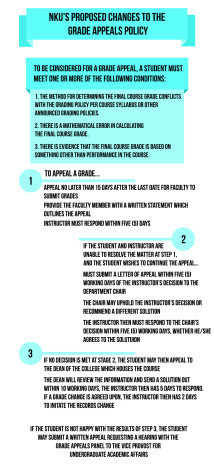 Corbett explained that one specific change that is currently included in the proposal is relocating the final appeal to the Office of the Vice Provost for Undergraduate Academic Affairs instead of within each college.
Once here, all involved parties such as the instructor, student, chair and dean have the option to show up for the hearing meeting. The Grade Appeals Panel will then listen to the evidence laid out by all parties that attend.
Corbett believes this helps out students by providing a neutral party and giving them the opportunity to express themselves in a way that may feel more comfortable to them.
"We understand that sometimes it is easier to verbally explain things for students rather than writing it all down," Corbett said.
Another significant change in the proposal is consolidating the information in one place so that the process is as clear as possible for students.
Kaleigh White, English major, explained her frustration with how academic policies are organized for students.
"Last semester I had to request incompletes and I had no idea that I could even do that until my advisor told me," White said. "It is the same problem with grade appeals. The more students know about the options we have when we feel that something is unfair, the better off we will be."
The proposal began two years ago from a recommendation from the Student Government Association, according to Interim Director of Norse Advising J. Patrick Moynahan.
Since then the proposal has made its way through the administrative pipeline as the Dean of Students, AAPC and faculty senate have all weighed in on the policy statement.
"It has been vetted by faculty, students and administrators," Moynahan said. "We had to consider the best interests of students, and that is done by looking at everyone's roles in this process. In all, there was a lot of tinkering with it and adapting minor changes."
Moynahan explained that though this proposal has taken longer than most proposed policy changes, the end goal for all involved parties is the same.
"In the end, both students and faculty want grades to be an accurate representation of a student's work," Moynahan said. "It is important that we find a way to fairly resolve any disagreement on that basis."
For more information on the grade appeals proposal, visit policy.nku.edu.