A guide to on-campus dining
With more than 15,000 students on campus, NKU Dining has the responsibility to provide food that is appetizing, nutritionally rich and speedily available to nearly all of them.
Currently, students have access to 11 different concepts in the Student Union, convenience stores across campus and two different residential dining halls.
The concepts offer a variety of options ranging from pasta to burgers. Patrick Hannan, the resident district manager of Chartwells, who manages NKU Dining Services, explained how essential variety is to college food services.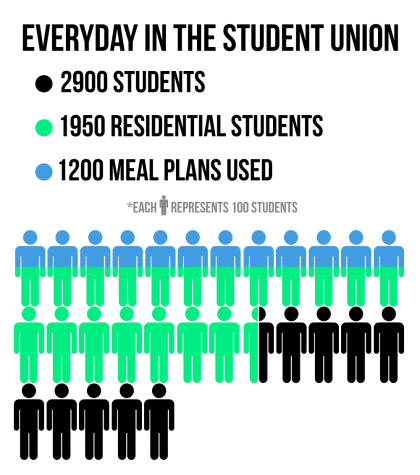 "There are two things that we are mainly challenged with which is variety perception and value perception," Hannan said. "[Variety perception] looks at things like the Student Union and what we offer up there that reflects something that students might see at home with Abode, something cutting edge with our sushi production, a good sandwich from Mondos, a little Mexican food, and so on and so forth."
Jordan Hodge, sophomore entrepreneurship major, believes that the variety is the best part of NKU Dining.
"They have enough variety to cover their bases," Hodge stated. "It is hard to compete with the options out in the real world, but they do what they can."
Campus dining is planning on expanding options, implementing new sustainability initiatives and improving student communications.
Future plans
With the Callahan Bistro renovations finishing up, the food truck on the plaza, which was brought in to supplement the closure at Callahan, will only be available for a couple more weeks.
Also when the Bistro reopens on Oct. 4, the concepts in the Student Union will start closing at 6:30 p.m. instead of 8 p.m., according to Hannan.
The most recent addition to the on-campus concepts is Biz Bites, which will open on Sept. 30, as long as everything goes to plan.
"We are waiting on a couple of things that might deter it a couple of days but we are aiming for Wednesday," Hannan explained.  
Biz Bites is a convenient store that sells similar items to the Outtakes locations on campus. It will be located in the College of Business.
"We are going to have our Outtakes on-the-go program there as well as some convenience store items like coffee and beverages there for the folks trafficking through the business building," Hannan explained.
Biz Bites stemmed from NKU Dining's consistent efforts to come up with various improvements that they can apply to existing facilities and possible new concepts on a year-to-year basis, according to Hannan.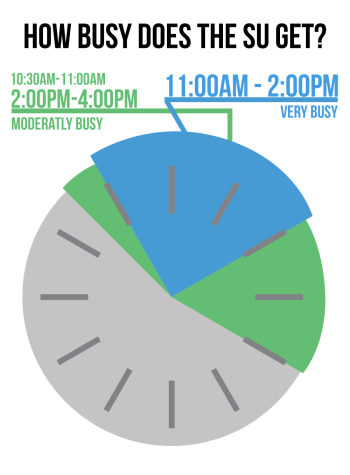 Other innovations include creating a concept in the upcoming Health Innovation Center.
In addition to new facilities, NKU Dining wants to get more involved in with the academic community.
"Our goal is really to be a big part of the learning community which means working with students on potential programs and teaching our students how to cook and live, those types of things," Hannan said.
Existing programs
NKU Dining is also focusing on employing programs and initiatives that contribute to a nutritional and sustainable lifestyle.
One program is the biannual Project Clean Plate in the residential dining halls. Project Clean Plate is an awareness campaign that calls to students' attention how much food they waste as well as the value of those foods.
"In residential dining we identify and track the waste from students' plates and we track what they throw off of their plate and then we match that volume and give that dollar amount to charity," Hannan explained.
In accordance to NKU's attempts to lower their foodprint, which is the environmental impact of food, they utilize cage-free eggs, antibiotic-free pork and chicken, local produce when available and got rid of to-go options in the residential dining halls to minimize waste, according to Hannan.
Rebecca Campbell, senior theatre major, values that the facilities use local produce.
"I like the fact that they use local produce at places like Mondos," Campbell said. "I don't have to worry about what I'm eating."
In order to promote health and wellness, NKU Dining uses icons to identify food items that are sustainable, vegan, vegetarian and gluten-free.
Hannan also explained that they work closely with students with allergies. They also have resources on their website, dineoncampus.com, to help students track their nutrition intake.
Room for improvement
Although NKU Dining has made strides in many areas, Hannan explained that he wishes to improve upon student outreach.
Whether it is trying to hire more students or provide portals for communication, Hannan feels that they are moving in a positive direction with student collaboration.
"It is imperative to help students through their college lives, it is not just providing food services but we want to provide nutrition, we want to be a better partner, we want to help them make great decisions," Hannan explained. "For a lot of them it is their first time away from home for resident students, we want to make sure they feel comfortable."
He does this by encouraging his associates do things like learning the names of five students daily and gaining knowledge on meal plans in order to answer questions students may have.
Campbell feels that understanding meal plans is the most complicated part of campus dining.
"I would like more clarity about the meal plans, like what places take flex versus which take meal swipes," Campbell said "It is frustrating that it is not consistent throughout campus."
Meal plans are currently offered to residents, commuters, faculty and staff. They vary in the amount of meal swipes and flex dollars.
While most students who live on campus are required to purchase a meal plan, Hannan explained that the plans are more cost efficient for those who aren't required to have them.
"We want to educate them on understanding that we are not just trying to sell them a meal plan for the sake of selling them a meal plan, but provide better value to them, especially commuter students that might not understand that if they eat here three times a week, a meal plan is tax free and a better value," Hannan said.