Norse to Nations gives students an unforgettable experience
One year ago, Amber Mercedes stood viewing the rushing waters of the 27 waterfalls in the Dominican Republic. Although abroad and ready to enjoy the thrill of exploring what laid before her, she was overseas for the main purpose of service.
Mercedes, who grew up in the Dominican Republic, felt the need to travel back home. Even though her parents repeatedly insisted that if she wanted to go she could easily do so by visiting her grandmother, Mercedes knew there was more to be done. That's why she chose to travel with Norse to Nations.
Norse to Nations is a student organization at NKU dedicated to service both locally and internationally with one primary goal: to change the world. According to their website, n2nivision.com, they offer an average of three international trips a year and one in Kentucky.
With eight accomplished trips already under their belt, Norse to Nations recently expanded. In 2014, the non-profit N2N Vision Inc. was established. N2N Vision oversees both Norse to Nations and the University of Kentucky's similar student organization Cats to Countries, who will be taking their first trip to Guatemala this summer.
Mercedes, a senior resource management major and trip leader for the 2015 Dominican Republic trip, shared how the connection she felt for supporting those back home lead her to get involved in Norse to Nations.
"When I heard about the Dominican Republic trip I was like,'Oh my gosh I want to go!' Because I am Dominican it was really cool to get to go to my home country and see another side of it," Mercedes stated. "I wanted to be able to give back to my people. There is always more work to be done, you can see this when you talk to the kids and realize that they dream just like we dream. If you can be a agent in helping them, then do that."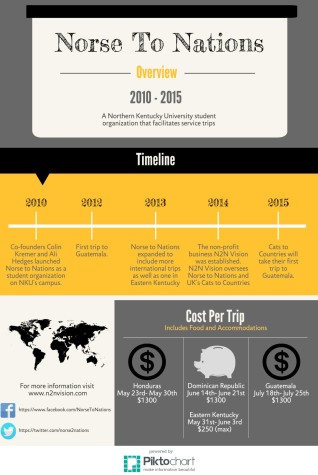 Chaz Woodyard, statistics major and trip leader for the Norse to Nations 2015 Dominican Republic trip, also participated in the previous trip to the Dominican Republic. Woodyard initially wanted to get involved because traveling excited him, but when he was introduced to the service side of the organization, he fulfilled a need he didn't even know he had.
"Honestly, I just wanted to travel, but when we arrived and I saw just how much of an impact we had it made me realize how much I always wanted to volunteer and Norse to Nations was that stepping stone I needed," explained Woodyard.
Each trip that Norse to Nations offers involves at least one service project. According to Co-founder of Norse to Nations and NKU graduate Colin Kremer, trips include a variety of services that are very dependent on each country's needs and infrastructure.
"It's about what they need most at the exact moment we are there. We do everything from building shelters, to painting, working with children and even organizing community events," Kremer stated.
Kremer also explained how much the organization has grown since beginning in 2012.
"It's been almost exponential, like every single year when we came back from an original trip more and more students have been wanting and willing to go on our trips," said Kremer. "The best example I can give is that this organization literally started with Ali Hedges and I co-founding and we were planning on it being one trip a year. After the first year, when we came back from Guatemala we had 40 to 50 to even 60 emails in our inbox from interested students wanting to go on our trips."
When in a foreign area, Mercedes suggests keeping an open mind. She stressed that plans change and that volunteers shouldn't get caught up in what ought be happening, but instead take in the scenery and enjoy what they can while they're there.
"These are very relaxed environments and you have to be flexible with the time and the people." Mercedes then added, "Be daring and adventurous! Try that new food, be open-minded, I think that is the key to being able to enjoy your experience while you're abroad."
Andrea Carter
While Norse to Nations provides an unforgettable experience of traveling overseas to students, the service is what sets this organization apart. Jeff Iker, NKU's new student orientation coordinator and staff advisor to Norse to Nations explained the impact that service trips have not just on the communities but the students themselves.
"The fact is that when you go on an international trip, you do see change and you do see what you will like to change about yourself, but when you come back to America it is a really tough thing to resist once it gets ahold of you," Iker explained.
"Hopefully, what you can do is just remember the situation that your friends are in, whether it is three hours away in Eastern Kentucky or 5,000 miles away in Nigeria," he continued. "Just try to remember that when you want to post that comment on Yik Yak or tweet about stupid stuff or get caught up in superficial or consequential things, remember those kids you worked with and the adults you met while trying to make a change."