UPDATE: Mearns selects two students for rec center review committee
UPDATED: President Mearns chose two students Friday to be a part of the committee that will review the requests for proposals (RFPs) from third parties that will potentially run the renovated Campus Recreation Center. The current rec center staff has also submitted a plan to continue management of the facility, according to Dean Waple.
Junior SGA Student Rights chair Kristian Johnson and graduate student Elizabeth Ruwe were selected from a list of student names Mearns asked SGA to compile.
Johnson said the committee is currently trying to schedule its first meeting and will deliver their recommendation to the president by Feb. 20.
"We will review each RFP that has been submitted, and in those, the RFP also submitted by current rec center staff," Johnson said. "We are hoping to get it done in two to three meetings."
Johnson, an accounting and finance double major, said he will take his role on the review committee very seriously.
"I just want to make sure that the best decision is made for the students, but I also want to make sure that that decision is one that is a financially responsible decision for both the university and the students," Johnson said.
Last week President Mearns promised student jobs will continue at the rec center regardless of whether or not an outside firm will manage the facility in the future. Additionally, Mearns guaranteed that no further costs would be dealt to students for existing programs in the rec center.
"Any outside partner would continue to incorporate student employment," Mearns said. "I understand that the rec center is a significant source of student employment and that student employment is critical to the effective function of the recreation center… that will be a critical, non-negotiable component."
Mearns could not clarify how many student jobs could be added or axed if a private firm was approved to manage the facility.
The president said the administration is exploring all management possibilities to safeguard the contribution of students, past, present and future who have funded the rec center.
"It is critically important to ensure we are getting the greatest return on that investment," Mearns said.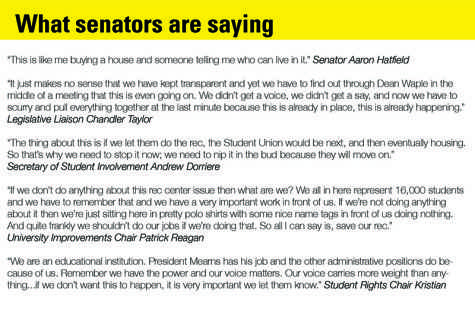 Mearns said new services or programs could be added to the rec center if management changed, but those services could potentially come at an additional cost.
SGA President John Jose broke the news to students in a public forum Friday, Jan. 23 that outside firms will have the opportunity to submit requests for proposals to run the recreation center until Feb. 4.
Student government has taken a stand against the potential of a third party operating the facility and launched a #SaveOurRec campaign and petition to continue current operations.
"I think our recreation staff is top-notch," Jose said. "I think it's one of the best in the Commonwealth and we have the numbers to prove that, our numbers have gone up in participation and they're even expanding our rec center because it's too small."
Jose told students President Mearns assured him that a third-party takeover is not a done deal.
"They would have to be in a far superior state than where we are now [for us to pick a third party]," Jose said, quoting Mearns.
Jose told the SGA that private firm Centers USA LLC, currently present at Cleveland State University, Depaul University, University of Alabama at Birmingham, and University of Missouri-St. Louis, campuses among others, plans to submit a proposal.
"They've been to seven universities and they're usually known for coming in to either a failing rec center or a university that's never had a rec center," Jose said.
Mearns could not confirm whether or not Centers USA had submitted a proposal.
Jose argued in the forum and at SGA's meeting Monday that because tuition dollars pay for the $45 million recreation center building, the students should have a say in who manages the space.
"We need to make sure that we argue this as a student standpoint, from student perspective," Jose said.
Current recreation staff submitted an opposing proposal to keep the management as it currently is.
"We've been working on [a plan] for about two years now in terms of what it would take to manage budgets, staffing, programs, all of those things that would be involved in the new facility. It's not something we had to create this week," Matt Hackett, director of campus recreation said.
SGA Vice President Kat Hahnel told senators that the student body needs to send a clear message that they are content with the recreation center and its management, equipment and programs.
"What we need to let him know is that we are happy with the return that we have now and that we like the way things are now. We're not looking for something else," Hahnel said.
Although SGA believes that the rec center should retain its existing management, Jose said the students should not turn on the administration or President Mearns.
"They are just doing their duty to see what could be most effective for our student population," Jose said.
SGA plans to present their stance on the issue in various student organizations this week to gain student support for the issue. Student government also plans to have Ipads available in the Student Union this week for students to sign the petition.
After Feb. 4, a committee will review the submitted proposals.