Professor rises to the 'challenge'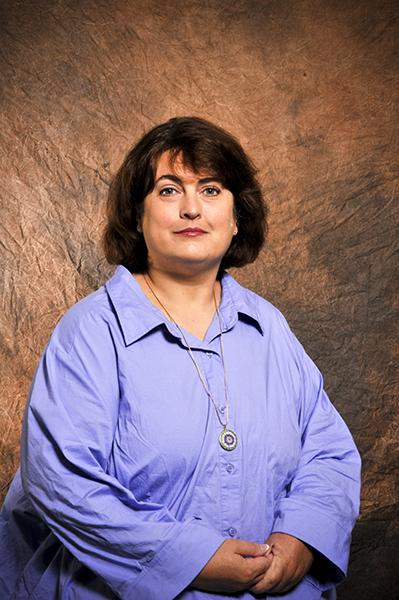 If you ask Dr. Rebecca Bailey, associate professor of History, what her top three achievements are in life, she might have a hard time choosing between her many accomplishments. However, there is one achievement that she says would for sure make her top three.
"Of all the things that I've achieved in my life, it may sound silly, but doing 30 for 30 is in the top three," Bailey said.
In September, the NKU Wellness Center and Campus Recreation Center challenged students to get 30 minutes of exercise for 30 days. While 824 people registered for the challenge, only 304 finished it in its entirety and only 14 participants received a grand prize. Bailey was one of the winners and for that she is proud.
Letting your affliction become your addiction
As a baby, Bailey suffered a stroke causing her to develop cerebral palsy on the left side of her body. Bailey also suffers from an immune disorder, which causes her to have a weak immune system.
"Most little children have a feeling of 'if I jump off this roof I can fly, I'm fine,' Bailey said. "But instead from the time I had consciousness, I was always told 'you can't do that, you can't risk breaking that weak arm or leg because who knows if it will heal less than what you have now'. So I was always reminded of what I couldn't do, not what I could do."
According to Bailey, while people were just trying to help her, they sometimes enabled her instead.
"When you get sick and stay sick or have a disability, not only the people you love but even doctors will start enabling you to stay where you are," Bailey said. "Everyone does it out of love and or respect but that can have a downside because you can be, out of love and compassion, enabled and become even weaker than you are."
While pursuing her degrees and teaching, Bailey says she allowed her disability and the stress to become an excuse for bad eating habits and not exercising. Her habits, eventually caused her to fall deeper into ill health.
"When you get in a hole of ill health…a form of depression sets in," Bailey said. "And thats what I meant when I said affliction can become your addiction."
Instead of trying to find ways to help herself, Bailey was constantly finding reasons as to why her body couldn't handle tasks such as working out.
This time last year Bailey weighed over 300 pounds.
And shortly after Christmas, she had a realization.
Making a change
Only two short weeks after returning back to Kentucky from visiting family for the holidays in Virginia, Bailey suffered a loss in her family. Her brother, only nine-years-older than her, passed away in his sleep after his heart gave out.
Her brother's memorial fell between two conferences that the University had already begun to pay for her to attend. While all the events were on different dates, Bailey wasn't well enough to attend all three.
So Bailey had to make the hard decision to miss her brother's memorial, in order to attend the conferences that were already being paid for. Had she have been in better health, she could have attended all three.
"I had to tell my parents that physically I couldn't do all three and when I asked them 'what do you want me to do?'  Daddy said there's nothing that you can do for him now, but he would be proud… and he would want you to honor your commitments," Bailey said.
And then her father said something that would change her life forever.
"After that he said, 'but baby please don't make me bury you too'," Bailey said in tears.
Bailey then made a promise to her father and put a plan into action to better her health.
"The first level of commitment for doing that for me was to be honest, pay for a trainer, because I'm cheap," Bailey said. "I knew if I was paying someone to meet with me that I would have to be accountable and I also wouldn't want to be wasting my money."
After a couple months of personal training, Bailey was then encouraged by her trainers to push herself and participate in the 30 for 30 challenge. Because of her disability and her health, Bailey wasn't sure if the challenge was right for her and wasn't sure that she could do the program by herself. However, her personal trainers continued to persuade her and Bailey decided to register for the program and eventually complete it in its entirety.
Looking forward
"If I can do it, anyone on this campus can do it," Bailey said. "I made it and over the course of that month, I've been losing weight at a rate of about a pound to two pounds a week, which is what a physician would say is an optimal rate."
Bailey's current weight goal is to get under 200 pounds, and she is determined to get there. In fact, she is already planning on the doing the program again if she has the chance. If she is to do the challenge again, she wants to help others who may be in the same place as she was or just need encouragement.
"When they do this again, I'm going to do it again and if anyone who feels that they can relate to where I'm at and have been and need my help and support, I will email them and I will call them because I have lost almost 55 pounds since this last January," Bailey said. "Wherever you're at, or whatever challenges you may have, making the commitment to yourself to say I'm going to challenge my body to do this for 30 minutes for 30 days straight, however you come close to achieving that goal can be such an empowering thing."
Angela Aber, coordinator of fitness at the campus rec center, has been one of the trainers working with Bailey over the past several months.
"We have three trainers with her," Aber said. "She's doing much better and we are very proud of her."
Kim Baker, employee wellness manager, believes that Bailey is a great poster child for the rec center personal training program and the 30 for 30 challenge. And while she's not 100 percent sure if the challenge will return, she would love to do it again.
I would definitely be down to do it again," Baker said. "I would actually love to do it again, if we have the manpower."
Regardless of whether or not she actually gets to participate in the challenge again, Bailey has set a goal of participating in a 5k walk/run this time next year.
But above all, Bailey believes that the 30 for 30 challenge has restored her hope.
"I have a PHD, I've published a book, I just got interviewed for a national tv documentary and yet above all of that, that program helped me prove to myself that I could do something," Bailey said. "It gave me hope."