Mayors accompany campus safety walk, identify issues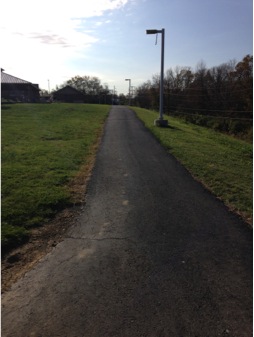 Senators from the university improvements committee presented issues ranging from potholes to lighting problems found during the 2014 Fall Campus Safety Walk at Monday's SGA meeting. The walk, which took place Oct. 20, identified potential safety problems in the areas of Callahan Hall, residential village, Campbell Hall and main campus and was attended by SGA members, faculty, staff and the mayors of Cold Spring and Highland Heights.
"We do this because actually in the past, we've gotten a lot of productive results out of this," University Improvements chair Patrick Reagan said. "Certain sidewalk projects such as Nunn Drive to the Honors House, an extra bus stop behind MEP (Math, Education and Psychology), all of that has come out of the safety walk."
Callahan Hall
A group of SGA senators, Dean Jeffrey Waple, administrators, Cold Spring Mayor Mark Stoeber and Highland Heights Mayor Greg Meyers identified safety concerns around the area of Callahan Hall, Northern Terrace, Martha Layne Collins Boulevard and the area behind the residential buildings.
Senator Hattie Clark, the leader of the Callahan Hall route, said one of the top safety items on SGA's wish list is a crosswalk across Martha Layne Collins Boulevard linking residence halls to businesses in Cold Spring.
"One of the things we've been advocating for a while now is a crosswalk from Callahan to Kroger," Clark said. "The mayor of Cold Spring said we could potentially put a pedestrian walking sign there, which would be beneficial."
Mayor Meyer said that a crosswalk may also be in the future safely connecting the walking path from the off-campus residence halls to the soccer fields.
Other safety items addressed were outdoor lightning not turning on until late at night, a broken lock on a back entrance to Northern Terrace, more lighting along Johns Hill Road and more call boxes along the walking path from the residence halls to campus.
Senators also addressed a need for a fence along the back of Callahan Hall to prevent students from parking near the loading docks, lighting for volleyball courts located just behind Callahan Hall in Highland Heights and cameras around Callahan Hall.
In their report, senators said they observed several solutions to issues discovered last year, including more All Card swipes and a chain fence at the end of a dropoff near the parking lot.
Mayor Meyers encouraged students to continue discussions about safety after the walk.
"The door's always open," Meyers said. "We do encourage you to come to our meetings. The university is very good for both of our cities and we probably get the lion's share, but… we are the recipient of the boundary."
Mayor Stoeber said that although Cold Spring is just outside of Highland Heights and NKU, he appreciates opportunities to work together.
"The relationship between the city and the university and Highland Heights is kind of like Highland Heights is the parent of the school, and they get all that comes with being a parent," Stoeber said. "The city of Cold Spring to Northern Kentucky University is kind of like a grandparent relationship. We get all the benefits…but we don't get the day-to-day stuff."
Mayor Stoeber also said the city has greatly benefitted from the university and also welcomes feedback from students.
"The main thing is reach out and talk…I can't tell you how much our city enjoys and needs your school here," Stoeber said. "Yes from a revenue standpoint, but more importantly, though, you bring youth, you bring ideas, you bring new stuff and the city really really needs that to survive and to grow."
Residential Village
Reagan said one of the main safety concerns identified on the residential route were potholes in parking lots.
"When it came to the residential village, we found potholes ranging in size from the size to a dime to the size of a human in parking lots," Reagan said.
Other concerns identified were the presence of superficial rust on the steps and bridges of Norse Hall and Woodcrest Apartments as well as a lack of call boxes near the ceramics building, a place that Reagan said many students often stay working on projects until 3 or 4 a.m.
Senators also identified a need for more bike racks in the residential village, preferably with rain covers.
Reagan said the addition of covers could be an incentive for more students to ride bike on campus and reduce vehicular traffic.
Safety walk participants also noted several beneficial changes as a result of last year's walks.
"A lot of great things have come from previous safety walks such as a brand new sidewalk that looks incredible compared to last year," Clark said.
Campbell Hall
Senators identified a few areas of improvement in Campbell Hall, a new addition to this year's campus safety walk.
"We decided to add campbell hall to the safety walk because in the past we've never been there," Reagan said.
Senators said they identified exposed wires hanging from the ceiling, an area where more modern furniture could be installed and that the snack area and computer lab could be updated.
Reagan said the computer lab houses only one printer for around 500 students. He said a future survey may be conducted to find how students in Campbell Hall feel about the services they're receiving and if they print in places other than the computer lab.
Senators also reported that the building located directly behind Campbell Hall is dilapidated.
Main Campus
Senators, faculty and staff on the main campus route identified safety concerns inside and outside the Math, Education and Psychology building, University Center Lucas Administrative Center, Landrum Academic Center and Founders Hall.
In the University Center, safety walk participants found corrosion on the sinks and displaced ceiling tiles in the women's first floor restroom.
Additional corrosion and cracked tiles were found in a restroom on the fifth floor of Founders Hall. A cracked light and distressed concrete was also identified outside the building.
Leaky concrete and rusted metal was discovered under the bridge connecting the Math, Education and Psychology building to the Lucas Administrative Center, but senators said in their report that it did not pose an immediate safety threat for students.
"There were just some things that would look more aesthetically pleasing if they were fixed but could also lead to some problems in the future," SGA senator Tanner Elrod said.
Senators also identified old desks in Landrum Academic Center as a problem for students. SGA passed a resolution last month in favor of replacing the small, old desks in Landrum as well as Founders Hall.
SGA President John Jose said that more lighting in construction areas, particularly near the Albright Health Center, would also be beneficial for students walking out to parking lots late at night.