Budget cuts lead to layoffs
Putting the plans it devised last spring to deal with its budget problems into action, NKU had to make some layoffs over the summer.
According to President Geoffrey Mearns the university had to terminate between 40 and 45 staff positions this past June. However, of those positions, only 25 were occupied and eight of those staff members were relocated to different positions around the university.
"Overall, there were about 15 or 16 people who exited the university as a result of the reduction," Mearns said.
At the spring 2014 budget address in April, Mearns said that NKU not only faced the same 2.5 percent budget cut that all other universities faced across the state, which would have meant $1.2 million cut from NKU, the university also needed to give $4.8 million to the Kentucky Educational Retirement System. While the state did decrease the 2.5 percent statewide cut to only 1.5 percent, $739,000 to NKU, as well as covered half of what NKU owed in KERS, NKU still had to make a university-wide five percent budget cut across all its departments.
One of the departments that was hit the hardest was university advancement, whose five percent cut equaled out to $238,000. According to Director of Marketing and Communications Chris Cole, the marketing and communications department inside university advancement lost three of its employees lowering the staff from 15 members to 12. He said that the department is looking for an assistant vice president, which would bring it up to 13.
"Each department had a certain amount that they had to come up with. The marketing and communications department offices are obviously the largest in university advancement," Cole said.
According to Cole, university advancement contains marketing and communications, alumni programs, advancement services and university development as well as donor relationships.
Cole said that he, along with Vice President of University Advancement Eric Gentry, made the decisions on who would be laid off in the department.
"It's the most difficult conversation, professionally, that you have," Gentry said. "These are decisions that are affecting people's families and affecting people's lives. That makes them difficult decisions to make but even more difficult conversations to have."
The decisions were made even harder because they weren't performance-based but rather a result of the tough reality the university faces, said Cole.
Looking for positions that could be cut or had redundancies was a hard task, Gentry said.
"We sat down with marketing and communications and leadership advancement and really looked at areas that may have some duplicity, but also looked at areas that we may have the ability to shoulder," Gentry said.
However, morale of the department has been pretty good, according to Cole.
"It's better than you might imagine," he said. "We're a very close group. We work hard. We've been together for several years. There's a lot of work to do. That redistributed work got everyone running faster than we normally do. It's like the president said: this is an unfortunate reality based on the financial situations that we face and we accept that."
Gentry said that keeping a positive attitude has been helpful to the department.
"It's been a difficult year with those budget cuts," he said. "Marketing and communications is looking at the positives and taking a step forward and realizing that there are challenges that lay ahead."
The next steps
Since the university's budget problems arose, Mearns has said that he has been talking with members of the Council on Postsecondary Education, who meet biannually to make decisions regarding Kentucky's colleges.
"There is an absence of a funding model for higher education through the Commonwealth of Kentucky," Mearns said. "Our current amount of state support does not bear any rational relationship between the number of students we enroll or the number of students who've graduated."
NKU relies heavily on tuition and enrollment, Gentry said, and according to Mearns, freshman enrollment this fall is anticipated to be up six percent from where it was last year.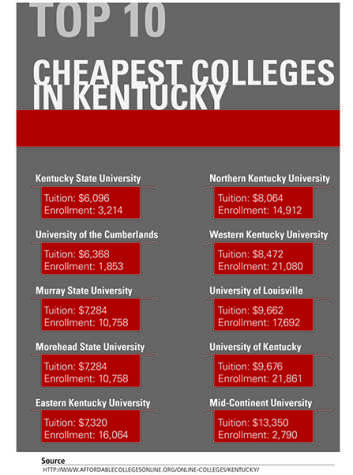 Dillon Wray
Mearns said that freshmen enrollment contributes to the university's new enrollment revenue. Transfer, retention, graduate and law students also factor into that number. He said that once all the numbers for this fall come in, the university can use them to determine its projected tuition revenue.
"Students pay different tuitions depending upon whether they're an undergraduate or graduate student or a law student," Mearns said. "They pay different tuitions if they're in state or metro rate or out of state, so we not only have to look at the total number of students, but also the demographics."
During the budget address last spring, Mearns had recommended a 4.7 percent tuition increase to NKU's board of regents. Despite this, NKU is still ranked as the sixth cheapest college in Kentucky by affordablecollegesonline.org
The university is planning on handling its budget by studying and analyzing an all-funds budget approach, which would consolidate the university's debt, according to Gentry. He said it will also look for ways to use its resources more effectively, search for alternative revenue sources and work more closely with the NKU Foundation, which receives and invests donated funds to help the university.
#RoadToNKU
NKU is one of the best kept secrets in Northern Kentucky, Mearns said at the fall 2014 convocation. In hopes of changing that and to bring more attention to the university, he said that he plans to take NKU 'on the road.'
Mearns is going to seven different regions across the state, according to Gentry. He said that during these visits Mearns will talk to high schools, principals, guidance counselors, alumni and legislative and community leaders to "tell the story of NKU."
The details of these visits are still being finalized but will be available to the public sometime in the near future, according to Cole. There will also be a Twitter hashtag, #RoadToNKU, that Mearns will use to update people on his visits.