New TANK route offers quicker commute to NKU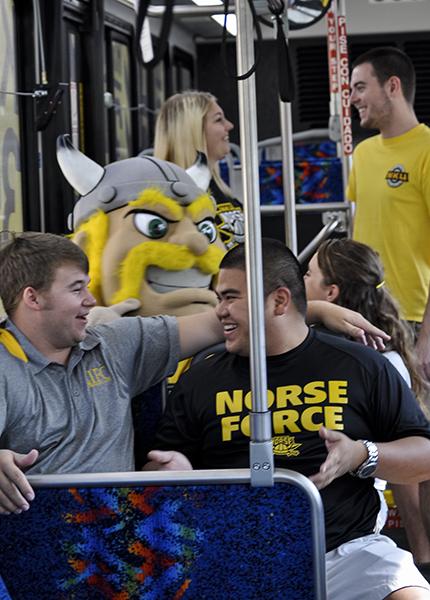 Connecting Boone, Campbell, and Kenton counties, route 35x sets out to connect the three counties and offer a quicker commute for riders who do not need to go to Covington or Cincinnati. On Aug. 4, TANK began a new route called the East to West express, or 35x.
The new route only makes seven stops as it travels back and forth from its beginning at the Florence Mall to its last stop at Furniture Fair in Cold Spring. The maximum travel time for NKU students riding the bus is around 45 minutes compared to an almost two hour commute some riders faced each day.
Pam Wagar, business officer for the College of Informatics, now rides the 35x bus and says the new route is "quick and efficient."
"So far the longest ride I've had was 45 minutes," Wagar said. "The difference in commutes then to now is significant. Previously, I would have to travel to a park and ride, catch an express to Cincinnati, wait for a route 25 bus, and take a 'local' to NKU. My total commute, from home to campus, was at least an hour and 45 minutes."
Gina Douthat, the director of communications and development at TANK, said that the company often got messages from students who lived in Boone county saying there wasn't a good route for them to take to NKU, which pushed them to create a new route to cater to more students.
An estimated three percent of NKU students ride TANK, according to a commuter survey from spring 2014. Mary Paula Schuh, director of campus and space planning, hopes that the number will increase with the new route.
According to Douthat, 15 percent of TANK's riders are NKU related, through either their All Card or the NKU shuttle.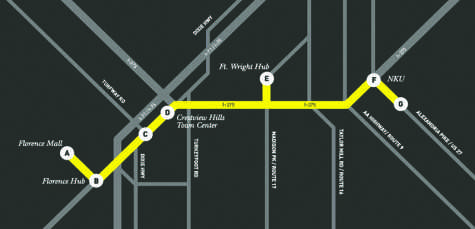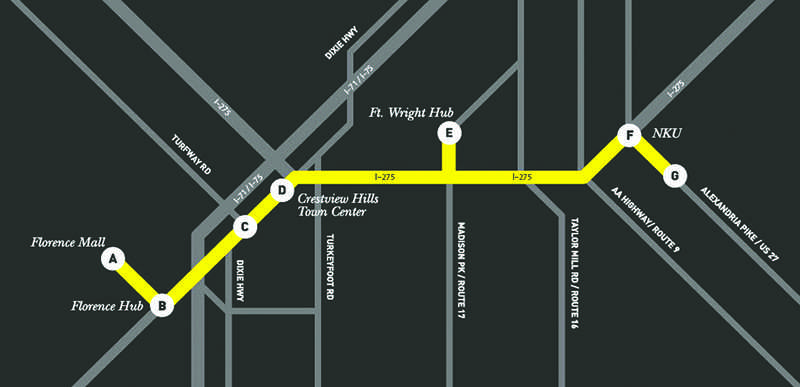 "I think that with Callahan Hall and the new Northern Terrace hall, the NKU shuttle is just taking off," Douthat said.
Douthat added that she hopes the 35x route will also increase in popularity among NKU students.
Schuh said she encourages students to utilize the new TANK route because it will not only help financially but environmentally as well.
In December of 2007, NKU signed the American College and University President's Climate Commitment, according to Jane C. Goode, the planning coordinator for campus and space planning. Colleges and universities that have signed the commitment work to have a neutral effect on the climate and to avoid having a negative effect on the environment, said Goode.
"Because 85 percent of our students are not resident on campus, that means they're coming and going," she said. "One of the largest parts of our carbon footprint is commuting and that's students, faculty and staff. So in addition to trying to keep education at NKU affordable, we're also encouraging students to make more green or sustainable choices," Goode said.
Since the U-Pass became available to students in July of 2007, Goode said it has been estimated that NKU has provided more than 1.8 million free rides to the campus community for a savings of almost 5,000 metric tons of CO2 equivalent.
"It's more efficient, it's greener, if there is traffic someone else it sitting in it and it hits your pocket book, so there's no effect there," Goode said.
Wagar says that she would definitely recommend the new route to any students, staff and faculty.
"I don't have to worry about negotiating traffic on the days I take the bus, I can read and relax, and I know I will arrive on campus or home in a timely fashion. And it definitely does not hurt that NKU students, faculty, and staff ride for free," Wagar said. "We also don't have to cruise around the parking lots looking for an open space. It is a win-win."