Oculus Rift virtually makes the future a reality
If you have ever been on the third floor of Griffin Hall, you have probably passed the innovation gallery and wondered what was going on in there. Some have referred to it as a 'tech playground,' but there is so much more to it. Among the sea of technology, you'll find the Oculus Rift.
The device is a band that goes around the wearer's head in order to take them into a virtual reality. Right now, the device at NKU can only allow the wearer to see a room and feel as though they are in it or even ride a rollercoaster.
Currently, the device is being used to create a virtual tour of Griffin Hall done by media specialist and student Branden Middendorf, a senior media informatics major.
Middendorf says the project will improve once the university has the Oculus DK2 which is set for release in September for $350. The university spent $300 on the first edition.
According to Project Manager Chris Rider, the technology will be beneficial for students and businesses. Students can use it to form ideas for future technology.
Rider said the technology is also useful for businesses.
"For example, Kroger could use it for facial recognition," Rider said. "If Kelly has a problem at the deli then Kroger can recognize that it was her and give her a discount the next time she comes in."
According to Rider, the former CEO of Procter and Gamble has visited the gallery and eyed the Oculus Rift.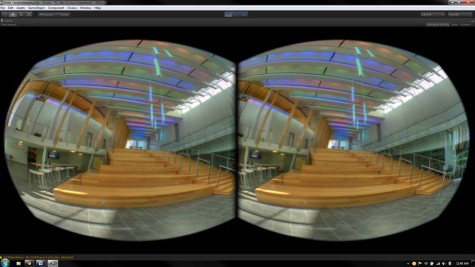 Students from the Center for Applied Informatics (CAI) and those taking certain media informatics courses have also been able to try out the new technology. Middendorf said thasome of the technology could be used in basketball some day in order to help track a player's dribbles or t
heir shots.
Aside from the Rift, the innovation gallery works on devices such as Google Glass and an updated augmented reality for children's books.
Keep an eye out for the new advances coming from CAI with the Oculus DK2.