Eaton investigation reaches conclusion: Q&A with President Mearns
Kevin Schultz & Stephen Wilder & Brook Clifford, Editor-in-Chief & Managing Editor & Sports Editor
April 23, 2014
As the dust settles in the Scott Eaton embezzlement investigation, the university is now focusing on preventing incidents of this nature from occurring again. Editors from The Northerner spoke to NKU President Geoffrey Mearns about the closure of the case and the changes taking place on campus.
Question & Answer:

Q: Do you have any reactions to the specifics of the plea deal Eaton took? Do you think the 10-year maximum sentence with restitution is fair?
A: I don't other than, as I said, I think it is a just result based upon all the facts that I am aware of.
As someone who participated as a lawyer in the criminal justice system, both as a prosecutor and defense lawyer, we rely on the advisory system, which then will be endorsed by the judge to produce a result that is a just one and that process was followed appropriately in this case.
Again, I think it's a just result.
Q: What changes have occurred thus far within the university due to this incident? Are there any more to come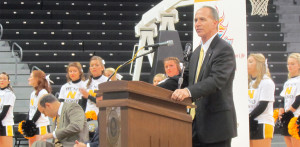 A: The March letter…  is a very accurate and detailed summary of the recommendations that were provided to us by the outside counsel and the outside accountant, and that's an accurate and relatively current summary of all of the changes we made with respect to the procurement card policy.
In essence, we have fully implemented all of those recommendations. And then the ones, with respect, more broadly, with respect to a culture of compliance and integrity, several of those steps have been completed and others are in process.
Q: Do you think this situation has impacted potential enrollment numbers at NKU
A: I don't think so.
Q: Do you think this has potentially impacted donors' future financial contributions to the university?
A: I don't think it will have an adverse effect on philanthropic support and community support for the university.
In fact, in the conversations that I've had with alumni and donors and business leaders throughout the region they have all indicated to me that they have actually been impressed with the way in which the university handled this situation. And specifically that it was done in a clear and decisive way and that we were transparent with all our constituents about the issue and how we handled it.
I believe by handling it in that way, we have, in fact, instilled confidence in our university as a result.
Q: Scott Eaton's Lawyer Ben Dusing insisted, even after the April 17 press conference, that Eaton brought his financial wrongdoings to NKU's attention. What are your thoughts about this and why do you think he continues to insist this?
A: Well… I believe he continues to insist that because he believes it will either help get a more lenient sentence or that it will maybe make people feel better about his client.
The facts are the facts. And the facts are that there was the initial March disclosure of my letter, during the days leading up to that he never said anything to any of us including our outside counsel about financial impropriety.Then there is my April letter… It was at that point, and only after that second letter, in April, that Mr. Eaton and his lawyer went into law enforcement authorities to report the financial misconduct.
Let me just say, if Mr. Eaton is so keen on the fact that he disclosed it to us…He didn't stop doing it for six years. Does he expect us to believe, that all of a sudden, he's going to transform himself into now the person who is the good guy? I just find that claim hard to believe. Even putting aside the facts, right? Even if you didn't know the facts I just recounted, his credibility is such that it seems to me hard to endorse.
Q: I know you had an outside firm conduct an audit when you were suspicious of the financial wrongdoings. So, what are you hoping to do in the future with audit precautions that will prevent these kind of financial wrongdoings?
A: There wasn't an audit done every year on athletics. I don't know which years there was an audit. Essentially what our audit department does, is they periodically do audits of colleges, programs, divisions, and so it typically, it would be unusual, if not extraordinary, for any unit to get audited every year, it is usually every few years. I don't know off hand which years those audits were conducted on athletics.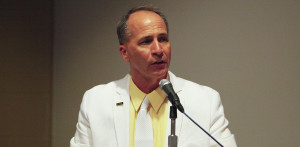 Certainly though, there was at least one audit conducted during the period of time, from 2007 or 2008 to 2013. There was an internal audit conducted and it didn't detect these activities.
So what have we done to prevent that from happening?
One is the whole set of changes to the procurement card policies and administration. By virtue of having a new provider and the various systems that are in pl
ace by result it should detect the kind of theft and scheme that he used to commit this theft.
The second thing that we are doing also is by moving the audit department into under the direction and under the supervision of the general counsel it is my expectation that we will continue to enhance the vigor and thoroughness with which we continue to conduct internal audit.
Q: Where does the university go from here?
A: In our standpoint, of course, we are moving forward with the success of our athletics program and under the great leadership of Ken Bothof, we're getting stronger and better everyday. With respect to this specific matter, again, we will cooperate with the law enforcement authorities and with the court if our cooperation is needed. And then of course we are evaluating the opportunities we have to retain restitution to cover the losses we suffered.