College of Business' dean search comes to a close
The College of Business chose Dr. Rebecca Porterfield, who currently serves as the graduate associate dean of the University of North Carolina Wilmington Cameron School of Business, as their new dean.
She will begin the position on July 1, and here is a list of all the finalists who were considered for the job.
Students, faculty and staff were invited to participate in open forums. Feedback from the forum will be gathered by the search committee and used to determine the top finalists for the position.
According to search committee member, Janet Harrah, Senior Director of the Center for Economic Analysis & Development, each of the candidates showed strength in leadership, consensus building, fundraising, and developing relationships with the community.
"If a dean can do those three things they can be successful," Harrah said.
The search began in October when the current College of Business dean, Richard Kolbe announced his resignation from the position in July 2013.
Rebecca Porterfield

Porterfield currently serves as the graduate associate dean at the Cameron School of Business at The University of North Carolina Wilmington. She previously served as the undergraduate associate dean. Porterfield also has faculty experience at her current university as well as Hofstra University and Mississippi State University.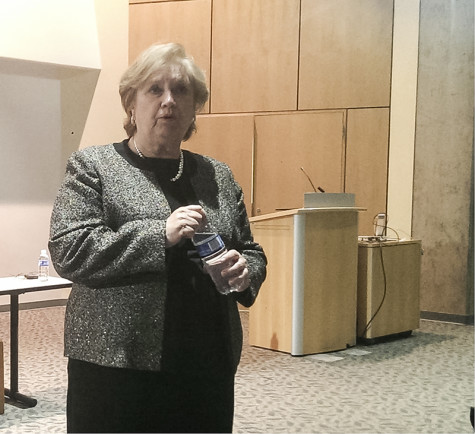 Making connections with surrounding businesses is one area that Porterfield wants to work with if she is chosen as the new dean. Porterfield stressed the importance of identifying and reaching out to businesses that the university has an ongoing relationship with. She described how partnering with these businesses can help open up potential internships for students.
Porterfield also talked about the importance of really getting involved with a company during an internship and not just doing clerical tasks such as making copies or filing things. She said that good internships allow students to do projects for the company and allow students to see what the company does with those projects.
"There's a misconception – undergraduate students can do phenomenal projects for companies," said Porterfield.
Networking with recent alumni was another area that Porterfield touched upon. Making these connections with recent graduates can allow students to further network with area companies and give students insight on how the business world is changing. Corporate executives mentoring students was mentioned as a way to create a connection between the university and area businesses as well.
Making sure that the college of business has more advisory committees is another area that Porterfield would like to work on if she were to receive the position. These advisory committees can be valuable to the college business because they can allow faculty to connect with area business people and allow these potential employers to "see our students in action," said Porterfield.
Porterfield also spoke on the importance of professors motivating students by establishing projects within their courses. Porterfield explained how these projects can be valuable as to break up courses that are lecture heavy.
"Those faculty that are successful in terms of really engaging students will create projects within the business community," said Porterfield.
She said this practice can make you more engaged in the learning process.
"I'm a believer that you learn it and do it," said Porterfield.
Another area that Porterfield looks to improve upon if she receives the position is international programs. Providing more opportunities for business students to study abroad will be one of her priorities.
Senior Accounting Major Trevor Dunaway said he liked Porterfield's international push and the fact that she the college needs to work on community engagement. He said what he looks for in a dean is someone who "puts students first" and wants to be involved with the students.
"I don't know how much of an impact our voice is going to make in this decision," said Dunaway. "Hopefully it has a good role in helping in the decision."
He also said that voicing the problems with the college can help the candidates by giving them a heads up on what needs to be improved when they take the job.
Otto Chang
Chang received his bachelor's in Economics from the National Taiwan University. He came to University of Illinois to complete his master's and PH.D in accounting.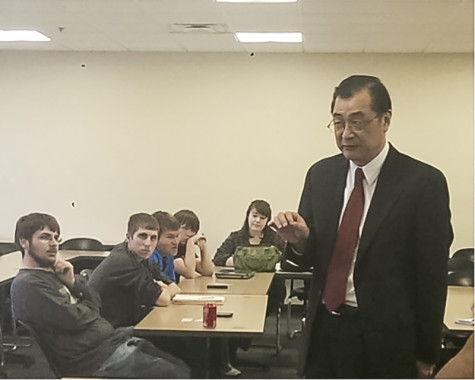 "I had originally planned to get my master's and go back to Taiwan but my professors told me I had great leadership potential," Chang said.
He has taught at University of Wyoming, Texas Christian University, and California State University at San Bernardino (CSUSB). He was the associate dean of the College of Business at CSUSB. Currently Chang is the Dean for the School of Business at Indiana University Purdue University (IDFW).
Chang emphasized the importance of experiential learning in business courses throughout the forum.
"Business is an application, it's practice, it's an art, " Chang said.
Student and faculty showed an interest in more experiential learning courses.
"We already cross the divide between applied knowledge and theory," Stephanie Hughes, Associate Professor of Management, said. "I was encouraged to hear that he wants to continue that."
"Every NKU professor comes from a practical background. They all bring real world experience and I think that is something lacking in colleges," Jason Hulett, president of Collegiate Entrepreneurs Organization, said.
Chang also focused on increasing transdisciplinary courses and degrees.
Transdisciplinary courses and degrees span across multiple colleges or disciplines.
"I find it much easier to go outside the college of business for transdisciplinary collaborations then interdisciplinary collaborations," Chang said.
Chang proposed a dual Master of Nursing Practice (MNP) and Master of Business Administration(MBA) degree at IDFW. He also designed a five-year engineering Bachelor of Science and MBA degree.
Beth Ingram
Ingram is currently the Associate Provost for Undergraduate Education at The University of Iowa. she formerly was the Associate Dean for Undergraduate Programs for the Tippie College of Business at The University of Iowa.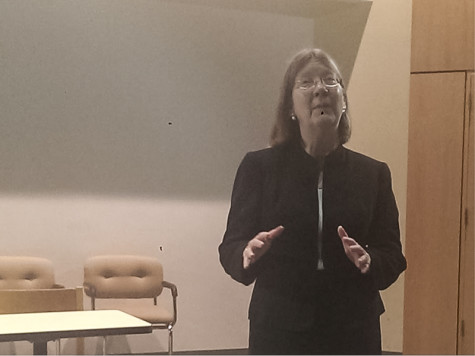 She received her Ph.D from the University of Minnesota in economics. She has taught at Cornell University and  The University of Iowa.
Ingram focused on promoting faculty and staff involvement when making a decision. "No one should feel like  they can't bring me ideas," Ingram said.
Ingram said the college of informatics has great potential for collaborations with the college of business "That seems like a huge opportunity given the demand from employers," Ingram said.
"I really would like to see more interaction between the two  colleges. We have a lot to learn from them and they have a lot to learn from us," Hulett said.
Ingram said these computer and technology skills should be taught to everyone because they are transferable to any field.
"I think technology can be both an opportunity and a challenge," Ingram said.
Ingram sees opportunities for online classes but does not feel it is right for every class. She does not see NKU going fully online because the ability for students to interact  with faculty and other students is our "bread and butter."
Hema Krishnan
Krishnan received her Ph.D. in Business Administration from The University of Tennessee.
Krishnan currently is the  Associate Dean and Professor of Management & Entrepreneurship for the  Williams College of Business at Xavier University. She has been working at Xavier for 21 years.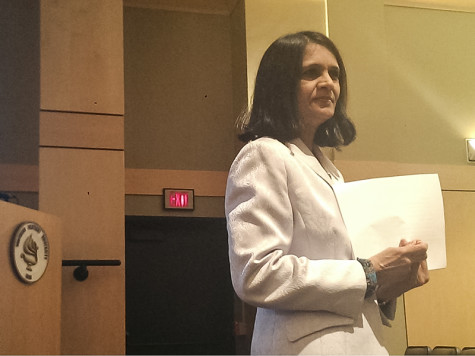 "I just love this region," Krishnan said.
Krishnan's knowledge of the local area distinguishes her from the other candidates according Rebeca Volpe, director of the Kentucky small business development center.
"The area is vibrant because of the entrepreneurship and innovation, It is so crucial that we help the local economy," Krishnan said.
Michael Meginnis, freshman marketing major, feels the college of business is not doing enough to build relationships with local companies. "It's just not being done," Meginnis said. "If i want to get an internship I am on my own."
Krishnan believes relationships with businesses creates future mentors for students. "Everybody needs a mentor. If a student wants a mentor they should have one," she said.
She gave a personal example of  how a mentor helped her get through school.
Krishnan said transdisciplinary courses are crucial because the "global mindset of students" and the  business needs of the community.