UPDATED: Food debate rages on
SGA is in the process of passing a resolution supporting the addition of a nationally branded food concept in the Northern Fare food court. The resolution references positive student feedback from the recent town hall forum and survey as reasons why SGA is in favor of a new concept in the student union. SGA also believes a new franchise will align with the goals and values of NKU by providing healthier and diverse options as well as offering products at or below market value for student meal plans. The resolution was created by Legislative Liaison Chandler Taylor and President Erik Pederson.
Concerns regarding the possibility of a Chick-fil-A franchise coming to the Student Union were addressed at a town hall forum on April 7.
Though the rescheduled town hall was held to discuss the pros and cons of the top four franchises chosen by students and faculty from a recent survey, discussion became centered on the political and religious views of the Chick-fil-A franchise.
SGA president Erik Pederson and Dean Jeff Waple revealed that Chick-fil-A topped the list of votes from both the student and faculty surveys, followed by Subway, McAlister's and Panda Express from the student survey and McAlister's, Wendy's and Subway from the faculty survey.
The floor was then opened up to discussion.
SGA judicial councilman Chris Walters was one of the first to speak out about the controversy surrounding Chick-fil-A. Walters read aloud NKU's value statement then stated why he believed Chick-fil-A's values, donations to anti-LGBTQ organizations and instances of employee discrimination, conflicted with NKU's beliefs.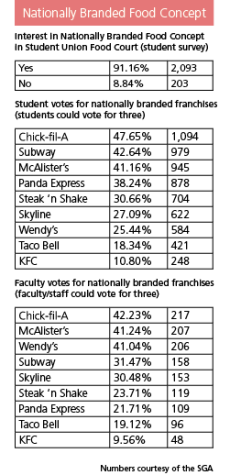 "Chick-fil-A is unhealthy and inconsistent with the university's push for wellness," Walters stated. "In addition, this chain will eliminate chicken from other restaurants, thus impacting the diets of many students that may choose to not support Chick-fil-A or want healthier options… Supporting these types of mindsets is detrimental to inclusivity in NKU's strategic plan."
Vivien Raper, a four-year employee of a Chick-fil-A franchise and NKU student, expressed that she has never encountered discrimination in her workplace and that she believes the organizations, in which some franchises choose to donate, are not reflective of the corporation as a whole.
"As a woman and someone who is not religious, I've never met nicer people in my life in my time working there," Raper said.
However, some faculty members were unpleased with the consideration of Chick-fil-A as an option.
"@northernermedia  I'm NKU faculty and I definitely do NOT support bringing Chick-fil-a. Their views on human rights are not inclusive," Tweeted NKU Librarian and professor Mary Chesnut.
Chesnut later tweeted about how the inclusion of a Chick-fil-A would go against NKU's core values.
"NKU core values: …a community that embraces INCLUSIVENESS, diversity, and global awareness in all dimensions of our work #nkufranchise," Chesnut Tweeted.
Pederson stated that Chick-fil-A will not necessarily be brought to the Student Union.
"We opened this forum saying that just because number one got the most votes and has the highest percentage, it's not the way we'll necessarily go," Pederson said.
Dean Waple added that one, two, or even zero franchises might be brought to the Student Union after more research is done on the cost and menu options of each franchise. Waple explained that the university would also have to decide if a current concept would have to be removed to make room for a nationally branded concept. He stressed that the process is still in its earliest stages and that the soonest a concept might be added would be August 2015.
The possibility of bringing in Panda Express was also discussed as several students expressed a desire for the return of an Asian food concept in the Student Union.
Although Subway and Skyline received a significant amount of votes, Waple warned students that the two franchises might not be an option because of the close proximity of NKU to established Subway and Skyline locations.
Other opinions and suggestions expressed by students at the forum included combining The Strip and Coyote Jack's to make room for a new concept, keeping the Student Union open for late night after the Norse Commons renovation is complete and offering off-campus meal swipes.
Additional questions and comments about the results of the survey and possibility of a nationally branded concept can be e-mailed to sga@nku.edu