Updated: Late night flood causes disruption to NKU residents
Clogged drains cause flooding for second time this week
On the night of March 30, as students of Kentucky Hall's Laurel Wing rushed to get things ready for the morning, water rushed into their hallway.
A drain clogged the showers and caused water to back up and run out into the first floor hallway around 11:40 p.m., according to Arnie Slaughter, director of University Housing.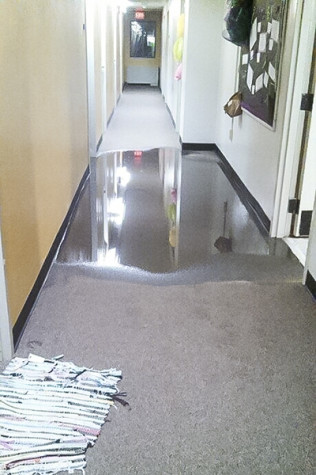 And to make matters worse, it happened again on April 1.
Slaughter said that while a drain was clogged, the event wasn't anything too malicious.
"On Sunday at midnight, my R.A. was going around knocking on the doors near the bathroom," said Rupali Sapra, a freshman accounting major and a resident of Laurel Wing.
According to Slaughter, the water reached four rooms, but there weren't any major damages.
Emily Briggs, sophomore sociology major and fellow resident of the Laurel Wing, said the only inconvenience for her was having to go upstairs to use the bathroom.
"For our response system, we have a resident assistant (R.A.) and hall director that are on call," Slaughter said. "Any time a facility issue or an emergency occurs, if the R.A. doesn't see it, it is our hope that a resident will report it to the R.A. or to the desk. Or, if it is something that is extremely significant, they contact the University Police first."
Slaughter said that for this event, the R.A. was able to contact emergency maintenance and they were able to address the problem immediately.
However, resident Mikaylah Stern, freshman psychology major, felt differently.
"I'm frustrated that within five minutes there was water in the hall," Stern said. "But it took until 2:30 in the morning for them to start working."
Slaughter has high regards for the maintenance team though.
"I must praise our operations and maintenance team," Slaughter said. "They were able to address the issue as soon as possible and we were able to reopen the facilities by 10 the next morning."
Sapra said the only inconvenience she has faced is the fans that are constantly running, which makes it difficult for her to sleep.
"There were giant heater fans that were going all day and night," Briggs said. "They were really loud when I was sleeping."
Slaughter reminded that "accidents" do occur.
"With facilities, you never know what could happen," Slaughter said. "But the response and the reporting is the key for minimizing the damages."
After the second round of excess water Tuesday night, campus plumbers delved deeper into the system to correct the problem, according to Slaughter.
Slaughter said that all showers and bathrooms are operational as of Wednesday morning.