Jose and Hahnel clinch SGA victory with two-vote margin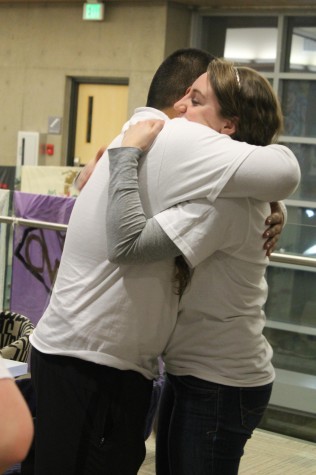 It's been a long week of campaigning for Student Government Association presidential and vice presidential candidates, but at the end of Thursday night only one pair prevailed.
SGA Chief Justice Daniel Cieslak announced at 10:23 p.m. that John Jose and Katherine Hahnel had clinched a narrow victory of 499 votes over David Trump and Justin Wynne's 497 votes for the top spots in the 2014 SGA elections.
"It's been a good experience, it's been fun, and you know definitely if anything you learn from it," David Trump, junior theatre major, said before the results were announced.  "John's a great guy; I think if either of us win we'll do the right thing."
John Jose, junior organizational leadership major, was nervous before the results but felt he and Hahnel turned heads throughout the campaign.
"When I win, you know, I'm excited, I'm excited to get something going," Jose said.  "And when I lose I'm still going to be there, I'll never take a break from the university until I'm done."
The crowd who had gathered on the third floor of the Student Union to hear the results gasped when it was announced that Jose and Hahnel had won the election by just two votes.
NKU Dean of Students Jeffrey Waple, who had been watching votes come in throughout the evening, stated that the election had been close the entire night.
Trump, in good spirits, joked that in doing things differently he could have gotten three more votes to win the election.
"I'm disappointed but that's natural," Trump said. "It was very, very close, but that's alright."
Katherine Hahnel, sophomore vocal performance and accounting double major, felt both sides "kicked butt" and said her vice presidential win meant the world to her.
Jose's initial reaction was that he had come in second place, but was thrilled when he realized he would be the SGA president for the 2014-2015 academic year.
"I'm just happy for people that trust me and I'm not going to let them down," Jose said.  "This shaking feeling is something in my life I'll never feel again, but I can't wait to work for Norse nation."
A complete list of the results from the 2014 SGA elections is listed below.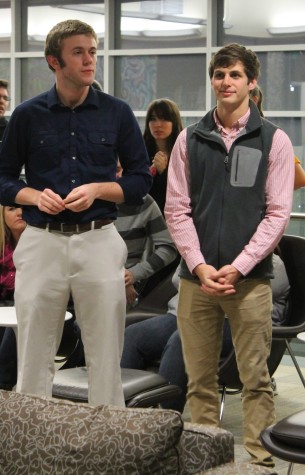 | | |
| --- | --- |
| President/Vice President | |
| John Jose(President)/Katherine Hahnel (VP) | 499 |
| David Trump (President)/Justin Wynne (VP) | 497 |
| Secretary for Student Involvement | |
| Andrew Dorriere | 801 |
| Secretary for Public Relations | |
| Nick Berra | 503 |
| Megan Beckerich | 348 |
| Secretary for Administrative Affairs | |
| Hannah Jones | 349 |
| Joey Yerace | 248 |
| Amanda Rogers | 205 |
| Student Senate (top 25 elected) | |
| Elizabeth Ruwe | 446 |
| Patrick Reagan | 435 |
| Tanner Elrod | 426 |
| Hattie Clark | 419 |
| Chandler Taylor | 406 |
| Kyle Conley | 366 |
| Jarrod West | 366 |
| Clayton Castle | 351 |
| Kyle D. Taylor | 342 |
| Sarah Howard | 340 |
| Kylie Meiser | 332 |
| Nick Pflum | 327 |
| Aaron Hatfield | 322 |
| Isaac McFarland | 318 |
| Eleanor Kremer | 315 |
| Kristian Johnson | 308 |
| Rick Seal | 287 |
| Maria Rojas | 281 |
| Ella Mravec | 275 |
| Julia Steffen | 268 |
| Donald J. Taylor | 263 |
| Laura Hahn | 251 |
| Keisha Frazier | 248 |
| Andrew Ritchie | 246 |
| John W. Weber (Will) | 243 |
| Elizabeth Akinade | 240 |
| Lucas Cannon | 239 |
| Alexandra Reece | 233 |
| Camey Marshall | 222 |
| Tanner Coyne-Chailland | 221 |
| Branden Schrenk | 220 |
| Adam Anderson | 187 |
| Devin McNary-Mason | 121 |
| Nikki Gamble (Write-In) | 20 |
| Max Heckel (Write-In) | 7 |
| Mackenzie Kinman (Write-In) | 6 |
| Judicial Council (top 5 elected) | |
| Rafael Torres | 585 |
| Hannah French | 565 |
| Chris Paco Walters | 560 |
| Tyler Stevens | 548 |
| Nicole Arduser (Write-In) | 32 |
| Lance Viapando (Write-In) | 22 |
| Erin Reynolds (Write-In) | 21 |