Health Innovations Center to offer additional resources
Plans currently underway for the construction of the new building
Nearly 250 well-qualified students are turned away because NKU doesn't have space for them and 30 percent of applicants are denied admission as a result of NKU having a 28 percent loss of space per student compared to 10 years ago, according to Larry Blake, assistant vice president of Facilities Management.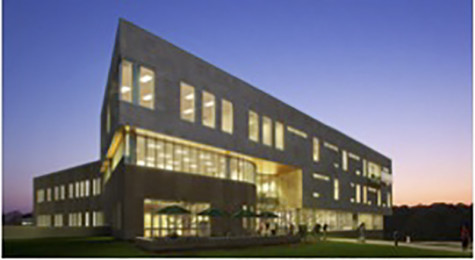 Despite NKU President Geoffrey Mearns' efforts to appeal to the legislators, the university is unlikely to receive more money until 2016 when the council of postsecondary education meets next. NKU also faces a current 2.5 percent budget cut which takes effect July 1, 2014.
The addition of a proposed Health Innovation Center could add an additional 125,000 square feet of usable space to campus, according to Vice President of Finance and Auxiliary Services Kenneth Ramey.
Mearns' goal is to have this Health Innovations Center in the works by 2016.
"Operating costs would have to be reduced," Blake said. "Everything would have some degree of reduction or reallocation of funds to come up with that 2.5 percent reduction."
Everything from toilet paper and painting to faculty would be affected, he said.
Small renovations of offices and updates may be criticized or pushed back. However, this cut doesn't have anything to do with construction.
"The construction money would be there, funded by the state totally," Blake said.
Therefore, the Health Innovations Center is in the governor's budget at the $97 million requested by NKU.
This building would create over 1,000 jobs and bring Kentucky over $169 million. NKU would be able to accommodate more health majors, as well as new majors that will be added in this high-demand career field.
Denise Robinson, dean of the College of Health Professions, and Sallie Parker Lotz, assistant dean, talked about the need for this new building.
According to Robertson and Lotz, not only will it help reduce the need for healthcare professionals, it will train every student better with simulated people. They also said these students will be able to help those with the growing rate of chronic conditions in the U.S.
This building is also important, as Robinson said, because of the limited faculty space and classroom space.
"To reach the average of the other universities, NKU would need 450 net square feet of education in general," Robinson said. "If we get the Health Innovations building, that would only reduce it by 17 percent."
To make up for NKU being underbuilt, Robinson said she had to change her approach from traditional education.
So she got creative.
Students now interact among each other learning interpersonal communication through simulation of office visits and medical emergencies. Simulated people controlled by professors can respond to students positively or negatively depending upon their actions.
The college has three adult simulators, some teens simulators, a newborn simulator and even one that gives birth. This creates a safe environment for which students experience things that occur in hospitals. During this process, students are videotaped and afterwards, they can debrief.
To make up for the lack of space, classes at the graduate and RN to BSN level are online. The master's in nursing was the first online graduate program on campus in 2004.
How it's being addressed
"It's not only a new addition, it's Founders Hall being totally renovated in the process," Blake said.
Therefore, it's Founders Hall being brought up to standards as a new building because it will almost double in size, Blake said.
It will mostly contain health related majors, but a few others will find their home there.
"Griffin Hall is one of three in the country," Blake said. "I think Health Innovations has the potential to be something on that level."
The provost will create an internal committee which will decide which majors will be incorporated in this building, Robinson said, and an external committee will try to look at the building.
"We want the community to be involved," Robinson said. "This building has an opportunity to do more than educate students."
The new Health Informatics Center will not only expand space for students and professors, but also for the countless programs offered, like the Nursing Advocacy center for the Underserved, which has served Northern Kentucky at eight different sights that are completely free for health care.
The Health Innovation Center has been on the capitol building list longer than 10 years.
"It was ahead of the informatics building," Robinson said.
Students also seem to support the plans for this building.
"If we don't keep the Health Center then NKU will lose its biggest project since Griffin Hall," said Erik Pederson, Student Government Association president.
Blake urges that the legislatures understand everyone is behind this building and that it needs to be funded.
More information about the Health Innovations Center and how to take action can be found at http://hic.nku.edu/