Dorm gains new backdoor all card access point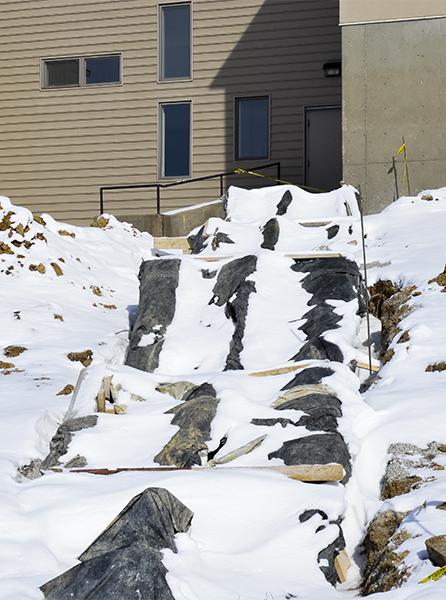 Previously designated as an emergency exit, a backdoor to Commonwealth Hall is now being installed with All Card access and will be accompanied by the construction of concrete steps leading from the backdoor down to lot P, providing residents easier access to Commonwealth Hall.
Assistant Vice President of Facilities Larry Blake expects the construction to be completed by the end of month if weather permits.
According to sophomore SGA Senator Kristian Johnson, an accounting and finance major and SGA's University Improvements Chair, the lack of accessibility to Commonwealth Hall from lot P was pointed out on both the Fall 2012 and Spring 2013 campus safety walks. A resolution was passed by SGA in April 2013 allowing for stairs and All Card access to be installed to Commonwealth Hall's backdoor, maintaining consistency with Kentucky Hall's current backdoor access.
Housing Director Arnie Slaughter explained the positive effect the project will have for students.
"Residents who park in the lot can utilize the sidewalk and stairs that they're currently creating and so now there's another entry point for our residents so that you don't have to walk from the parking lot around to get in, you can go straight up the stairwell," Slaughter said.
In addition to the convenience the new entrance creates for students who are moving in, moving out, or just entering the residence from the parking lot, Blake hopes the All Card access will solve previous problems that once occurred at the entrance.
"We had designated [the backdoor] as an emergency exit because people were propping it open, for one thing. It's now going to have card access on it, which hopefully stops the need for people to keep it open," Blake said. He added, "We're trying to figure how we can put in an alarm that if you leave the door open for five minutes, the alarm will go off, but we haven't figured out how to do that yet."
Blake also stressed that he did not want All Card access to be installed without the construction of stairs due to the hazard posed by the steep slope separating lot P from Commonwealth Hall.
Slaughter is pleased with the relationship Housing has built with SGA and the Association of Campus Residents in discovering ways the on-campus housing experience can be made better.
"I'm really thankful that SGA had the leadership there and have really been in tune with identifying areas for improvement and identifying areas that cause a safety concern for the students," Slaughter said. "Their feedback, as well as ACR's feedback, really produces results."