Convocation speech kicks off new semester
Northern Kentucky University rang in the new semester with a convocation speech that covered 2013-18 Strategic Plan's implementation.
The Strategic Plan is going to be pushed along by cross-divisional implementation teams that NKU President Geoffrey Mearns called "strategy teams."
There are ten strategy teams, the first being an enrollment strategy team which has been working for two months according to Mearns.
"The team has completed its first phase, developing specific enrollment strategies and targets for next fall," Mearns said. The team will continue developing new strategies for the next two to five years.
Other teams include academic master plan, student retention and success, financial resources, marketing and public awareness, inclusive excellence, human and organizational development, faculties and sustainability, technology support and community engagement teams.
For more information on the individual teams, click here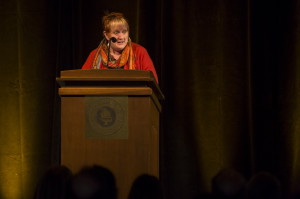 President Mearns also announced that he sent a letter to Governor Beshear requesting that he develop a new funding model for Kentucky's postsecondary schools. Mearns said that the Council on Postsecondary Education passed a resolution recognizing that its current funding approach is flawed in November, though the council wouldn't address it until the 2016/18 biennium.
"I don't think we should wait two more years to discard a funding approach that was created for the 20th century," Mearns said. "The world is changing too rapidly.  We need a funding model for the 21st century and we need it now."
Mearns also introduced NKU's new vice president for academic affairs and provost, Sue Ott Rowlands. Ott Rowlands previously served as Dean of the College of Liberal Arts and Human Sciences at Virginia Tech, Mearns said.
Mearns also announced that as of Jan. 1, the NKU Foundation's assets exceeded $100 million for the first time. The NKU Foundation receives donations from corporate and community sponsors as well as alumni and invests it into the university.