NKU Alumnus produces commercial with hopes of it airing in the Superbowl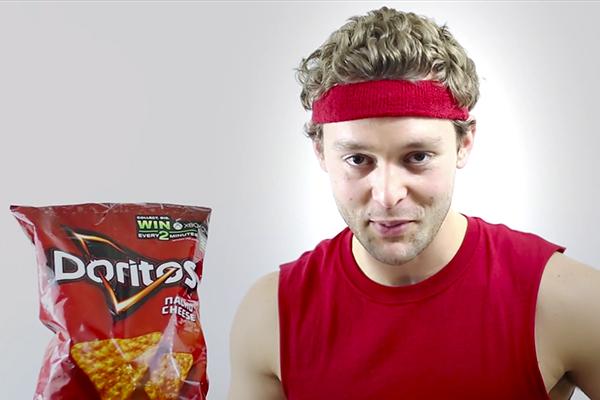 It costs roughly $4 million to reserve a 30-second advertising clip during the Super Bowl, according to Forbes. However, one NKU alumnus may get the opportunity to have his commercial aired through Doritos cost-free, besides for the amount of money it cost him to produce it independently.
"And to think, I wouldn't even be here without these bad boys… Well that, and my karate," said NKU alumnus Jordan Letsinger in his commercial in the DORITOS Crash The Super Bowl contest.
Letsinger is currently in the category for the highest rated commercials out of the hundreds of submissions made, all in hopes of his commercial airing in Super Bowl XLVIII.
Letsinger not only starred in the commercial, but he wrote the script and produced the video, too. He attributes the idea to a film class he had at NKU where he had to do a 30-second commercial pitch to the class and the audience pretended they were investors.
"The whole class genuinely liked it," Letsinger said. "My professor came to me after class and said 'Hey, I think you should actually try and produce this.'"
And so he did.
The 26-year-old produced, filmed, edited and submitted the commercial to the contest all in one day. He filmed at Kettlebell Swing this Studio in Covington, Ky., with the help of the owner of the gym shown in the commercial, Joe Daniels.
Letsinger also hired a filmer/editor, Emad Rashidi, a student at the University of Cincinnati. One of the other men in the video, Derek Evans, also went to NKU and graduated with a degree in Bachelor of Fine Arts in Theatre.
Letsinger said he chose Doritos because when he got wind of the contest it sounded more appealing than most and he didn't know any other brands that give creative control to the audience.
Doritos posts all the video submissions on its website and lets viewers rate them during each section of the contest. It then factors into the decision of how Doritos narrows the contest down to semi-finalists, finalists and then the two Grand Winners.
The two winners not only are awarded a sum of money from $50,000 to $1 million, but they also get a chance of having their commercial aired during the Super Bowl.
"First of all, it's an unbelievable opportunity, exposure-wise," Letsinger said. "I would want to use the money to create other projects and even live off it for a while. I want to be a professional actor and writer, full time."
According to Evans, it was a "no-brainer" to work with him on this video because of Letsinger's determined and "go-getter" attitude.
When Letsinger attended NKU, he majored in integrative studies with concentrations on communication, English, psychology and electronic media. He also interned with BarkingFishEntertainment while he was a student and had a hand in creating commercials.
"But I never had my own say," Letsinger said. "I didn't have the control. This time I got to hire the people I wanted, get the studio location I wanted. And the reaction has been unbelieveable."
He said his biggest influence at NKU was a professor he had for his media aesthetics class, John Gibson, an electronic media and broadcasting lecturer and the media engineer for NorseMedia.
Letsinger said Gibson had a sort of "come-to-Jesus moment" with him when he was not doing as well as he could in class and found it humbling and inspirational that a professor would go out of his way to encourage him.
"I'm trying to remember that moment," Gibson laughed. "It's a testament to him what I remember is not that moment… But what stood out to me was that Jordan came to the class with a little bit of a background in acting and he was interested in learning the other side."
Gibson commented that Letsinger was not only a very passionate student, but he was one of the more memorable students he's had over the years.
"It's a huge smile on my part," Gibson said. "I tell students a lot of the time, 'Your teachers can talk to you and engage you in discussions and guide you in classes. But in terms of your success, it comes down to you applying it outside of the classroom."
Letsinger was interviewed by FOX 19, local Channel 5 and Channel 9 after his video hit over 3,000 views in the first two days it went online. Now, after being live for one week, the video has over 6,000 views on YouTube alone.
"When I think about being a professional actor, nothing makes me more excited," Letsinger said. "I have always wanted to write projects for myself. I took tons of screenwriting classes. My next step…is to produce content for myself."
Current NKU student Mark Borison is also involved in the contest as well, but The Northerner could not receive comment from him at the time of publication.