Gitau: from schoolboy in Kenya to university leader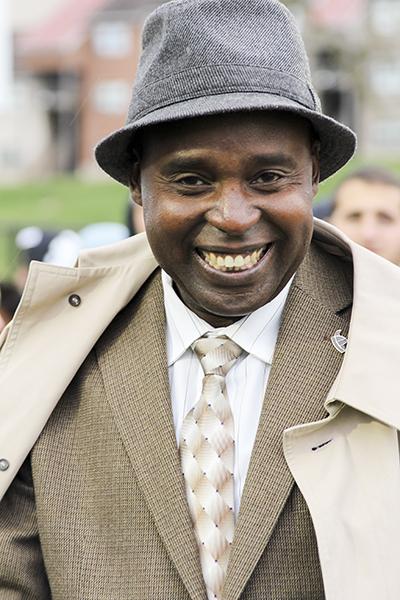 "I think people don't always understand my journey, the journey to be who I am," Peter Gitau said. "It's been a struggle, but a very determined struggle."
Every morning for 40 minutes, he walked, usually barefoot, down the rural road from his family's remote village home in Kenya to school. By his side, on his daily trek there and back, were his two brothers and four sisters, once they were old enough to travel and learn.
These schools did not always have lunch, enough books or even electricity, but each day the dedicated students made the trip.
The family would return to the village before the sun came down to a home filled with relatives and empty of technological "distractions," such as televisions or computers.
"I actually grew up in a village where I probably wore my first pair of shoes when I was going to secondary school," he said. "And I was fine, and I never felt I was missing anything."
His home across the world is where Gitau, NKU's vice president for student affairs, took the first step of his academic journey and started to develop his educational life mission.
"It's hard for people to see me there, to place me there, to think this guy came from that village and now he's the vice president of student affairs," Gitau said. "But really, that is a story that informs the way I do things and why I have the same expectations for my kids and those that I work with and for the students that I serve. Those values come from afar."
His upbringing and the values it instilled have helped him each step of the way as he moved across the world and throughout the country in his career as "a lifelong educator," according to Gitau. His passion for education, equality and supporting others developed early on, and he doesn't see it ever ending.
"You grow up knowing that you need to help others, and that becomes a part of your orientation," he said.
Education is "a valuable tool" to help get people "out of the situation they are in," whether you live in Kenya or the United States, Gitau said. He believes in making this opportunity possible for the diverse population that makes up the NKU community.
"One of the reasons I value what I do here at NKU is because I want to make sure our students have as much opportunity as possible," Gitau said. "If you think about the needs that are represented in such a huge, diverse population, it's so hard."
At NKU, Gitau is responsible for overseeing all the university's student support services and organizations on campus and the development of the new Campus Recreation Center.
To stay involved with impacting global education, Gitau founded a non-profit organization, The African International Foundation for Educational Excellence, about a year ago. The group "aspires to create educational excellence in rural African communities," and they are "committed to providing educational development in Africa," according to their vision and mission statement.
He founded and ran another international non-profit organization, Teach My Kenyan Children, for a little over 10 years, according to Gitau. The group had the same aim of impacting Africa through educational development and improvement.
"I am very passionate about social inequities," he said. "I am very, very passionate about educational access because I am one of those who should not have had access to education. The system was basically rigged out of my favor."
His "soft spot" for groups engaged in community development, activism, diversity and service learning has led him to travel around the world to support and speak about education and equality.
"He did not forget where he came from," said his wife, Trizah, who is also from Kenya. "He really has a passion for education and a big heart. And he wants people to do well. That's why he travels back and forth to Kenya."
In January, he will be traveling back to Kenya with Andra' Ward, a new member of the NKU Board of Regents, and a Southern Illinois University Carbondale representative to present at a conference with principals and other education leaders.
"I feel like I'm in a position to affect more change and to help more people now on even a global scale than when I started," Gitau said.
Gitau and his wife live with their family in the Northern Kentucky area. He has two daughters Joy and Hope, that attend Dixie Heights High School and Turkeyfoot Middle School. His son, Tim, is a criminal justice major at NKU.
"He tries to balance his time very well to be able to be with his family and also be able to do what he needs to do," Trizah said.
Where his journey began
Witnessing the state of the educational system firsthand as a child who the system was "rigged against" helped him discover his natural calling in life to become a lifelong educator and advocate for educational access, according to Gitau.
Along with his siblings and other children in the village, Gitau understood the value and worth of a good education from an early age. He said the young men and women start adopting a strong sense of responsibility for themselves and their education very early on where he is from.
"There is a work ethic that I am really thankful I grew up with," he said. "We worked hard. We studied hard. We aimed for perfection."
In Kenya, education is "the tool to get you out of poverty," according to Gitau. Kenya continues to have a competitive educational system and culture that he has been a part of, or trying to improve, throughout his life.
 "You either worked hard and survived, or you didn't," he said. "It's an elimination system. If you didn't work hard and you didn't make the grade, you get eliminated."
During eighth grade across Kenya, all students were required to take a national exam based on what they learned over the last eight years in their school. The students were judged on the same standards, despite the quality of their primary education, the resources they had available or their socio-economic status, according to Gitau.
"This is make or break; this exam is the one that is going to determine where do you go next," he said. "It is a very, very stressful time for kids and families."
Families without the money or resources were forced to make sacrifices for education. For example, Gitau's older brother and sister happened to finish primary school at the same time. Their family only had the resources to send one of the children to school.
His older brother chose to attend trade school and help pay for his sister to receive a higher education. He also ended up helping put Gitau through school.
"So, I know that I stand on the shoulders of others, so I'm not afraid to be a shoulder to somebody," Gitau said. "If it were not for my brother, I would not be who I am."
Later in life, Gitau returned the support and helped his older brother achieve his desire "deep inside" to finally further his education. His brother fulfilled his educational dream and earned a Bachelor's and Master's degree in civil engineering in the United States.
"What I am doing here and the success that I have in my career is not just for me, but for others that made me successful or helped me be successful," Gitau said.
In Kenya, Gitau went on to become a school president at his secondary school and receive a bachelor's degree in secondary education at Kenyatta University in Nairobi. For his first job, he was a secondary school teacher for five years.
Continuing up the educational ladder
After moving to the United States in 1994, he gained a Master's degree in educational administration from Eastern Illinois University. In addition, he went on to gain a Ph.D. in higher educational policy and administration from the University of Kansas. He also served as a principal in Kansas for three years.
"My dream was I would like to be able to help change policy," Gitau said. "So, after teaching in the class I was like, I would really like to get a degree in administration because many times that's where policy gets changed and you can influence the direction of a whole educational system."
He has held administrative positions at multiple American universities. Before coming to NKU, Gitau served at Southern Illinois University Carbondale for about five years as the associate vice chancellor and the dean of students. At the University of Dubuque in Iowa, he served as the dean of student life. In addition, in Indiana, he was the executive assistant to the president for diversity as well as the director of multicultural affairs at Manchester University.
"He really feels strongly about other people and the success of other people, so that's one thing that stands out," his son Tim said.
He continues to act as "a shoulder" to others through his non-profit foundations and to advocate for the creation of multi-cultural educational systems that help produce graduates that are "citizens of the world."
"One of the things I love about NKU is I think one of our goals is to produce student graduates that are also citizens of the world," Gitau said. "Global citizenship means that you want to do something to help improve the conditions of those people around you. You do that either by traveling and taking part in a project or contributing by learning about others or working with someone who is different."
His son Tim, credits his father with teaching him how to be an upstanding citizen and his father's career path helped him to be open to new friends and experiences in life.
"Some people that have never moved around are scared to move; to make moves with their life," Tim said. "If I was told I was moving to Asia tomorrow, I wouldn't even care because I've had to start my life over before."
The day his son graduates college at NKU will be the greatest day of his life, according to Gitau.
Currently, Gitau and his family are settling down in Northern Kentucky and do not plan to leave any time soon, according to Trizah.
"I'm always scouting for opportunities to do something, a new adventure, a new challenge, and I'm pretty sure there will be a lot of those here," Gitau said.