Student sets example by spreading a message of love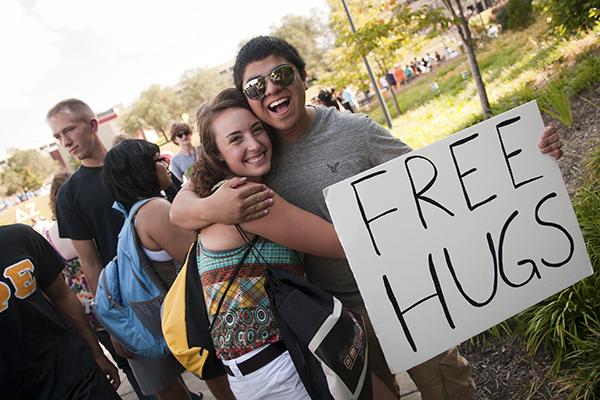 To every student across the world interested in NKU, he is the face of free hugs seen on the university flier sent out to all prospective students as well as the smile in between images of Jay-Z and Carrie Underwood in the university's new viewbook.
And, to those who end up attending the school, he is the student the first week of fall semester for the past three years with his arms open and a grin on his face waiting to live up to the friendly offer on his black and white sign that simply reads, "Free hugs."
Arturo "Artie" Minera is approaching the end of what he calls his "four seasons at NKU." Next fall, he will be graduating from NKU with with a major in electronic media and broadcasting and minor in honors.
Minera will be the first member of his immediate family that will graduate college. As the oldest child and a future leader of his family, he strives to give people something and someone to believe in at the end of the day. Minera stands out as a student dedicated to his family, his school, his country and his religion.
"I want people to walk out of hearing about my life saying, 'Wow that was a really good story,'" Minera said. "The story of a little guy. Sometimes the underdog. Sometimes had the advantage. Did his best to humble himself. Messed up more times than maybe he succeeded. But, at the end of the day, it's a story I could be inspired by. I want to share a story that people can believe in something."
During his first time as a free hug volunteer at FreshFusion in his freshman year, he said something inside him cracked and his development into the man and NKU community member that he is today all started. This once-upon-a-time shy student has transformed into a dedicated storyteller and an individual peers and staff describe as one of the most enthusiastic and outgoing people on campus.
"I can say he is one of the most energetic people that I have ever met in my life, and he is always willing to help," said Mayra Guzman, Minera's close friend and senior sociology major and honors minor. "He accepts everyone no matter what.. He just sees people. He is willing to help everyone all the time."
Each year, he arms himself in his aviators and some of his favorite attire to welcome new students with a warm embrace and free hug to the start off their college career and future.
"You just did something that half of the whole school was not willing to do and that was it for you? That's where you stopped? That's where you capped what you were able to do here? I didn't want to be that way," Minera said.
Just like his promise for free hugs, Minera kept his word and has continued to get involved in diverse ways across campus. On top of holding three jobs, he is now an award-winning student as well as a leader in many organizations.
"He is master at juggling his multitude of class-related and outside of class responsibilities," said Jeff Iker, New Student Orientation coordinator. "He definitely is one of the busiest people I know."
By day, Minera is the Latino Student Organization president, presidential ambassadors' vice president and a student wellness ambassador. By night, he is a top performer and one of the "fastest burrito rollers on this side of the Mississippi" at Chipotle Mexican Grill. Additionally, he is involved with carnival work in the summer.
He has also "finally reached a freelance status" and is involved in various freelance video projects around campus. This month, Minera is working on video projects for NKU's Homecoming, the Wellness Center and admissions department.
Additionally, he is working on a documentary about NKU's underfunding in order to give back to the university and bring attention to an issue for his capstone project. His film will examine the research and the impacts of the underfunding on the students, the faculty, the administration and the university as a whole.
"[This semester] I can't get more involved," Minera said. "I've reached my cap. Artie has officially capped out."
Recently, Minera was chosen as NKU's Outstanding Junior of 2013 as well as Latino of the Year. For the Latino of the Year ceremony, his mom visited the campus for the first time to help honor his work with NKU's Latino community.
Minera was born in South Miami, Florida, but he moved to Ohio when he was 10 years old. He has three younger brothers.
At NKU, there are currently a total of 70 first-time, first-year Hispanic students, and a total of 258 Hispanic undergraduates overall, according to the university's 2012-2013 Common Data Set. NKU has over 13,000 undergraduates; Hispanic students make up about two percent of the student body at NKU.
The first on the way to college graduation
As the first person to attend college in what he considers his immediate family as well as the first born in the United States, Minera entered NKU in Fall 2010 without any real idea of what he would encounter on a modern university campus. He also had to deal with the familial expectations as the oldest sibling held responsible for setting the standard for his brothers to follow.
"I had the biggest role of my life set before me, and before the first day of school, my grandfather, my dad, my mom, my brothers, my other grandparents, they all reminded me that tomorrow you are going to set the precedent for what the rest of the Minera's are going to do," Minera said. "No pressure. Have a great day."
His parents understood the importance of college, but they did not have the experience to understand the full concept and demands of college life. Because he "didn't know a thing about college" and had no one to guide him his first semester, Minera decided to enroll in a University 101 (UNV 101) course, a class offered to help guide students in the transition into college and learn about what NKU has to offer.
His UNV 101 professor, Tom Ramstetter, ended up having a lasting impact on Minera and became a "very important part" of his NKU experience. From the very first day, Ramstetter's attitude toward students, and interactions with them, made Minera feel like he could take on the challenges of college.
"It was Tom Ramstetter… though he didn't know it and I guess still doesn't," Minera said. "Whenever you're that freshman who doesn't know what is going on, who has a lot on the line, who feels so much pressure from family, from society, from anything, you can rest assured that there is a professor on NKU's campus that you will always remember as the one who made you go, 'I can do this… I believe I can, and there is someone here who believes I can too.'"
Ramstetter does not think he should take too much credit for bringing Minera out of his shell and making him more comfortable in his own skin. He attributes Minera's weekly self reflection assignments and group projects in class for making him into the "full-fledged rockstar" that he is today.
"Artie was, believe it or not, kind of quiet, a little bit uncomfortable the first few weeks of class," Ramstetter said. "Then he started making friends and started to get comfortable, and he kind of became a rockstar."
Ramstetter has a full-time job as a web editor for the university, and he teaches UNV 101 as an extra job. He continues to teach part time due to students like Minera.
"Students like him are why we do this," Ramstetter said. "People like him are the reason I still want to do it."
In the "seasons of his life," Minera compares Ramstetter to Michael Scott, a lead character from the television show The Office. He attributes some of the start of his success at NKU and his current path to Ramstetter's influence.
"He was the guy in the beginning that you remembered… That was the first guy you saw. That was the person you could remember. That was him," Minera said. "If it wasn't for the way Artie Season One started, if it wasn't for that pilot, the rest of the show wouldn't have been a success…if it wasn't for a professor constantly calming this freaking out Latino."
Since he completed the class in Fall 2010, Ramstetter has asked Minera to return to his class and speak to the current students about his experiences as a freshman. He has also returned to discuss topics, such as student wellness.
"Artie taught me that I can make a difference for a student," Ramstetter said.
Latino Student Organization involvement
The simple question of, "who do you think you are?" from a fellow student eventually led Minera to run for president of the Latino Student Organization.
During his freshman year at NKU, the former Latino Student Organization president questioned Minera's presence in the Latino lounge. The president told him that he is "not really Latino."
"I said, I was born in the United States. I don't have the accent like you do, but my family is Hispanic. I grew up with the customs they brought. I followed. I lived. I still live with that culture," Minera said.
This incident was eye-opening as well as motivating for Minera. After finding out there were elections held every semester, he decided to run against the president who challenged his culture. His friends encouraged him to run to make sure that other students did not have the same type of negative experience at NKU in the future.
He won.
"As a Latino student trying to figure out what it means to be a Latino student in college, I want to make sure that I allow that diversity awareness for all students," Minera said. "This is an organization made to create diversity awareness to Latinos and non-Latinos both."
The aims of the Latino Student Organization include establishing an organization "where Hispanic, Latino American and non-Latino students can share common views on political, economic, social and cultural issues;" increase awareness about different issues facing Latinos; support change through understanding of culture; and "create a network of like-minded people," according to NKU's Latino program and services website.
The organization helped Minera develop a "newfound authority and drive to speak for people." It also led to the meeting of his first college friend, Mayra Guzman, a fellow senior Latino programs and services worker. The friends met during the organization's orientation and stayed in touch through constant communication at the office.
"It helped getting involved through there [Latino Student Organization] and then expanding to other organizations," Guzman said. "So now that we both did it, we are trying to help a lot of Latino students to do the same thing. To not only get involved in the Latino community, but also to reach out to other organizations and do something."
To introduce people from outside of Latino programs to their students, Minera and others conducted a "really powerful program that shed light on the illegal immigrant student," according to Jeff Iker, New Student Orientation coordinator.
"[There is] not a lot of time for frivolousness with Artie; everything he's doing is usually pretty meaningful," Iker said. "If you aren't motivated by the way he conducts himself than there is no hope for you I don't think."
Over his three years as president, Minera has encouraged members to get involved all throughout campus and find their place. Through networking, he has helped plug people into different organizations.
For example, last year was the first year with a Latino student, male or female, in every Greek organization. He wants to see a Latino presence in all NKU organizations.
"People now know up there [at the Latino Student Organization office] that if they need me, they just have to find me," Minera said. "I'm always there with open arms, saying, 'Who wants to hug me?'"
Minera has helped bring a stronger sense of community and drive to the Latino Student Organization. He has inspired other members to learn to pay more attention to the community and other people's needs.
"He has taught me to be patient and pay more attention to what is going on around me…To really pay attention to what people are saying and doing. And that helps me a lot to learn about people..something that I never did before," Guzman said.
Other elements of Minera's character
In many ways, Minera could appear to be the typical college student. He fits right into the college environment with his easy smile, black framed Ray-Ban glasses, trendy t-shirts and familiarity with superheroes and video games.
However, some of the main features that make up the character of the person many students and staff know now as "Artie" remain hidden and unknown until you take the time to get to know him. For example, some of the main forces in Minera's life outside of school are religion and music.
"I can't explain many things about my personal life without tapping into my faith," Minera said.
Minera does not drink, smoke or cuss. He is a Christian with a strong sense of pride and motivation to do good for his god, country, family and ultimately himself.
"I meet all these people that are so cool, and it kind of turns them around when I tell them, 'Yeah, I'm Christian, man. I love it. I pray for you, and I love you,'" Minera said. "I wish there were more people like this because I could use somebody like this sometimes… I really wish there were more people that showed love."
Although he has strong beliefs and a lot to say, the underlying message behind his words and actions is love. Spreading the love is an important mission to Minera, and he works hard to help people learn to find love in their life.
"I want to make sure I'm doing my best to show others that they should love life too, whether it's the university that they go to, whether it's the major they chose…I just want to show them that somebody loves them," Minera said. "Just love the life you are given. Doesn't matter who you believe gave it to you."
Minera discovered a love for music, specifically guitar, during his senior year of high school.
"Whenever I am not talking about my faith or school, I'm talking about music," Minera said.
This musical intrigue had always been there in some form, according to his family.
"Apparently, when I was little I was always interested in hitting things to make sound," Minera said. "Then I learned to do it with an instrument so people wouldn't get annoyed with it."
As for instruments, he said he can learn "anything that looks like a guitar" in a week because music theory and strings are very easy for him to understand. Though playing around on string instruments comes naturally to Minera, he said he can play "pretty much anything" you give him.
Officially, it's all about rhythm; he can play any sort of guitar or drum. For example, he can play classical, acoustic, electric and bass guitar as well as the ukulele.
No matter the time or place, music is always on Minera's mind. Even in editing and other classes, he said he is always the one that brings up music.
"I'm always thinking musically," he said. "Whenever I'm sitting somewhere on the bus or in a really awkward setting in school, I'm thinking what music would really work for this or what music would turn this around or make it epic like it is supposed to be, or sad?"
A promise of money or fame is not what draws Minera to music. Music is something that he feels he should share with the world instead of focusing on getting paid.
"Music is for the enjoyment of people. God made music. I didn't. I'm able to use what I know about it, what I know about this God-given talent, to share it… My intention is to share with people the emotions that I have when I play a certain song," Minera said.