Center for Applied Informatics to hold symposium for cyber security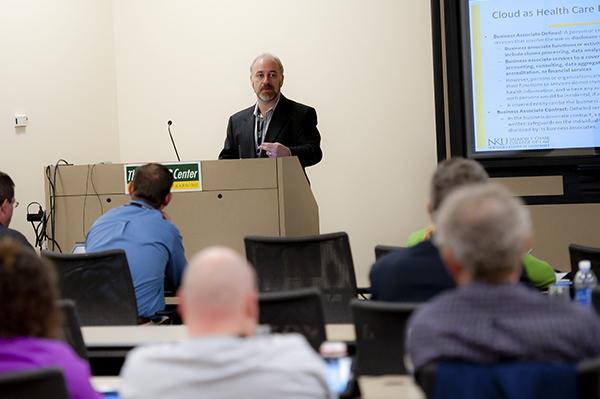 Many companies in the Greater Cincinnati and Northern Kentucky area have questions and issues with information security. NKU's Center for Applied Informatics is about to have it's seventh annual Security Symposium at the METS center on Oct. 18.
The symposium will encompass five tracks, including: information security governance, software security, mobile and computer forensics, current topics in security, and legal issues in privacy and security.
"It is a venue for both professionals including students in the field and academics to meet and learn more about current topics in information security," said James Walden, computer science professor.
Many current issues will be dealt with, such as bringing mobile devices and cloud service security in the workplace.
Sarah Mann, director of information technology—central, said, "P&G [Procter & Gamble] and various companies are now allowing people to bring their own laptops or requiring them to sometimes."
For students, this event is a good way to meet people who work in the informatics industry, according to Walden.
New to the symposium this year will be an exhibit hall where anyone who attends can mingle and meet with sponsors of the conference to learn more about them.
"After seeing the bull run program [the software used by the NSA to gain access to websites], I was a little scared for my [online] security," said Alan Singleton, a freshman computer science major. "It made me want to start encrypting my email. My email is like my mail—it should be a federal offense to open it."
For students like Singleton, who want to keep their information and emails private, this event is a way to learn more about what can be done to help security. With more personal information than ever before going online, this symposium is a great way to learn more about what can be done in terms of security.
The event is free and open to anyone who would like to attend. There will be two general sessions as well as four breakout sessions that attendees will be able to attend as well as networking time. Lunch as well as refreshments throughout the event will be available.
If you are wanting to attend the event, visit http://cai.nku.edu/security2013/registernow.html to register.