Internet radio station gives students the mic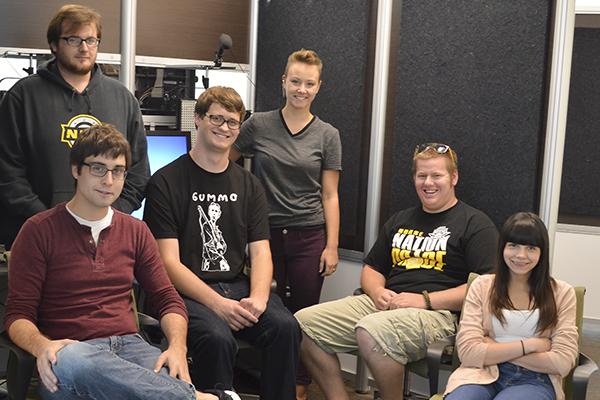 On the airwaves, the student DJ's of Norse Code Radio are giving people the music they want and learning new skills along the way.
Clay Tyler, junior middle grade education major and the assistant manager of Norse Code Radio, said he got involved his first semester at NKU because he liked the idea of having his own radio show.
Tyler said, "[I liked] the fact that I could have my own radio show and I could play whatever music I wanted and talk about whatever I wanted."
He then laughed and agreed that there aren't many places that will hand a radio show to college students.
Norse Code Radio is a student-run internet radio station that allows students the opportunity to work for or host a show, be in control of it's content and gain real world experience, according to Programming Director Josh Moretti.
Moretti, a junior electronic media and broadcasting major, said Norse Code Radio is
"a place for people to learn" and if someone is interested in having a show, there are a lot of people available to "show them the ropes."
"[We] give them a chance to broadcast. Have fun and stuff like that," Moretti said. "That's the main thing: to have fun with it and to be yourself."
Norse Code Radio gives students creative freedom
Moretti said Norse Code Radio currently has a mix of talk radio and music shows and each DJ is responsible for the content and music of their show, as long as it isn't too much like an existing show.
"Oh, the freedom! That's my favorite thing," Moretti said. "Freedom of speech and the freedom to do my own show and do what I want. I love that."
Stefan Kienzle, junior anthropology major, is the music director and hosts two shows each week. He got involved with the radio station because his roommate convinced him to sit in on his show a few times, Kienzle explained. After a little while, Kienzle went in and they gave him a spot.
"They trained me and I started doing my show in December 2011 and I've been here ever since," Kienzle said.
For Kienzle, the best part of being involved with the internet radio station is being able to listen to music that he loves for four hours a week, he said.
"It's like, literally, a time I have set apart to listen to music because music is something that's always been with me," Kienzle said. He explained that he moved around a lot, but music was always a constant for him.
"It's awesome just to be able to sit there and listen to music for a couple of hours a week and then just talk about it with whomever may be listening because that, to me, is probably the best thing I could be doing at this school right now," Kienzle said.
Norse Code Radio provides student with experience
Brittany Wren, senior public relations major, is the promotions director and handles all events and public relations for Norse Code Radio.
The station will be promoting a few local artists this semester and will be hosting a canned food drive in the upcoming weeks that will support the Henry Hosea House in Newport, Ky which serves the community with meal programs, personal items, holiday help and more.
Wren's favorite thing about working with the radio station is the experience she's gotten. She said her work with the station had even prepared her for an internship over the summer.
"It really helped me at my internship because I wasn't just clueless walking in and not knowing what I was doing," Wren said. "I think Norse Code Radio is great because it doesn't matter your major. You can learn some field or something that you can take toward a future job."
Another important distinction about Norse Code Radio is that it's the only student-run campus radio station.
"We are completely student-run–by students, for students, so whatever you want to hear, we can do," Wren said.
Tyler said he wants people to know the station is for the students.
"We're here to serve them [the audience]," Tyler said. "We want to get more people involved and more people to know about us."
Go to NorseCodeRadio.com to listen. You can also find an application to join the staff.
Norse Code Radio is a student-run organization operating alongside The Northerner under the department of Student Media.