The Campus, it is a-changin'
Renovations, Construction, and Traffic Restrictions...oh my!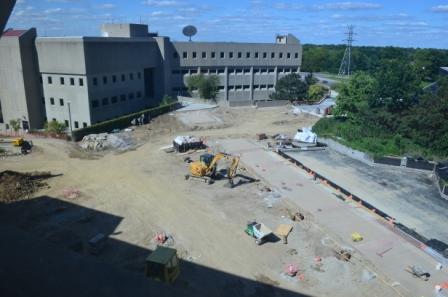 Matt Hempfling
August 18, 2013
Filed under News
Hang on for a minute...we're trying to find some more stories you might like.
NKU always has multiple renovation or improvement projects underway at any one given time, and this summer has been no different.  There have been multiple projects worked on over the summer to improve the current collegiate environment, but some may notice two projects most when walking around campus: the second phase of the plaza renovation project, which is currently unfinished and behind schedule, and the traffic restrictions around Kenton Drive.
Phase two of the plaza renovations includes the plaza area between NKU's Fine Arts Center, Founders Hall, Steely Library and Landrum Academic Center.  Even though the area is under construction and looks to be a hassle to walk around, according to NKU Assistant Vice President of Facilities Larry Blake, there are alternate pathways through and around the construction site for easy access to whatever building you need to get to.
"As far as traversing the area, it [the construction] won't have much of an impact," said Blake, "Dirt and noise will be there, but we'll try to minimize that.  There may be some small inconveniences, but the impact is mainly visual."
The entire project was originally slated to be completed with minor beautification needed before the semester started, but this summer's seemingly non-stop barrage of rain postponed the work excessively.
"We lost about six to eight weeks due to the weather," said Blake, "and depending on the upcoming weather it could even be more."
Blake said phase one of the plaza renovations went a long way in making the campus look updated and more appealing, and he said he wants to see the same thing with phase two.
"There seemed to be a line between the new side of the plaza and the old side," said Blake, "you could see many students enjoying the renovated side and the old side seemed bare."
Among the plans for phase two are new places to sit, relax and study.  According to Blake, there will be fountains to create background noise, and a green lush overhang by the library and trees to help lower the temperature of some of the seating areas.
"All of the renovations are aimed at making [campus] a better place to be," said Blake, "and a better place to study."
Something else that students will notice when arriving on campus this semester will be some traffic restrictions.  For the first few weeks of the semester, vehicular and pedestrian traffic restrictions will be in place to help relieve the morning commute.
"Sometimes it takes those who are new to campus (or not quite familiar with a new routine) to get acclimated the first couple of weeks of school," said NKU Police Chief Jason Willis. "Our goal with using officers for traffic direction and the traffic restriction is to help guide vehicles into the proper lots in an efficient and orderly manner."
Kenton Drive has been the focus of an effort by campus police to help relieve congestion during peak times throughout the school week.  Parking lots I, E and F on Carroll Drive off of Kenton Drive will need to be accessed by way of Nunn Drive.
"The majority of the vehicles utilizing Kenton during the peak times are parking in lots M, L, K, A, and the [Kenton] Garage," said Willis. "When Carroll [Drive] is open we have to have an extra officer staff this post. By not having vehicles turning at Carroll, the traffic can continue to flow on Kenton, getting drivers to the lots and the garage."
The pedestrian restrictions are meant to ensure pedestrians adhere to the prescribed patterns, and vehicular traffic can continue to flow.
"Basically, it's just snow fencing directing students to use the crosswalks," said Willis.  "In the past we have had students crossing at non-crosswalk areas, which slows down traffic.  When the students can cross at the crosswalk, the officers can direct them when it's safe for them to cross."
The final construction on the new Student Success Center was also completed during the summer.
"The Student Success Center should make a huge difference for students," said Blake.  "It's more of a one-stop type of atmosphere.  The lounge space and tech bar are also huge advantages for students."
Parts of the Student Success Center have been opened since January of this year, but starting this semester all of the offices will be open and ready for business.  Among the areas available to help students are the Norse Tech Bar, First-Year Programs, Health Counseling & Prevention Services, Learning Assistance Programs, Office of International Students & Scholars, Pathfinders, Student Achievement Center, Testing & Disability Services, University Connect and Persist, and the Veterans Resource Station.
Other projects completed this summer were the replacement of the Fine Arts Center's roof, a new sidewalk on John's Hill Road to ease access to Skyline Tavern, a new sidewalk on Kenton Drive by the Rec Center, and the repaving of some parking lots around campus, according to Blake.
Multiple projects are also planned in the future.
Blake said that the new Campus Rec Center will be nearly double in size to handle the increased size of NKU's population.  It will include a new pool with a hot tub, five basketball courts, a multi-use court and a climbing wall.  The Steely Library roof is planned to be replaced by October.  All buildings across campus will receive a new card based lock system on all outside doors to be controlled electronically by campus police among other planned projects.