Seniors: Turn your tassels to the left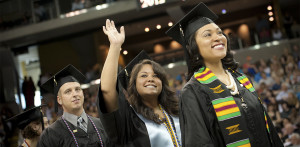 Over the course of three ceremonies on May 11, approximately 1,600 students will graduate from NKU. Roughly 60 percent will participate in the commencement ceremony at The Bank of Kentucky Center.
Two different graduation ceremonies will take place where roughly 1,400 students will graduate. There will be one at 9 a.m., where all degree candidates in the College of Informatics and the College of Arts and Sciences will be graduating.
There is another ceremony at 2 p.m., where all degree candidates in the College of Education and Human Services, the Haile/US Bank College of Business, and the College of Health Professions will graduate.
The Salmon P. Chase College of Law has a separate graduation at 6 p.m., where about 160 students will receive their diplomas.
The number of students eligible to graduate has been steadily increasing every year, according to Kathy Stewart, director of special events and stewardship.
Based on last semester's grades, there are 375 students eligible for university honors, said Krista Wiseman-Moore, coordinator of special events & stewardship. Graduate student candidates aren't eligible for university honors.
"One thing that is kind of interesting for this year," Stewart said, is that there will be a "musical interlude halfway through the program, and it's in recognition of the 150th anniversary of the Gettysburg Address."
This musical interlude will be performed by NKU's Symphonic Winds orchestra and narrated by David Thomson, associate professor of electronic media & broadcasting.
Freeman Hrabowski will be the speaker for the morning commencement ceremony. He is the president of the University of Maryland, Baltimore County (UMBC) and was named one of the top 10 college presidents by TIME Magazine in 2009.
Mary Zalla will be the speaker for the afternoon commencement ceremony. Zalla is a 1987 NKU alumnae and CEO of Landor Associates, one of the world's leading strategic brand consulting and design firms.
W. Bruce Lunsford will be the speaker for the Salmon P. Chase College of Law commencement ceremony. He is the chairman and CEO of Lunsford Capital, LLC, a private investment company headquartered in Louisville, Ky.
Following the spring commencement ceremonies, there will be a reception with university punch and cookies behind The Bank of Kentucky Center where students can take pictures and  introduce their parents to their favorite professors and friends while enjoying some "legendary punch," Moore said.
"I think it's time to move on to the next adventure in life," said Devon Skeens, senior political science major. After four years, he said it's an exciting time, but he won't decorate his cap. Instead he plans to "keep it classy."
Dorothy Atwell, senior psychology major, also said she will not be decorating her cap. But, her dad is coming from another country to see her graduate, after two years of being out of the country.