First draft of new tobacco policy released in early May
The dean of students announced that a written first draft for NKU's tobacco policy will be released sometime between May 3 and May 10.
Jeffery Waple, the dean of students, made the announcement at the April 8 SGA meeting. According to Waple, the policy will be fully implemented in January 2014. He said that the Fall 2013 semester will serve as a "phase in" period to get students and faculty to adapt to the changes.
According to Karen Campbell, the director of wellness, the phase in period will implement signage and marketing campaigns to remind students and faculty of the tobacco policy. Campbell said that during this time, the tobacco-free committee will also provide information on cessation programs for smokers or tobacco users who want to quit.
"We are changing the housing contracts right now to reflect the new direction. You will see some temporary, some permanent signage go up in the fall," Waple said.
According to Waple, the policy's compliance subcommittee is working on how to enforce the policy. They are looking at how to prevent people from smoking in cars and parking lots and what kind of implications smokers will face if they smoke on campus.
"We're not going to put in writing unless we can enforce it," Waple said. "The enforcement will probably fall on my office for students. The police are not going to be coming up to you and citing you [for smoking]. This is not an arrestable offense."
According to Campbell, e-cigarettes will not be permitted on campus after the tobacco policy takes effect.
"When [e-cigarettes] were first released, they were being treated as a cessation product. They are not FDA regulated. In terms of being an available option on your cessation nicotine replacement therapies, they are not being considered as such," Campbell said. "If you're smoking, it's really hard to tell if it's a real cigarette or an e-cigarette."
According to Campbell, the goal of the tobacco policy isn't to get people to quit smoking.
"The message is that if and when you're ready to quit, we have resources and support available for you," Campbell said. According to Campbell, NKU is exploring the option of making nicotine replacement therapy available.
Both Waple and Campbell encourage anyone who has questions or comments on the tobacco policy to contact them or anyone on the tobacco policy task force. Waple also announced that the tobacco policy will be getting a Facebook page and contact information for all the members of the task force. Currently only contact information for the committee chairs and advisory council is available on the tobacco free policy's website.
For more information on the tobacco policy and contact information for the committee chairs or the advisory council, visit http://tobaccofree.nku.edu/.
About the Contributor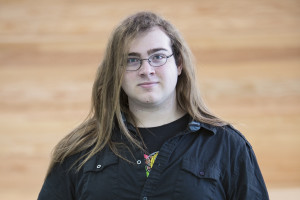 Richard Cracchiolo, Copy Editor
Richard Cracchiolo is a senior journalism and English double major at Northern Kentucky University. Richard has an interest in covering the administrative...