Construction on the way for Brent Spence Bridge
Students who cross the I-71/75 Brent Spence Bridge even occasionally should listen closely as the project unfolds this April. Construction could affect not only the traffic that crosses that bridge but also divert traffic to the I-471 bridge as well and impact traffic routes for Cincinnati and Northern Kentucky.
The Kentucky Transportation Cabinet is hoping that the Value for Money study's results will be released in April, said Stacee Hans, the environmental coordinator and Brent Spence Bridge project manager. The study is being conducted by traffic engineers, technical experts and environmental specialists, according to Kentucky and Ohio's transportation departments, and the results will tell them how to move forward.
"We are doing this options analysis to figure out the delivery method that is to the best benefit of the public," said Hans. "How are we going to get this project delivered the most efficiently and with the best use of public monies?"
The Value for Money study will examine possible duration of the construction, the number of drivers who will use the 471 bridge to avoid work on the Brent Spence and the ways to pay for the project. Hans said that the best delivery option being considered at this point is tolling.
"When you induce tolls some of the anticipated traffic is going to divert and in our area we have a lot of river crossing," said Hans. "So we need to look at that diversion rate to see how many are going to go off on other routes."
Hans hopes that the completed renovations will provide a level of service and flow of traffic that will make drivers not divert to other bridges.
"That bridge is a key lynchpin that impacts everyone," said Katie Herschede, executive assistant to the president at NKU, "it impacts all of us no matter where you are from."
Herschede said that roughly 30 percent of NKU students are from out of state. According to NKU's institutional research department, for the Fall 2012 semester there were 10,311 students enrolled from Kentucky, 4,061 from Ohio and 507 from Indiana.
Toll rates will be included in the Value for Money study. Those working on the study have looked at toll rates between $1 – 5, depending on the time of day and size of vehicle.
The 50-year-old Brent Spence is seen as unsafe according to the Kentucky Transportation Cabinet and the Ohio Department of Transportation. It was designed for 80,000 vehicles per day and sees around 170,000 per day, said Hans.
"Construction is going to be a lengthy process," said Hans. "People will find a way. They'll have to change their travel patterns, but they'll find a way."
Updates for the project will be posted at brentspencebridgecorridor.com, facebook.com/thebrentspence and on twitter @TheBrentSpence.
About the Contributor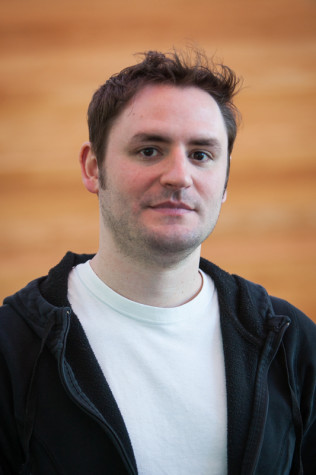 Matt Spaulding, Arts & Life Editor
Matt is a senior journalism major. Before becoming the features editor he wrote stories for the arts and life section and news covering topics from bands...