Speakers with a new view, students share stories on stopping sexual assault
Violence against women was highlighted Tuesday evening during an event, "Take Back the Night," in the University Center Ballroom on NKU's campus.
Through a partnership of the Office of University Housing and sorority Phi Sigma Sigma, the event drew a crowd of about 75 students and administrators and featured three speakers. All three are advocates against sexual assault and are involved through personal and professional experience with the cause.
Kellie Peyton, a junior public relations and communication major, is a member of Phi Sigma Sigma and came surrounded by her sorority sisters.
"The reason I'm here is because I believe that this is a great step in ending violence against women," she said.
The audience provided a round of applause as a welcome to the first speaker, Erika Yingling, a part-time faculty member of the Women and Gender Studies department. Her talk began by revealing the statistic that one in every six American women has or will be a victim of sexual assault.
Yingling, a sexual assault survivor herself, stressed the importance of everyone doing their part to advocate against sexual assault and calling out the flaws of American society and how the crimes have contributed to being it defined as a "rape society."
"It is a culture that supports and perpetuates rape," she said. "We live in a world that hates girls."
"We can chip away at the system, pebble by pebble," Yingling said referring to how we as a society can help in the fight against sexual assault.
Zak Foste, a graduate student of higher education and student affairs, took the podium to discuss his experience as an adviser for a group at Miami University called Men Against Rape and Sexual Assault (MARS).
"We have to think about this as a men's issue," he said when talking about sexual assault.
"What I'm about to say is nothing original," Foste reminded audience members. "It's nothing that women haven't been saying for years."
Foste explained how important it is for men to take a stand on this issue and really become advocates for the cause. He stressed that being silent while other men make rape jokes or exhibit inappropriate behavior surrounding women is not okay, and that as men they are all responsible to do something about it.
Ann James, NKU Title IX Coordinator and Associate Dean of Students, spoke to the audience about the services she provides to help improve gender equality and discrimination against women.
She announced that the department has applied for a grant from the federal government to start a center against sexual assault on NKU's campus.  The department will find out in September if the money will be received.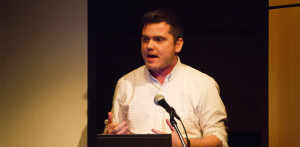 "I think we need it," Cassandra Desmarais, a sophomore social work major, said of the proposed center for NKU.
When the speakers finished, audience members were invited to come up to the podium to share their stories of sexual assault and for those who didn't share, to support those who did.
About 10 students shared their stories and tears with the audience.  Most of them introduced themselves by saying that they had never publicly shared their story before then, nor reported the assault.
Their experiences reinforced the statistics and data collected on sexual assault and left audience members with the realization that this issue is as close to home as it gets.