New factors impact stress in college students
College students across the country are experiencing record levels of low mental health. Recent national studies indicate top stress factors for college students are beginning to shift as new factors are introduced. Exceeding the national average for all age groups, this millennial generation is reporting the highest average level of stress.
Stress is having an increasing impact on academic performance in college. Americans consistently report living with unhealthy stress levels — 39 percent of adults ages 18 to 33 report that their stress has increased in the last year, according to the American Psychological Association. Younger Americans are reporting the most stress with the least relief.
Recognizing the significance of current college students' stress, universities in Cincinnati and Northern Kentucky are exploring new ways to help students cope with the stressors they encounter. Although stress is an inevitable part of a college degree, the factors contributing to student stress can evolve and change.
"Stress is perceived as normal in the United States, on campuses especially, but that doesn't make it okay because it can be very harmful for your health and for your success," Rachel Bishop, NKU Student Wellness manager, said.
Student health centers at Northern Kentucky University, Xavier University and University of Cincinnati are acknowledging the record low levels of student mental health and working to help students counter diverse stressors in innovative ways.
The latest National College Health Assessment study conducted by the American College Health Association shows stress is the leading factor impacting college students' academic performance. College health directors across the nation are reporting increased demand for mental health services and noting changes in leading stressors.
Along with academic stress, financial stress is increasingly becoming a top factor impacting college students' mental health, according to a May 2012 study conducted by Inceptia, a division of the nonprofit National Student Loan Program. Of the 11 sources of stress Inceptia analyzed, four of the top five factors for stress in college were money related. The cost of education, the need to find a job, college money management and the need to repay loans are students' top reasons for financial stress.
Technology has progressively become a leading stress factor affecting students' academic performance. Xavier, UC and NKU's student health centers also identify average amount of sleep as a major factor related to college students' mental health and academic performance. Colleges are developing new programs and procedures to target the main areas impacting students' stress today.
"A lot of the financial stressors [are] a trickle down effect from the United States economy, but also a worldwide economic plight that is going on," Erica Forrest, University of Cincinnati Student Wellness Center assistant director, said. "If each student makes a plan they have a better chance of becoming less stressed when dealing with the economic hardships that are facing everybody right now."
Financial stress is an emerging issue within the trend of higher levels of poor mental health in college. Based on this fact, the UC Wellness Center started a new financial wellness division for students. NKU created a Financial Fitness 101 webpage that offers areas to test financial literacy and links to help manage money and connections to other financial health resources.
Current college students have new financial obligations they have not experienced in the past. According to the latest Inceptia study, one third of students said financial stressors impact their academic performance. Across the country, 65 percent of higher education institutions recognize that financial stress is a major factor for college students today and provide financial education programs on campus. Of the universities without financial programs, 43 percent are in the process of starting a program for students within the next 12 months.
"Sometimes [students] feel like they need to quit or cut back on hours so they can work more in order to pay for their education," Michael Meier, director of assessment and research at Xavier University's Health and Wellness Center, said. "A lot of people's parents are losing their jobs, so students are having to do more and more on their own to fund their education."
Xavier is one of a growing number of schools in the US trying a new method of emailing out stress screenings or anxiety and depression assessments every week to a different group of 400 students, according to Meier. The results of the test are anonymously sent back to the Health and Wellness Center to score and analyze. The Wellness Center returns the results and suggests counseling based on the screening scores.
In addition, Xavier offers a method of anonymous counseling online for students. Students have claimed they would have never received counseling without these opportunities the university provides, according to Meier.
Colleges are creating and experimenting with new stress programs that can fit a student budget. NKU is exploring the effects of massage therapy.
"Many people might say a massage is a luxury or unneeded expense, but when you are stressed out and overwhelmed you need to physically take care of yourself," Bishop said.
Massages can help with stress, anxiety and sleep, according to the Mayo Clinic. Colleges are experimenting with the use of massages to aid academic performance and reduce pressure.
The Wellness Center at NKU is offering various types of affordable massages on campus. Students are offered options ranging from full-body treatments priced between $45-$60 to chair massages priced$1 per minute.
Universities help students battle stressors affecting the mind and body, but other growing factors are creating new contemporary challenges.
"[Technology] is an area we are becoming more and more interested in for a lot of reasons within the mental health field," Barbara Sween, NKU director of Health, Counseling and Prevention Services, said.
Technology's effect on college stress is gaining interest from university health centers. Academic demands have increased as technology continues to make tasks for students easier, such as researching and instant communication. Advances that make life easier in some ways are introducing new problems in other areas.
The prevalence of the Internet is also beginning to affect college student stress. Students become stressed when they are continuously connected to the virtual world. A recent American College Health Association study showed that each year Internet and computer use are continuing to become factors affecting academic performance and creating stress in students.
"We tend to think [technology has] made our lives easier, but all it's really done is made things so much more accessible that the demands have increased," Meier said.
Advanced technology has resulted in a higher amount of students with preexisting mental health issues entering college, according to Meier. Medicine has become "more and more evolved" allowing a greater diversity of people to enter college. Effective drugs allow students with mental health issues to attend college who might not have functioned in a university setting in the past. This trend is a change from the past and could be impacting levels of student stress in college.
Advice to manage stress from NKU's Wellness Center:
Try your best to identify you are overwhelmed before you get to the point where you need counseling, get behind in class or decide to stay up all night.
Value your health and be proactive about it.
Eat a nutritious diet.
Prioritize your sleep.
Manage your time so that your social life can be enjoyed.
Build meaningful relationships.
Common effects of stress (Source: American Psychological Association's "Stress in America" report, 2010):
On your body:
Headache
Muscle tension or pain
Chest pain
Fatigue
Change in sex drive
Upset stomach
Sleep problems
On your mood:
Anxiety
Restlessness
Lack of motivation or focus
Irritability or anger
Sadness or depression
On your behavior:
Overeating or undereating
Angry outbursts
Drug or alcohol abuse
Tobacco use
Social withdrawal
About the Contributor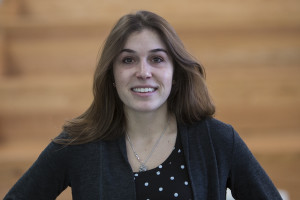 Maggie Pund, Managing/News Editor
Maggie Pund is a senior journalism major and electronic media and broadcasting minor. Previously a zoology major and aquatic ecology lab assistant, Maggie...