Annual Job Expo gives chance for early networking
The annual Job Expo will be held Wednesday, Feb. 27 from 3 – 6 p.m. in the Student Union Ballroom. For those unfamiliar with the event, this will be a chance for students to network and introduce themselves to over 100 employers.
"Seven out of every 10 jobs are obtained through networking," said Shirl Short, associate director for student services and programs at the Career Development Center (now located in UC 225). "Even if there is only one opportunity that appeals to you, I'd go. It gets you out there and networking with employers."
The biggest mistake Short sees college students make is that they wait until after graduation to begin seeking work. "We get around 400 to 450 students. We should have many more than that at this event," Short said. "I think students have always waited until after graduation. They don't get involved in preparation for the job search."
Short adds that students should get competitive and make an early connection with employers. A college degree can offer graduates better security in their line of employment.
The Kentucky Council on Postsecondary Education released findings in January that Kentucky citizens with only a high school diploma or GED were twice as likely to be unemployed than those with a bachelor's degree. Also, 80 percent of the 7.2 million jobs lost in the recession were held by those with a high school diploma or less.
Since those attending will be making a first impression with companies looking to hire, there is a checklist they should run through before attending in order to give the best impression possible.
Short suggests that students get their resume together first and bring a portfolio with multiple copies. If students are unsure if their resume is acceptable, they can attend a workshop in the Career Development Center this week. Those attending should also research the potential list of employers, gather information about them and have some questions ready.
Short continued to explain that those looking to impress should dress professionally and leave their backpack in the trunk. A detailed description of business dress for men and women can be found at on the Career Development Center's website.
"The really savvy student is going to write a follow-up thank you note to the employer," Short said. "So they're going to ask for a business card."
"Use all the different sources that are available," said Joseph Javins, a computer information technology graduate who is currently working at Navaro Medical Solutions. Javins used the services offered by the Career Development Center to help him get a co-op position he had heard about. He worked for the company for two years before being hired on full time.
Short said the most common mistake to avoid is not dressing the part. Many students "don't dress properly and don't do the research," but employers "want to see that you're sharp and really interested."
Javins also warns students not to "spend time looking for something too broad. Figure out what you want to do."
In addition to the expo, the Career Development Center offers Norse Recruiting, where students can post their resume and look for companies interested in hiring at various times of the year. Those attending should remember to bring their All Cards. They will be scanned to print off name tags that also include students' major and status. More information and a full list of companies attending can be found at http://careerservices.nku.edu/students/jobexpo.html.
About the Contributor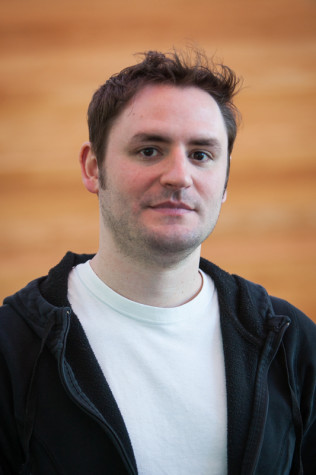 Matt Spaulding, Arts & Life Editor
Matt is a senior journalism major. Before becoming the features editor he wrote stories for the arts and life section and news covering topics from bands...