SGA plans to improve university brand
A plan to help further progress NKU's sense of individuality and school spirit is in the works by the university's Student Government Association.
The plan, a resolution presented for the first time by SGA Senator Clayton Castle at the group's Feb. 4 meeting, would recommend several physical changes and promotions across campus to help the school's branding.
Castle's changes include the purchase and display of student artwork on campus (already in progress by the university's Beautification Committee and a previously passed SGA resolution), the addition of a Norse viking statue to the plaza area of campus and the addition of a large NKU light (such as the one on the library) to the wall of the Lucas Administrative Center.
Clayton's plan also suggested the recommendation of further promotions of NKU colors, logos and other symbols across campus.
The initial idea for this plan originated from SGA President Erik Pederson's "Big Eight Goals" he set for the 2012-13 school year, one of which was to "…improve the branding of NKU."
Pederson said this resolution is an important plan to recommend to administration because it will endorse the beautification project that is already in effect, while offering student-based input as to what else could be done to beautify campus.
Pederson believes these changes or beautifications on campus are an important part in NKU's branding; creating and maintaining school spirit and individuality.
"Beautification processes and branding, while having some differences, can work hand in hand," he said. "[branding] is of the utmost importance because it is what makes NKU, NKU."
"Overall, you pick a school that has the right feel for you," Pederson said. "That's the kind of thing we are trying to work on here."
SGA Senator John Jose also said, at the Feb. 4 meeting, that working on branding through beautification is important. "It can enhance school spirit," he said.
If Pederson could personally choose one improvement to see at NKU, he said it would be to see more students wearing NKU clothes and gear on campus.
"More NKU students wearing more NKU clothes on campus means a stronger investment from students in the university," he said.
And while there currently may not be the level of school pride and NKU individuality on campus as there is on most other major state universities, Pederson noted that this is changing every day.
"The progress in this over the past few years has been monumental," Pederson said. "That's really what we're trying to continue."
This resolution will be presented for a second reading at the group's Feb. 11 meeting, where it, according to Pederson, is expected to pass.
About the Contributor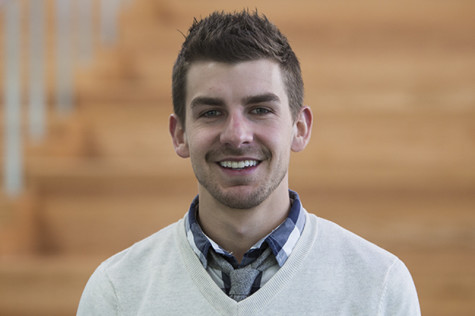 Kevin Schultz, Digital Projects Manager
Kevin Schultz is a senior with a double major in journalism and English at NKU where he has covered everything from administration and student government...