Technology to improve after open forums
As technology continuously spreads throughout the campus and into the lives of the NKU community, the Office of Information Technology is hosting a series of open forums to allow faculty, staff and students to influence the university's technological direction and expansion in the future.
Due to the impact of technology on education and everyday living, the Office of Information Technology is providing the opportunity for students and faculty to directly voice to the IT staff their new ideas and challenges concerning the university's technology systems. From Jan. 29 through Feb. 13, Tim Ferguson, NKU's Chief Information Officer, will lead each of the six series sessions covering topics related to myNKU, Blackboard and any other systems used throughout the university. Based on the forum topic, different business unit representatives from Human Resources, Office of the Comptroller and Office of the Registrar will be present to offer expert input and solutions as well.
"It is just an effort for the Office of Information Technology to find another avenue to communicate, listen and get feedback, so we can make sure we are leveraging technology to improve education and make a difference in the students' lives here on campus," said Ferguson. "We believe students are very tech savvy and probably have many great ideas that make their lives easier and make them more successful in learning and being a great resource for NKU."
Technology is shaping future trends in higher education and impacting students' learning outcomes. As NKU goes through a strategic planning process led by President Mearns, IT will update its first Campus Technology Plan based on some of the feedback they receive through these open forum sessions. The IT office is looking to the people affected for strategic suggestions on areas to focus on now, as well as priorities for the future.
During the first five sessions of this year's series, faculty and staff will start the dialogue about ideas for NKU's future technology plans and current challenges in the Otto M. Budig Theater. At the student-exclusive forum on Feb. 13, students will have the opportunity to have a one-on-one exchange of ideas with Ferguson and IT staff about anything concerning NKU's technology in general.
"It's the right people that need to hear the ideas, and these are the people that need to hear the ideas," said Meredith Brennan, NKU's IT senior manager of special projects. "It's a great opportunity for people to have their voices heard and to impact where we are going in the next year, five years, 10 years. It's always important to take those opportunities to voice your opinions and ideas."
The four goals for each session are to educate, listen, facilitate and collaborate, according to Ferguson. Whether challenges, suggestions or new ideas, all comments will be recorded during the sessions and reviewed at the end of the forum series. The speed at which NKU will see the new ideas implemented and put into action on campus depends on the difficulty, cost and size of each selected suggestion.
In March, the IT office plans to produce a report concerning the updated focus of the department after considering ideas from the forums, searching for synergy between those ideas and constructing priorities. In addition, an executive level report will be presented to NKU's leadership, including the president, about the forums' findings to assist the university's strategic planning.
The university is leaving it up to the faculty, staff and students to determine how much technology they want invading their educational existence. IT wants to know just how much cutting-edge technology they want in the classroom and how mobile students want to be with their education. Currently, IT is exploring whether students want the ability to register or drop classes using the iNKU mobile application.
"It's getting to see the other person's point of view," said Douglas Wells, IT director of infrastructure. "We are trying to learn so that way we can make things better because we can't be experts of everything. You're the expert of your area. We're more of an expert of technology."
Although IT may appear ubiquitous on campus, they cannot be expected to cover every corner of the university without any input from the NKU community. To resolve issues, IT needs to be aware that the problems exist in the first place, according to Wells. The feedback and opinions of faculty, students and staff influence the priorities of the technology strategy.
"Honestly, in the long run that means we can shift money from investing money in computer labs and invest money into other technology or other things the campus needs instead of buying a desktop that is just going to gather dust," Wells said.
At the first forum session on Jan. 29, one of the ideas that stood out to Wells and "wouldn't be too hard to add" is expanding the search functions of Find It!, NKU's online directory of contact information. Currently if a user searches for a department in Find It!, the results do not display a main office phone number. The idea is to add a "general" category or another option to directly search for a department's main office line.
The next open forum session will be held today at 2 p.m. concerning general IT issues. A session on myNKU will be held in Budig Theater at 11 a.m. on Monday, Feb. 4.
For more information on the sessions and topics visit cio.nku.edu/forums.html.
About the Contributor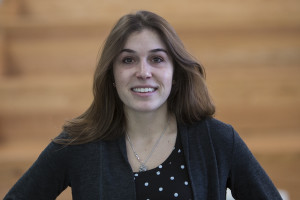 Maggie Pund, Managing/News Editor
Maggie Pund is a senior journalism major and electronic media and broadcasting minor. Previously a zoology major and aquatic ecology lab assistant, Maggie...