Flu season hits hard this year
As students are returning to a crowded campus and settling into their spring semester schedules, this year's unusual flu season is prompting NKU and Northern Kentucky Health Department (NKHD) to prepare and make students aware that it is not too late to take precautions.
Striking hard and early, the flu season has yet to to reach its peak in Kentucky, according to the NKHD. In one week of this year more cases have been reported than all of last year. As of last week, a total of 1,041 cases of the flu have been reported in Northern Kentucky in comparison to the 284 total cases confirmed in the area last season. The 2012-2013 season is now the highest in the last eight years, excluding the 2009-2010 H1N1 epidemic.
The college environment, with close proximity and low student vaccination rates, puts students at risk for contracting the flu as they return to campus. With the flu season just starting at universities, flu prevention and control are particularly important because the illness can spread "like a wildfire" across college communities, according to NKU Health Services.
"As a whole, college students tend to be young and healthy so that's a group that will think the flu is not that big of a deal, but we still want [students] to take the flu seriously," said Emily Gresham Wherle, NKHD public information administrator. "The flu puts thousands of people in the hospital every year. It can kill people."
The flu is already hitting NKU's campus, according to NKU Health Services. Since school resumed, approximately 46 patients have presented flu-like symptoms and been treated at the health center on campus. With most students commuting to campus at NKU, the number of cases of the flu or those presenting flu-like symptoms could be even higher.
Campuses across the country are feeling the effects of this severe season. Forty-eight states have now declared widespread flu activity and 30 states have reported high influenza activity, according to the Centers for Disease Control and Prevention.
Locally, a Campbell County man was the first to die from the virus this season in Northern Kentucky at the beginning of the month. In addition, a 22-year-old Wright State University student was the first flu-related child death of the season in Ohio.
"I think college students are a little cavalier about all of this," St. Elizabeth Healthcare Infection Control Coordinator Patricia Burns said. "Most of the time the flu is not a serious illness, but it can be serious…[College students] think it's not a big deal, but it can be a big deal."
The flu vaccine remains the best protection against contracting and helping to spread the flu. NKU's health center has given out approximately 600 flu shots this season to faculty and students, according to Amy Fathman, NKU Health Services associate director. The health center has ordered more flu shots in preparation for possible student and faculty demand before the flu season ends.
"It's just starting here now that students are back, so I'm concerned [NKU is] going to really get hit," Fathman said.
This season's vaccine has an effectiveness rate of 62 percent, and it is a 98 percent match for the circulating flu strains based on early testing, according to the NKHD. This means that 62 percent of people who get the vaccine do not end up being sick enough to go to the doctor. If the flu is contracted after vaccination, chances are the case will be less severe and shorter.
"That's not a great number. There are a lot of vaccines higher than that, but it's the best we can do with the type of process that is involved in making a flu vaccine right now," Gresham Wherle said. "While it's not a perfect vaccine, it's the best protection still that you can give yourself…62 percent would be a failing grade on a test, but it is better than zero."
About the Contributor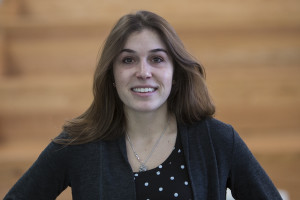 Maggie Pund, Managing/News Editor
Maggie Pund is a senior journalism major and electronic media and broadcasting minor. Previously a zoology major and aquatic ecology lab assistant, Maggie...