Former staff member charged with voyeurism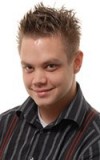 Former NKU broadcast engineer and equipment and facilities manager Bob McCoy has been charged with 20 counts of voyeurism.
On Sept. 17 a complaint was filed against McCoy that he was "engaging inappropriate behavior with a cellphone" in Griffin Hall. It was confirmed by Chief Jason Willis that McCoy was using his cellphone to film up women's skirts in the north stairwell on the fourth floor of Griffin Hall.
The incident that caused the complaint occurred on Sept. 13. According to Interim Communication Chair Zach Hart, McCoy was put on leave shortly after the complaint was filed and then terminated on Oct. 8.
According to Willis, through their investigation, the NKU police department found video evidence of voyeurism on McCoy's phone and other devices. During the investigation, McCoy admitted to the behavior as well.
A court date hasn't been set yet, due to McCoy being out of state, but The Northerner will update the story as more information becomes available.